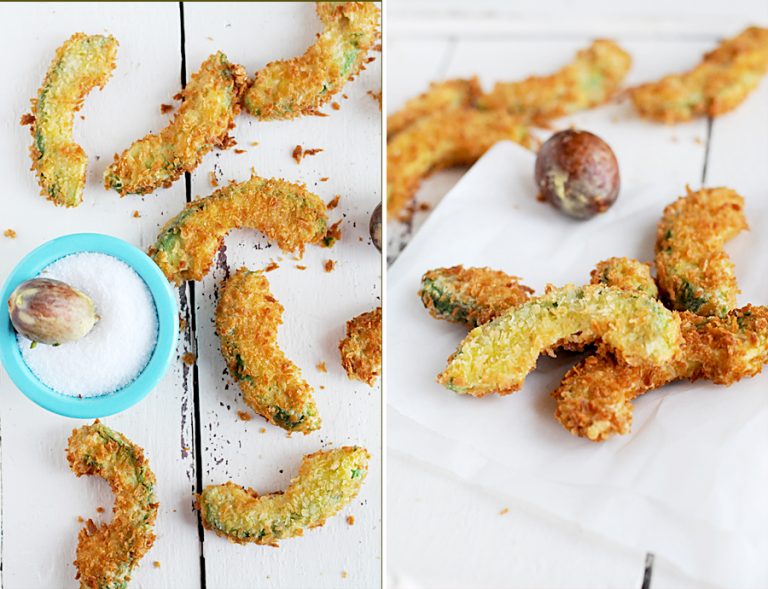 So, Fat Tuesday is here…and after stepping on the scale this morning I can tell you that Fat Tuesday it is indeed.
Today is the end of the fat food around here for awhile… and by fat food I mean the food I've been cooking up in my new deep fryer. You know, the homemade yeast doughnuts, the fish tacos, the beer battered onion rings? Those recipes have been so easy to make since my deep fryer has been out. I've now packed my deep fryer away after using the heck out of it for a couple of weeks and am looking forward to some non-frying days to come.
I'm not bidding farewell without sharing one more recipe with you though. I was browsing through Coastal Living magazine the other day when I stumbled across this recipe for Avocado Fries. I had never heard of such a thing and knew I needed to become familiar with these little nibblers as soon as possible. If you think avocados couldn't get any better, you were wrong. Slicing them into strips, breading them and then putting them in the fryer for a few minutes makes for one fantastic snack.
Of course, avocados are wonderful without taking any of these extra steps, but if you just want to somehow fit avocados into a Fat Tuesday treat, Coastal Living certainly has the way with these delicious Avocado Fries.
Recipe: Avocado Fries (From Coastal Living Magazine)
Canola oil for frying
1/4 cup all-purpose flour
1/4 teaspoon kosher salt, plus more to taste
2 large eggs, lightly beaten
1 1/4 cups panko (Japanese breadcrumbs)
2 firm-ripe avocados, cut into 1/2-inch wedges
1. Pour oil to depth of 1 1/2 inches in a medium saucepan or Dutch oven. Heat to 375° over medium-high heat.
2. Meanwhile, combine flour and salt in a shallow plate. Put eggs and panko in separate shallow plates. Dip avocado wedges in flour, shaking off excess. Dip in egg, and then dredge in panko to coat.
3. Fry avocado wedges, in batches, 30 to 60 seconds or until golden brown, and drain on paper towels. Place on a baking sheet in a 200° oven to keep warm while frying remaining wedges. Sprinkle with additional salt to taste.
I'm linking this post up to I'm Lovin' It on the Tidy Mom Blog!

Disclosure: This blog post contains affiliate links. As an Amazon Associate, I earn from qualifying purchases.