This Fiesta Chicken Pasta from Kraft is a great, easy weeknight meal.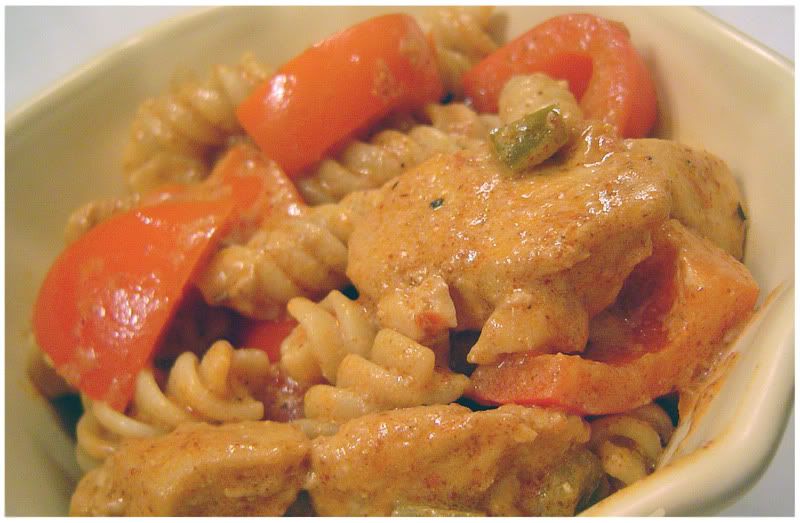 For so many people, cooking dinner is just another chore added to their long list of to-do's during the day. I enjoy cooking dinner. Let me rephrase that… I enjoy cooking dinner if I don't have three children under my feet bugging me to do things for them while I am trying to navigate the kitchen to cook something all 5 of us will like.
On my best nights, my husband comes home from work and sweeps the kids away for awhile so I can make dinner in peace. Cooking dinner under those circumstances is my "me" time. It's the time where I can be in my element. Where I can think about my day without the distraction of the children interrupting my thoughts. It's great, but I know my husband has his limitations. He's usually been at work for 10 hours and would probably like some "me" time as well. On nights like those, I feel a little oomph of success when I can have my "me" time in the kitchen and it takes roughly 30 minutes from start to finish to create a nice meal.
Last night was one of those nights. I tried a new recipe from one of those free Kraft Food and Family magazines that shows up in our mail on occasion. The recipe was for Fiesta Chicken Pasta. I used all of the light versions of the ingredients and it came out great. The entire family, including the baby, really enjoyed this dish. My 5 year old son had three "loads", which is his terminology for servings.
If you are a parent that dreads making dinner each night, give this quick, simple and tasty recipe a try. It is a nice change from the normal rotation of spaghetti, tacos or sloppy joes. Sit down to dinner relaxed, with a new found love for quick and easy recipes.
Fiesta Chicken Pasta
A 30 minute meal makes dinnertime so quick and easy!
Ingredients
2

cups

rotini pasta

uncooked

1

tablespoon

oil

1

lb

boneless skinless chicken breasts

cut into bite-size pieces

2

cups

chopped red peppers

about 2 medium

1/4

cup

lite Italian dressing

1

tablespoon

chili powder

1/2

cup

salsa

1/2

cup

lite sour cream

1/2

cup

lite shredded cheddar cheese
Instructions
Cook the pasta as directed on package.

Meanwhile, heat oil in large skillet on medium-high heat. Add chicken. Cook and stir 6 minute Add peppers, dressing and chili powder; cook 3 minute or until chicken is cooked through, stirring frequently. Stir in salsa and sour cream.

Drain pasta. Toss with chicken mixture. Sprinkle with cheese and serve!
If you love this pasta recipe, I bet you'll love this One Skillet Beefy Tuscan Pasta recipe too!