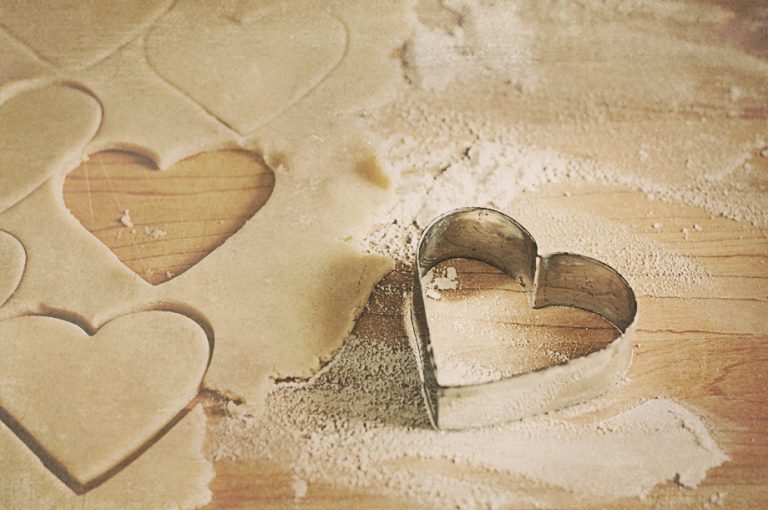 Picture of scrumptious cookie dough made from this Cut Out Sugar Cookie recipe on the Bake at 350 blog.
Love is in the air…haven't you noticed? All it takes is a simple browse through blog world and you'll see heart shaped this, pink colored that… everything is taking on a beautiful romantic hue!
Speaking of that special four letter word, I am assuming one reason you are here is because you kind of love food. Am I right? Well, if you love food, there is a special new site I want to tell you about! Foodily. Foodily stands for Food I Love you and it is the hottest thing to hit the food world in awhile. If you love recipes, love sharing great things with your friends on Facebook and love beautiful photos, Foodily is for you. It's like Facebook but for food. Foodily is integrated with Facebook, so you can easily share the recipes you find great with your friends, and vice versa.
In my kind of language, Foodily is a unique recipe search engine that features recipes from a broad spectrum of chefs and bloggers (like me!) from across the internet and then gives those searching the recipes the opportunity to share what they find and love with others. Go ahead and try it out for yourself! In fact, since we are in the mood for love, why don't you take a minute and share your Valentine's Day menu and you could have a chance to be featured on the Foodily site!
Here's what you need to do:
Go to Foodily.com and login with Facebook Connect (or create a login).
Play around with recipes and find your favorites to create a perfectly delish Valentine's Day meal!
Once you've selected a recipe save it to a menu. From the recipe, select the "save" button, save it as an appetizer, main, etc., and then it'll ask you to name your menu. Create your special Valentine's menu title. Continue adding recipes and saving to that menu
View your menu (either from tab at top or from your profile) and grab the URL (you can also share your menu on Facebook and grab the URL there). Note: the URL will look similar to this: http://foodily.com/m/1234
Tweet the following and be sure to include the #foodilyvdaymenu hashtag at the end:  Check out my @foodily Valentine's Day menu! Create one of your own! http//(your menu URL here) #foodilyvdaymenu
Foodily will be watching and selecting menu winners daily to be featured on the Foodily site!
Note: You can also enter by sharing your menu on Foodily's Facebook wall.
For example, my ideal valentine's day menu would look something like this…
A Queen of Hearts Cocktail followed by this Herbed Garden Salad with Goat Cheese. We'd have a nice Peppered Fillet with a Grainy Mustard Cream Sauce, Roasted Garlic Fingerling Potatoes in Thyme and Butter and Orange Scented Green Beans. For dessert, it is all about the chocolate and nothing says love more to me than a Chocolate Lava Cake. I kind of doubt that my Valentine's Dinner will realistically look anything like this, but a girl can dream, right?
Take a few minutes to check out the Foodily site. It takes some getting used to, but once you figure out the ins and outs, I'm  pretty sure you'll be shouting from the rooftops… Food I Love You! Have fun and happy exploring.
I am part of a team of paid Foodily ambassadors. The opinions within this post are my own.