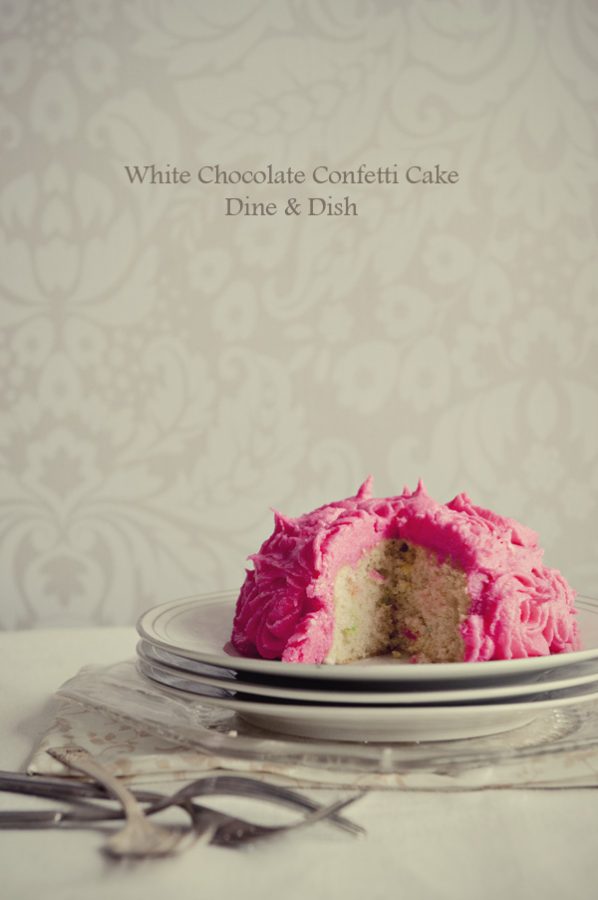 Cake decorating is not my forte, at all. You might remember that when I took a cake decorating class through Wilton several years ago, I made roses that looked like cabbage heads. My skills are quite comical.
Well, my daughter, Kelly, is currently taking a cake decorating class for 4-H. She seems to be a natural, whipping out pretty designs with little effort. She obviously doesn't take after her mom. Watching her practice has given me the bug to try and learn again, which is perfect since a couple weeks ago I received an email from Amanda with I Am Baker asking if I would be interested in participating in a Food Styling Challenge. Each month, she has asked one blogger to take on the challenge of making a cake and styling the photo for it on a strict budget. It's been a fun challenge and if you head over to her blog you can read about my experience with the challenge. You can also see the other pictures I submitted, which include all of the props I purchased and used on my budget.
I decorated the cake above using Amanda's Rose Cake Tutorial. I can't believe how incredibly easy it is to make a beautiful cake using her technique. I finally made something that looked less like cabbages and more like roses! I can't wait to practice the technique more!
Oh, and this recipe?  If you love white chocolate like we do, you will love this moist, yet dense cake. Since the kids were the ones eating it, we put a little whimsey in it by adding some sprinkle confetti. The pastel colors don't show up very well in the photo, but you can imagine the confetti is a fun addition to such an elegant cake.
Thanks, Amanda, for challenging me in such a fun way… I pushed myself to decorate a cake and stick to a budget. Those things don't happen very often. Friends, make sure to go check it out!
White Chocolate Confetti Cake
An elegant cake, with a touch of white chocolate flavor. Adapted from
Wilton.com
Ingredients
2 1/4

cups

cake flour

2

teaspoons

baking powder

1/2

teaspoon

salt

1

cup

milk

4

ounces

high quality white chocolate squares

coarsely chopped

1

teaspoon

vanilla

3/4

cups

butter

softened

1/4

cup

sour cream

1 1/2

granulated sugar

2

eggs

1/4

cup

pastel sprinkles
Instructions
Preheat oven to 350°F. Prepare your baking pans by sprang with Pam Baking Spray (see note at end of recipe regarding pan size).

Sift together cake flour, baking powder and salt.

Heat milk in a microwave safe bowl until hot (not scalding or boiling). Stir in the chopped white chocolate pieces and stir until melted.

In the bowl of your stand mixer, beat butter, sugar and sour cream together until light and fluffy. Mix in eggs and vanilla until well incorporated.

Turn your mixer to low speed and add melted chocolate mixture followed by the flour mixture. Mix until just combined.

Turn off mixer and remove bowl. Using a wooden spoon, fold in pastel sprinkles until just incorporated.

Pour batter into prepared cake pan(s). Note: I baked mine in mini 5 inch spring form pans for 20-23 minutes. For 2 8 inch round pans, bake for 18-20 or until toothpick comes out clean.