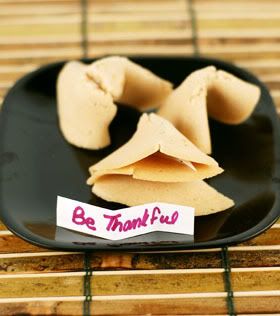 I made homemade fortune cookies today. I know…fortune cookies are probably not something that most people are spending time in their kitchen whipping up two days before Thanksgiving. I had a thought though… I wanted to somehow give all of our guests at Thanksgiving dinner an opportunity to be reminded of the blessings in their life. So, what I have done is emailed everyone and have asked them to send me one or two things that they are especially thankful for this year. Then, I'm going to create a "fortunate cookie" for them specifically to open before our meal. Each individual fortune will have something specific to do with what they are thankful for. Isn't that fun?
I have a lot to be thankful for this year. My family, for one, including the surprise unexpected little family member that will be joining us in May. We live in a nice home and really are blessed that we don't want for much of anything. My kids go to good schools and have caring teachers. I am able to stay at home to raise the kids and my husband has a good job that allows me to do so. I have wonderful friends, including those of you who have supported my blog over the last couple of years.
Something else I am greatly thankful for is the number of opportunities that have come my way since beginning my blog. I have been given the opportunity to write for some wonderful organizations and to have the ability to do something I love and get paid for it is icing on the cake.
I'd like to take this moment to tell you about a new opportunity I am very thankful for. I was recently contacted by The SC Johnson Company to be a guest blogger on their community site, Right@Home. I will be joining three other very talented bloggers in contributing to regular articles which will be featured within their community. My contribution to Right@Home will be within their Food/Recipe section. I am being joined by:
Amy Clark of The Motherload (and several other fab blogs!): Amy Clark created Mom Advice online that contains articles on frugal living, saving money, work-at-home opportunities, inexpensive recipes and tips for organizing life. One part of Mom Advice is Amy's blog, The Mother Load, where she posts on everything from parenting advice to fun family activities and things to do around the home.
Cathe from Just Something I Made: Cathe writes and works from home in Petaluma, California as a graphic designer, mother of three and wife. Cathe blog, "Just Something I Made" is about one of her biggest passions, crafting for the home. Cathe has also appeared on Design Mom as a guest blogger.
Sarah from Organize Your Life: Sarah pens this blog as a stay-at-home-mom of 2-year-old Maddie. She has been married to her husband, Trevor, for six years. She is the co-creator of the Daily Home Planner, the only software program designed by a mom to help other moms get their families organized, and also manages www.organizedmom.net.
The Right@Home Community is perfect for anyone wanting to make their home a better place. With great product tips, organizing advice, recipes and more, there is something waiting there for each of you! I hope you will join the community and keep an eye out for my upcoming feature posts.
Oh! Do you want the fortune cookie recipe? It is just one of the many treasures I found over at the Right@Home site. Click here to check it out 🙂
Happy Thanksgiving everyone! May you always have plenty to be thankful for.