I've partnered with HMK to share some of my favorite gift ideas for kids!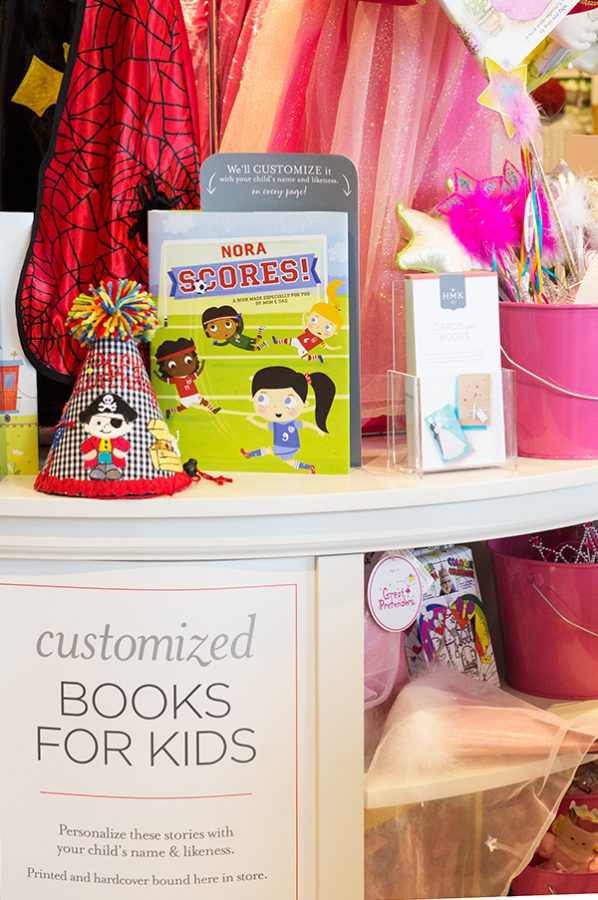 So far on Dine & Dish I've shared with you some great hostess gift ideas from HMK as well as some great gift ideas for friends, but I haven't shared with you some of my favorite selections of kids gifts from HMK! As a mom, aunt and friend of people who seem to be always having babies, I'm always on the lookout for great gifts geared towards kids. Here is a list of a few of my favorite kids items from HMK.
Customized Books for Kids
My kids get a kick out of anything that has their name or likeness in them. I think most kids do… I remember growing up looking all over for pencils with the name "Kristen" on them. Every one else had a pencil with their name on it, but since my name at the time wasn't all that popular, I could never find any personalized things for me! Well, HMK has solved the "I can't find my name anywhere" problem by creating these amazing customized hard cover story books! Customize the lead character's name and likeness to a kid you love and the story is transformed to make them the hero. The best news is, you can have the book printed and bound while you wait!
Personalized Baby Clothes, Bibs and Onesies 
I have a friend who gifted me blankets with my kids names on them after each of them was born. My kids and I have treasured those blankets so much! I loved the idea of personalized blankets and baby items like onesies and bibs so much that it's my favorite gift to give to other new moms for their baby. The problem is, I've always had to rely on a speciality Etsy store to embroidery the items, which at times could take several weeks to receive. I love that now I can go browse the great selection of baby gifts at HMK, choose my items to be personalized and then have it be personalized and ready in a very short amount of time. It is wonderful to have that kind of service right here in my hometown!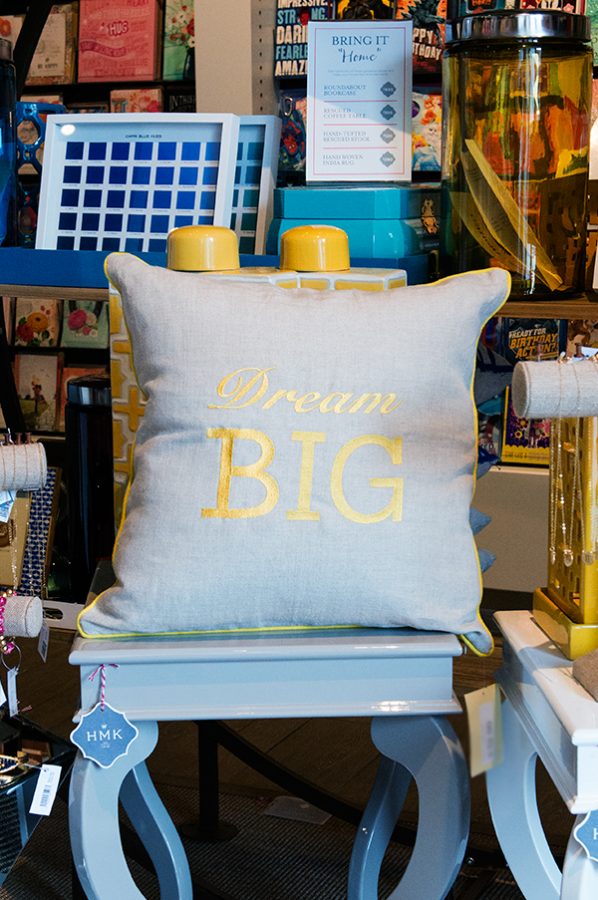 Embroidered Pillows for the Nursery
I love the home decor items in HMK stores! There are so many unique gift items, but especially for a nursery! Take these embroidered pillows… how cute would a customized pillow matching the nursery colors be as a baby gift? I picture one saying "Sweet Dreams" and another saying "Rock-a-Bye" or another whimsical saying like that! A custom pillow would be a truly unique baby gift!
This is just a small sampling of kid gifts at HMK, but it is a few of my select favorite! Next time you are headed to a baby shower or a kids birthday party, stop by HMK to pick up something truly special and unique! They have gifts that truly show you care. Happy shopping!
Visit the HMK website for a complete listing of services, gift ideas and current specials.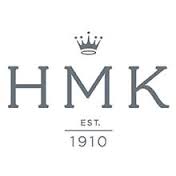 HMK is now open in Kansas City on the Country Club Plaza, Southlake Texas in Southlake Town Square, and Denver, CO at Cherry Creek North. Follow HMK 1910 on Facebook, Instagram and visit the HMK website for up to date news and info to keep you in the know! 
Disclosure: I am honored to continue my working relationship with Hallmark and HMK. This is a sponsored post but all opinions are my own.