The other day I received a big package of goodies from my friends at Zatarain's. At the very top of the box was a bottle of their Root Beer Extract, including a recipe for making homemade root beer.
The box couldn't have come at a better time as I was in the middle of making my "things we want to do this summer to make the summer fun" list for the kids. You know that list, with all the great expectations on it, that no matter how hard you try to achieve everything on it you fail? Then, at the end of the summer you look back at the list of things you didn't get done then feel like a failure of a mom for not making summer the absolute best it can be? Yeah, that's the list. And yes, I know how it turns out each and every year, but every summer I still make the darn list in hopes of a better turn out "this time around".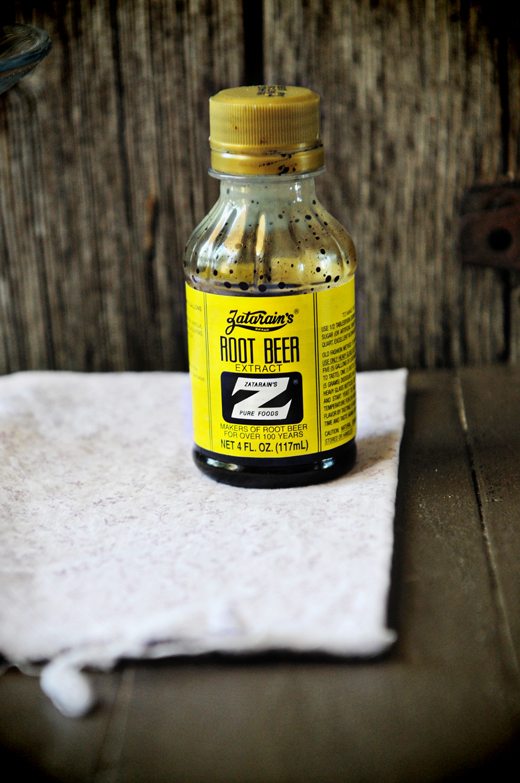 Anyway, I immediately added "make homemade root beer" to our summer bucket list. That should be an easy one to cross off, right? There's nothing incredibly grand involved… just some Zatarain's root beer extract and a few simple instructions and voila…. root beer! I'll let you know as soon as we've checked this one off. I may make it be first on the list, just so we can start off summer with a bang!
So, since it isn't quite summer break yet (1 more week!) I have to wait to make homemade root beer, but I still wanted to do something with the root beer extract now. I decided to give Root Beer Float Cupcakes a try!
I knew I wanted an extra creamy frosting for the cupcakes because everyone knows the very best part of a root beer float is the melted ice cream / root beer mixture at the very end of the glass. I then went on a search for a Swiss Meringue Buttercream recipe. Swiss Meringue is a delicious, silky, creamy frosting made with an egg white and granulated sugar base and lots and lots of butter! It's a little bit of extra work, but oh my… so very worth it in the end. I combined the recipe over at Martha Stewart's website (replacing vanilla extract with root beer extract) with the awesome instructions from my friend Rosie over at the Sweetapolita blog. Thanks to them, I had incredible success with my Swiss Meringue Buttercream.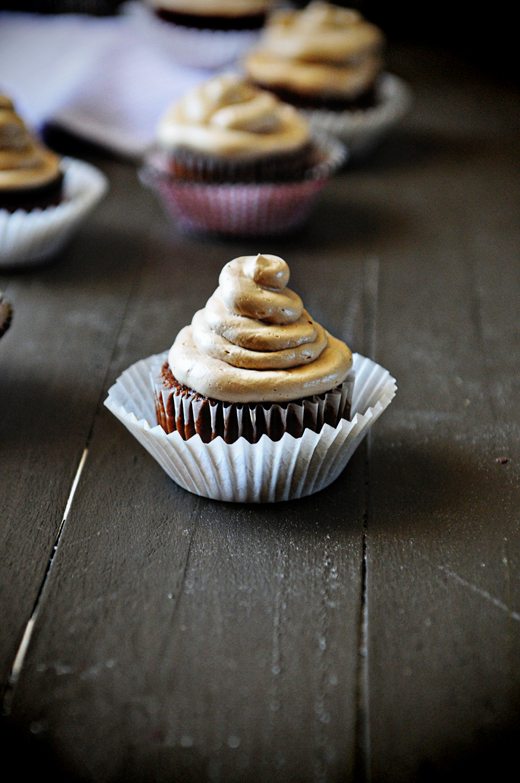 These Root Beer Float Cupcakes with Swiss Meringue Buttercream are the bomb, if I do say so myself. Any root beer float fan will be as big of a fan of cupcakes made to their liking.
Do you have a summer bucket list? If so, add these cupcakes to your list… in the number one spot. Even if you fail at everything else this summer, you'll have started your summer off on the right foot! Enjoy!
Root Beer Float Cupcakes with Root Beer Swiss Meringue Buttercream
Root Beer Float lovers will rejoice when they discover you have turned their favorite drink into a cupcake!
Ingredients
2 1/2

cups

all-purpose flour

2 1/2

teaspoons

baking powder

1/2

teaspoon

salt

3/4

cup

butter

softened

3

eggs

1

cup

granulated sugar

1/2

cup

brown sugar

2

Tablespoons

Zatarain's root beer extract

1/4

teaspoon

vanilla

1 1/4

cups

whole or 2% milk

1/4

cup

unsweetened applesauce
Instructions
Preheat oven to 350° F. Line cupcake tin with 24 cupcake liners.

Place flour, baking powder and salt into a bowl. Whisk together until incorporated.

In a large mixing bowl beat butter with an electric mixer on medium to high speed for 30 seconds. Gradually add granulated sugar then brown sugar, about 1/4 cup at a time, beating on medium speed until combined. Scrape sides of bowl; beat on medium speed about 2 minutes more or until light and fluffy. Add eggs, one at a time, beating well after each addition. Add in aplesauce and beat until incorporated. Beat in root beer extract and vanilla.

Slowly, alternate adding the flour mixture and milk to the electric mixer. Beat on low until just combined.

Bake cupcakes for 15-17 minutes, or until a toothpick inserted into the center comes out clear.

Place on a cooling rack. Frost with Swiss Meringue Buttercream once cooled.
Notes
Swiss Meringue Buttercream can be made by following the links to Martha Stewart and Sweetapolita's blog. Replace the 2 teaspoons vanilla extract in the Martha Stewart recipe with 1 1/2 teaspoon root beer extract and 1/2 teaspoon vanilla.
These other friends have tempting (and all unique) Root Beer Cupcake recipes too!
Disclosure: I am a 2012 brand ambassador for Zatarain's. All opinions expressed are my own.