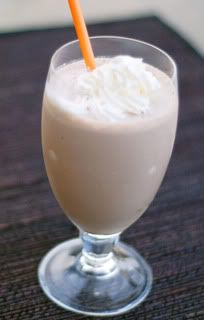 I have a horrible fountain drink addiction. I used to never drink soda/pop/cola/coke of any kind. Once I had my first child, a trigger went off inside of me and I had a sudden caffeine crazed addiction of the fountain drink variety.
I have tried off and on over the years, without a whole lot of success, to break this habit. I will do good for a few weeks and then will break down and fall down the slippery slope, yet again.
My mom once told me that the easiest way to break a habit is to replace it with another habit. With that brilliant piece of advice in mind, I have now found something that I really believe will be a sufficient fountain drink habit breaker.
Care to join me?
Mudslide (from Recipezaar)
5 min | 5 min prep
SERVES 1
Crush ice cubes in blender.

Add remaining ingredients.

Blend on high for 45 seconds. Serve in Hurricane glass.
Craving a refreshing summer beverage? Give these recipes, from other food bloggers around the blogosphere, a try: