I had a blog post for Hallmark scheduled to run yesterday. It was in queue, all ready to go, when the tragedy in Newtown, CT took place.
My Hallmark post was to be about their very special North Pole Countdown Ornament, but I just couldn't push publish. I have something else I'd like to talk about. In light of the tragedy in Newtown, CT I'd like to take a moment to talk about our teachers.
This is my final post for the Hallmark 2012 Life is a Special Occasion Campaign. It has been such an honor to work with such an incredible company. Even more so, it has been such a gift for me to explore personal topics and share them with you in a way I might not have before. With all the wonderful things I had the chance to write about in the past year, one very special thing has stuck with me… Tell Them.
image courtesy of Hallmark
Teachers. They are educated and hired to teach our children the ABC's, math, geography and more. They teach each and every day, but we trust them with beyond giving our kids an education. We trust them to love our babies and keep them safe. Never in a million years would I expect that a teacher would have to give up their life to protect my own kids, but I know if that were to happen, every single teacher we've been blessed to have in our lives would do just that.
I think for that alone, we need to remember to tell a teacher thank you. Especially on this day, as we are all hugging our children a little tighter and smothering them with an over abundance of love and affection, our teachers need to feel the same kind of thanks and gratitude coming from us.
So to Mrs. Brim, Mrs. DeWerff, Mrs. Maggie, Mrs. Thompson, Mrs. Morris, Mrs. Dolan, Mrs. Hoover, Mrs. Lawyer, Mrs. Viets, Mrs. Ashley, Mrs. Legett, Mrs. Hite and all the teachers out there who love my children as their own, through tears, I say "Thank You". Thank you for being more than simply a teacher to my kids. I am incredibly grateful to all of you.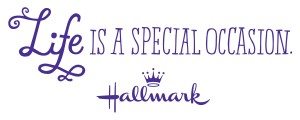 Disclosure: I am honored to be a 2012 paid brand ambassador for Hallmark Life is a Special Occasion. All opinions expressed are my own. For special discounts, product offerings and news about Hallmark, feel free to sign up for their newsletter.