A fun Halloween Party Idea using fresh California Avocados to make a quirky and cute guacamole dip shaped like Frankenstein. Meet Frankenguac!
Friends… if you know me at all you know I am not cutesy or crafty or "kid food" creative at all. In fact I used to be the food editor for a kid's food magazine and every time I was assigned to do something cutesy with food, I cringed. I just don't have that talent like some people do! I love to throw a good Halloween Party but my food is typically pretty standard. Soup, bread, salad… nothing cutesy.
So when my friends at California Avocados challenged us to make a fun halloween party recipe using their fresh, California Avocados, I cringed. Ugh! What was I going to make? 
With California Avocados being green, I started thinking what about Halloween is green? There are green monsters, the leaves on pumpkins and then I thought.. Frankenstein! He's green!
As I was putting my halloween party recipe together, I was texting my friend Aggie from Aggie's Kitchen at the same time, moaning and groaning about how much I stink at this kind of stuff. I sent her a picture and she responded "Oh I love him! Frankenguac!" and Frankenguac was born. And then I kind of loved him. He's ridiculous. And cutesy. And really doesn't look anything like Frankenstein at all…but he's been named and I can't help but look at him and laugh. Little Frankenguac makes me happy…who knew?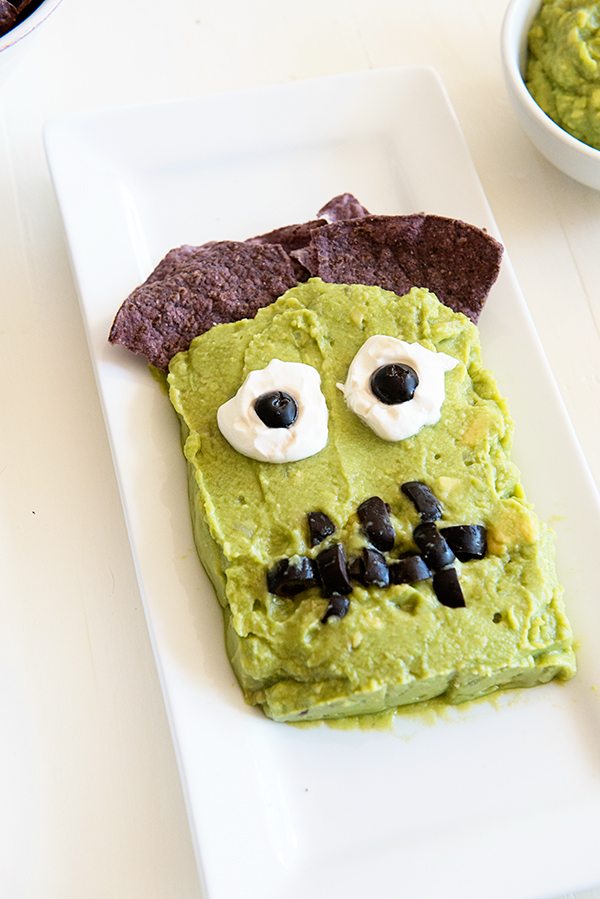 If you are looking for a slightly goofy but fun recipe for your next Halloween Party, this Frankenguac couldn't be easier to make! And you don't even have to be cutesy or crafty to make it…you just have to go with it, have fun, and have a little imagination along the way!
What would you make with fresh California Avocados for Halloween? Sometimes it's fun to step outside of your normal box and experiment in fun ways with food. I'm glad I was given this assignment, and had a friend to laugh about it with! I was inspired by this Frankenstein Quesadilla post on Kitchen Fun With My 3 Sons. Check out their site for more Frankenstein fun!
Enjoy!
Here are some more great Halloween Party Snack Ideas
Frankenguac Halloween Party Appetizer Recipe
A fun Halloween Party Idea using fresh California Avocados to make a quirky and cute guacamole dip shaped like Frankenstein. Meet Frankenguac!
Ingredients
1

batch of your favorite guacamole using fresh California Avocados

I love this recipe but didn't include the tomatoes

1

handful of blue tortilla chips

2

tablespoons

of sour cream

1/4

cup

sliced olives
Instructions
To assemble Frankenguac:
Spoon guacamole onto a rectangle platter, using a flat edged scraper to shape into a rectangle.

Place chips near the top of his head, with triangle tip pointing down.

Add two dollops of sour cream for the whites of the eyes and top each with a sliced olive end piece (without the hole)

For the mouth, push sliced olives with rounded edges facing up into the guacamole, shaping it like Frankenstein's mouth.
Disclosure: I've had an ongoing compensated relationship with California Avocados. All opinions are my own. For more Halloween Party ideas and great recipes, make sure to visit their website!