A throwback to one of my favorite restaurant desserts from childhood…Homemade Dessert Waffles!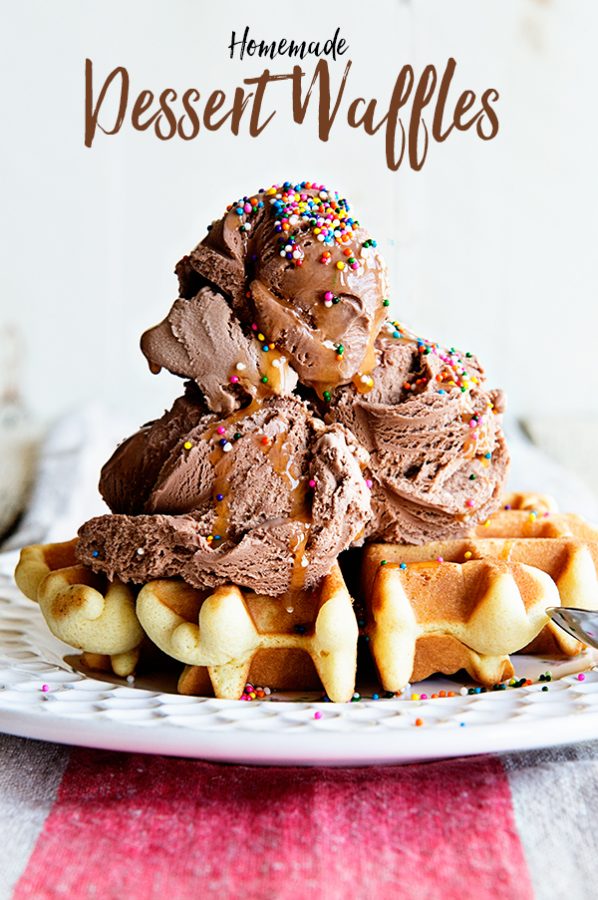 When I was a young girl, my parents would always let us choose a restaurant to go to for our birthday dinner. We could choose anyplace we wanted to go, since it was our special day. Now mind you, I grew up in a tiny town of 1,000 people, so the restaurant choices there were zilch. The closest place to eat was about 15 minutes away, and then 30 minutes away there were even more options. But no… I didn't choose a restaurant close. I always wanted to drive up to Kansas City for my birthday, which was 2 1/2 hours away, just so we could eat at Denny's. Yes, Denny's.
I loved Denny's for two reasons. One, they had those red padded swivel stools at the bar my parents allowed us to sit at only on special occasions. Two, they had the tastiest waffle sundaes. Those two reasons alone were why I chose Denny's for my very special, drive for 2 1/2 hours to eat, birthday dinner.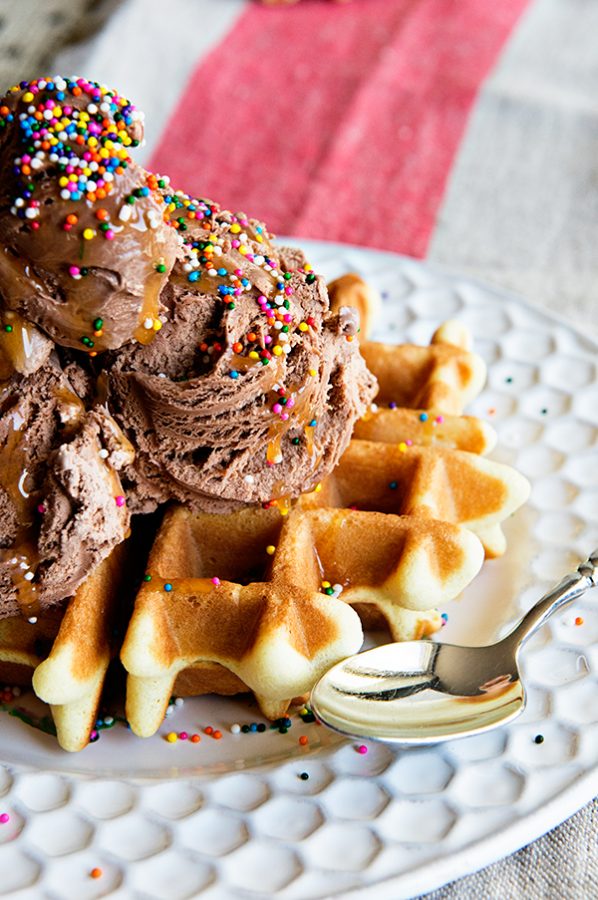 Dessert Waffles are a little bit different than breakfast waffles, and they are not the same as waffle cones either. They are crispier than breakfast waffles, but not quite as thin and crispy as a waffle cone. They have a similar flavor of a waffle cone, but they are a slightly sweeter, thicker version and are the perfect base for a sundae!
My birthday sundae at Denny's always had a dessert waffle base, chocolate ice cream, hot fudge or caramel sauce, whipped cream, sprinkles and frosted animal cookies. Do any of you remember that sundae? I checked and they don't serve it any more, which is a shame because it was always such a delicious treat!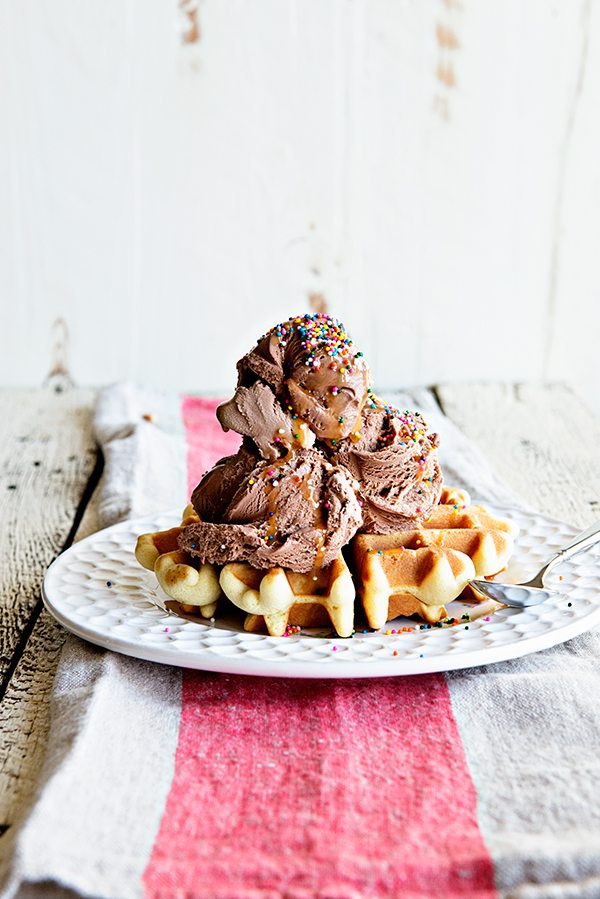 What better day than Throwback Thursday to throwback to the days of my favorite dessert waffles sundae? Since Denny's no longer serves these fun treats, I had to do the next best thing I could and make them at home.
If you want a fun and unique dessert recipe, give one of these Dessert Waffles Sundaes a try. (And if you want regular breakfast waffles, make sure to check out my brothers favorite waffle recipe here.) Enjoy!
Homemade Dessert Waffles
Sweeter and crispier than breakfast waffles yet thicker and softer than waffle cones. Dessert Waffles are the perfect base to your ice cream sundae!
Ingredients
3

eggs

3

⁄4 cup granulated sugar

1

⁄4 cup unsalted butter

melted and cooled

2

tablespoons

pure vanilla extract

1

cup

all-purpose flour

1

teaspoon

baking powder

1

pinch

Kosher salt

Ice Cream and Sundae Toppings
Instructions
In the bowl of a stand mixer, beat the eggs until bright yellow. Gradually add the granulated sugar.

Add the butter, vanilla, flour, baking powder and salt. Mix until well incorporated.

Heat a Belgium Waffle maker and spray with non-stick cooking spray.

Drop batter by 1/4 cup onto heated waffle iron. Close and cook for 2 minutes, or until dessert waffle is golden brown.

To serve, cool then top with ice cream and sundae toppings.