A classic yet extraordinary Homemade Strawberry Shortcake recipe with Grand Marnier Whipped Cream.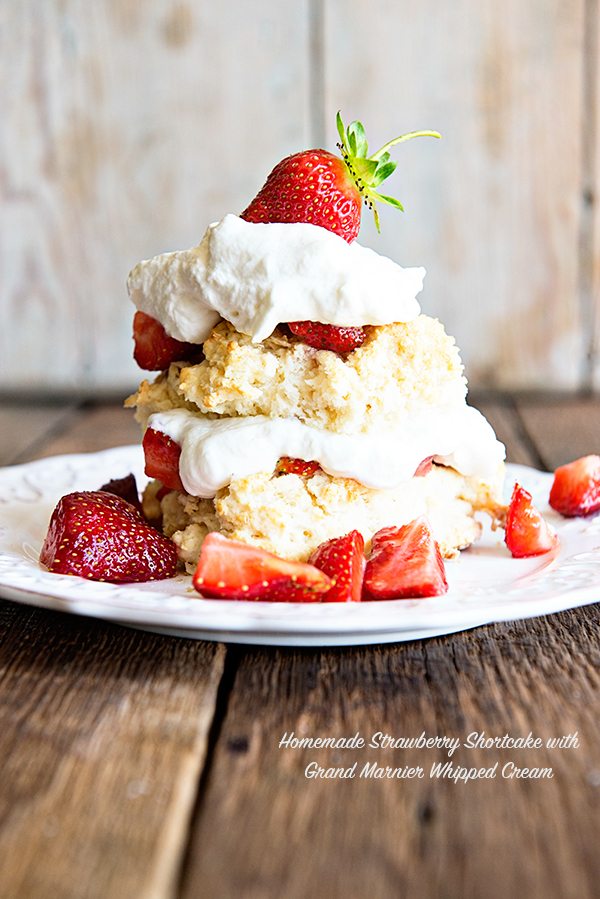 If my mom would have had Instagram when I was a kid, I'm pretty sure that 90% of the photos she would have taken during the early summer months would have included me with red stained fingers, clothes and lips from all the strawberry snacking I would do. My grandpa's strawberry patch always produced the most beautiful, juicy red strawberries… you know the berries you would swear had sugar on them straight from the garden, they were so sweet?
While my cousins would be off trying to catch the fish out of my Grandpa's pond, I would be sneaking off for "just one more strawberry". This would cause my Grandpa to exclaim "Well, I sure could have sworn I had a good bunch of strawberries for you to pick today. I wonder where they all went? Darn rabbits!" With a side eye glance and a wink towards my juice stained face, he never once got after me for eating all the strawberries. 
Things haven't changed much over the years. I still can't resist strawberries fresh from the field. I've grown a few of my own strawberry snatchers too… we just can't help ourselves!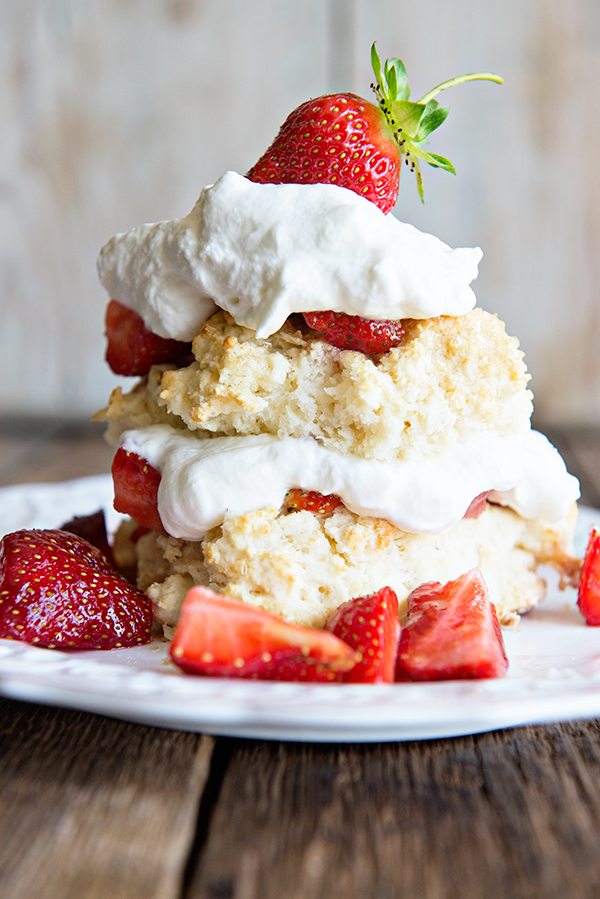 Nothing beats strawberries fresh from the fields, but one thing comes close…homemade strawberry shortcake. This recipe is a classic strawberry shortcake biscuit recipe, with a few special touches to make it extraordinary. I just know you'll love this homemade strawberry shortcake as much as we do! Enjoy!
Homemade Strawberry Shortcake with Grand Marnier Whipped Cream
An extraordinary homemade strawberry shortcake recipe with Grand Marnier Whipped Cream
Ingredients
For the shortcake:

2

cups

all-purpose flour

3

Tablespoons

granulated sugar

1

tablespoon

baking powder

1/2

teaspoon

salt

1/4

cup

cold butter

1

cup

milk

1

Tablespoon

orange zest

3

Tablespoons

Sugar in the Raw

2

pints

strawberries

sliced (add sugar if desired)

For the Grand Mariner Whipped Cream:

1/2

cup

heavy whipping cream

2

Tablespoons

granulated sugar

1

Tablespoon

Grand Marnier
Instructions
In a large bowl, combine flour, 3 tablespoons granulated sugar, baking powder and salt. Cut in butter until mixture resembles coarse crumbs. Gradually stir in milk and orange zest until a soft dough forms.

Drop the dough by heaping tablespoonfuls into six mounds on a lightly greased baking sheet. Sprinkle each dough mound with Sugar in the Raw. Bake at 425° for 15 minutes or until lightly browned. Cool on a wire rack.

For the Grand Mariner Whipped Cream:

Using an electric mixer, beat cream, sugar and Grand Marnier together until soft peaks form.

To assemble shortcake:

Slice each biscuit in half. Layer biscuit, strawberries, whipped cream, biscuit, strawberries, whipped cream, then garnish with a strawberry on top. Enjoy!
 You'll love these strawberry dessert recipes from around the web:
Strawberry Freeze from Food, Faith Fitness
Strawberry and Chocolate Nachos from Our Best Bites
Strawberry Pretzel Dessert from Simply Happenstance
Strawberry and Lemon Cookie Pie from Life Love & Sugar