Strawberry Donuts with Strawberry Glaze are a wonderful way to use up some of those ripe and juicy spring strawberries!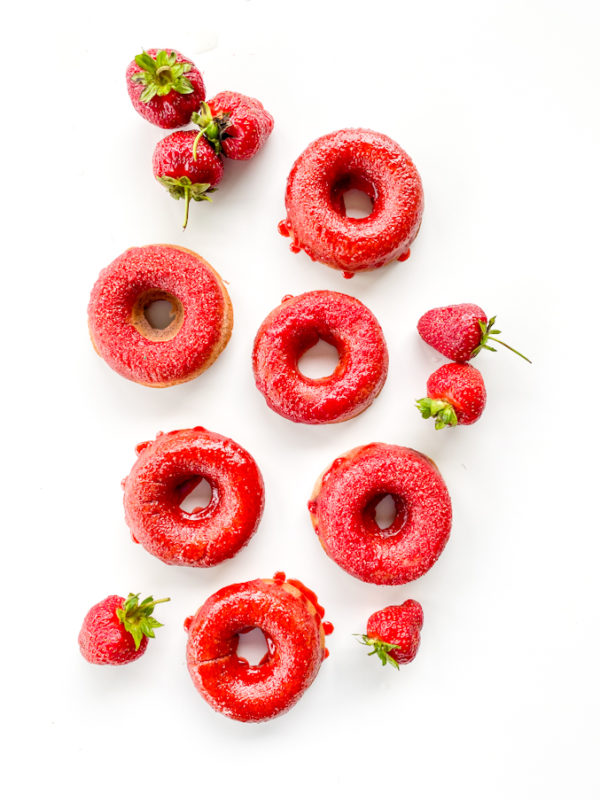 Our very first "no longer in shelter in place activity" was to go strawberry picking! There's a local farm we love that has a great reservation system in place to keep social distancing possible. We were able to get the first appointment of the day and practically had the entire strawberry patch to ourselves. It was wonderful – but I also maybe got a little too into finally being outside in public and went a little overboard on strawberries. $70 and 20 pounds worth of strawberries later, we were headed home with no idea how in the world we'd use this many berries! Oooops!
So, what does one do with 20 pounds of fresh-picked strawberries? Well, we gave a LOT away to friends and neighbors who hadn't been able to get picking reservations. We also ate a lot of them as they were. Then we did normal things like made strawberry shortcake, strawberry pie, strawberry milk, and more! We also froze several bags worth to save for Angel Food Smoothies. YUM!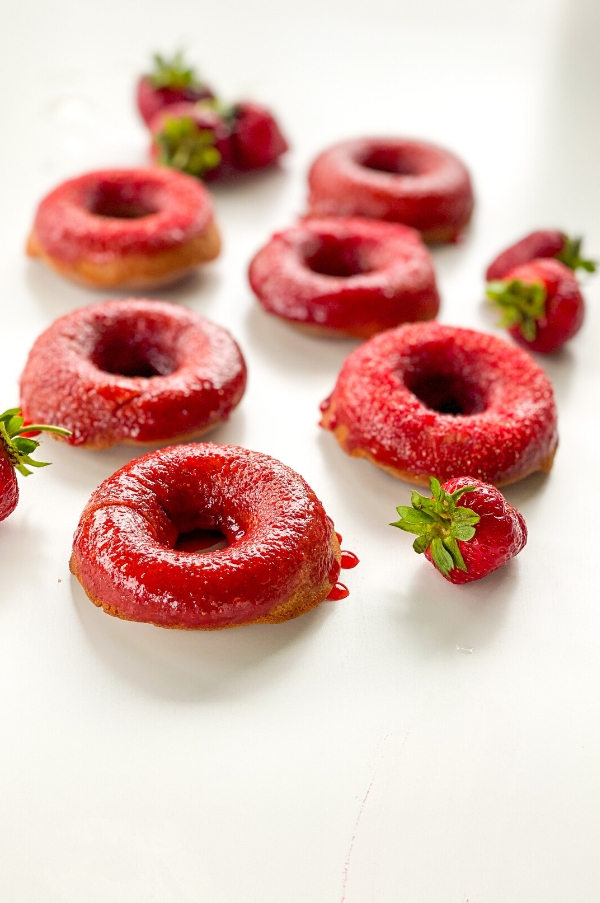 Double Strawberry Glazed Donuts are one of the best things we made with our fresh strawberry haul. Aren't they gorgeous? It's been a while since I last got my doughnut pan out, but making strawberry donuts was worth the wait!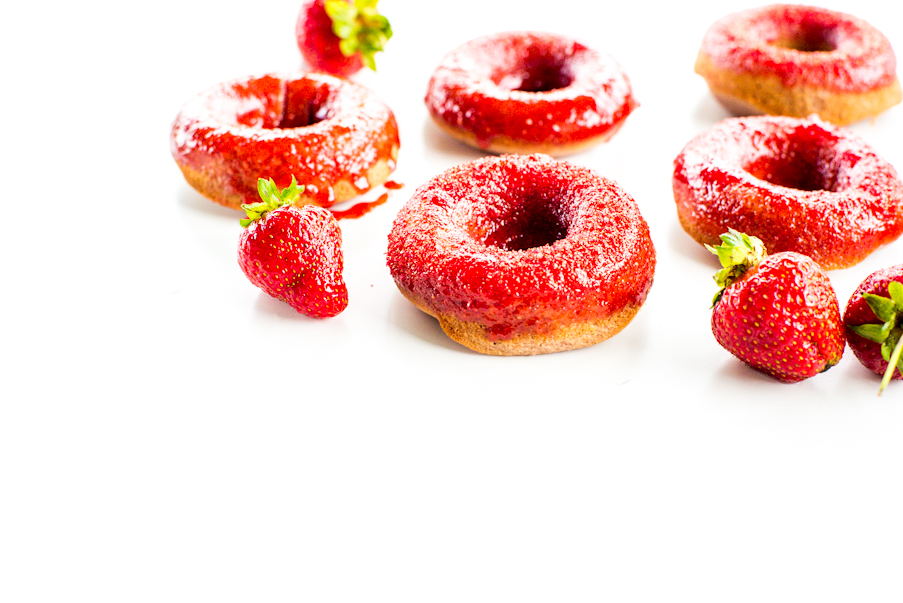 It's not often I'm so inspired by something I make to get my camera out and take pictures, but these Double Strawberry Donuts were as beautiful as they were delicious. I couldn't just eat them without taking pictures. So I quickly grabbed them from the oven, dipped them in the glaze, and snapped a few pictures. I could have photographed these beauties all day long! But, my family was anxiously waiting in the wings for their first doughnut.
If you are looking for a way to use up some of the fresh strawberries of the season, definitely give these Double Strawberry Doughnuts a try! You'll be glad you did.
Our Recommended Donut Pan:
Double Strawberry Donuts with Strawberry Glaze
Homemade Strawberry Donuts with Strawberry Glaze are a great way to use up those fresh strawberries of spring!
Equipment
donut pan

stand mixer

piping bag (optional)

blender
Ingredients
1/3

cup

milk

1

teaspoon

lemon juice

2

cups

fresh or frozen strawberries

cleaned, hulled and quartered (thawed if frozen)

1/2

cup

all purpose flour

3/4

teaspoon

baking powder

1/4

teaspoon

baking sodea

pinch

Kosher Salt

6

tablespoons

butter

softened

1/2

cup

granulated sugar

1

egg

2

teaspoons

vanilla

1

cup

confectioners sugar

decorators sugar or sprinkles

for garnish, optional
Instructions
Spoon lemon juice into milk and set aside for 10 minutes, until milk is "curdled" (this is a tip for turning milk into buttermilk. If you have buttermilk on hand, you can use that instead of the milk/lemon juice).

In a blender, puree the strawberries until smooth. Pour into a saucepan and simmer over medium heat until thickens slightly for about 5 minutes. Stir continuously. Once thickened slightly, allow to cool.

In a small bowl, whisk together the flour, baking powder, baking soda and 1/4 teaspoon salt. In a separate small bowl, stir together the milk/lemon juice mixture with only 1/3 cup of the strawberry syrup. Set remaining syrup aside for the glaze.

In the bowl of an electric mixer, beat together the softened butter and sugar on medium speed until light and fluffy, about 2 minutes. Scrape down the sides of the bowl. Add the egg and vanilla and beat on medium speed until combined. Next, add the flour mixture alternating with the buttermilk mixture then flour mixture then buttermilk mixture. Beat each addition just until blended.

Either fill a pastry bag with the donut batter to pipe or use a small spoon to spoon the doughnut batter into prepared donut pan. (I found piping, although prettier, took longer and was more work. Using a small spoon worked just as well).

Bake for 10 minutes or until a toothpick inserted into the center comes out clean. Let cool in the pan for 5 minutes then remove to a cooling rack. Repeat filling/baking until all batter is used.
For the glaze:
Add the confectioners' sugar to the remaining strawberry syrup along with a pinch of salt. Whisk together until smooth and well blended - you don't want any sugar lumps. Dip the top side of the doughnuts into the glaze then dip in the decorators' sugar or colored sprinkles if desired.
Notes
Adapted from Williams Sonoma Strawberry Donuts. FYI their recipe says 16-18 doughnuts but we only got 10-12 the few times we made these. This is the doughnut pan we use. 
Disclosure: This post includes Amazon links. As an Amazon Associate, I earn from qualifying purchases.