This is a sponsored conversation written by me on behalf of Hiland Dairy. The opinions and text are all mine.  Continue reading for the Ice Cream Muffins Recipe and the chance to win a family road trip Hiland Dairy prize package (including 5 Park Passes to Silver Dollar City).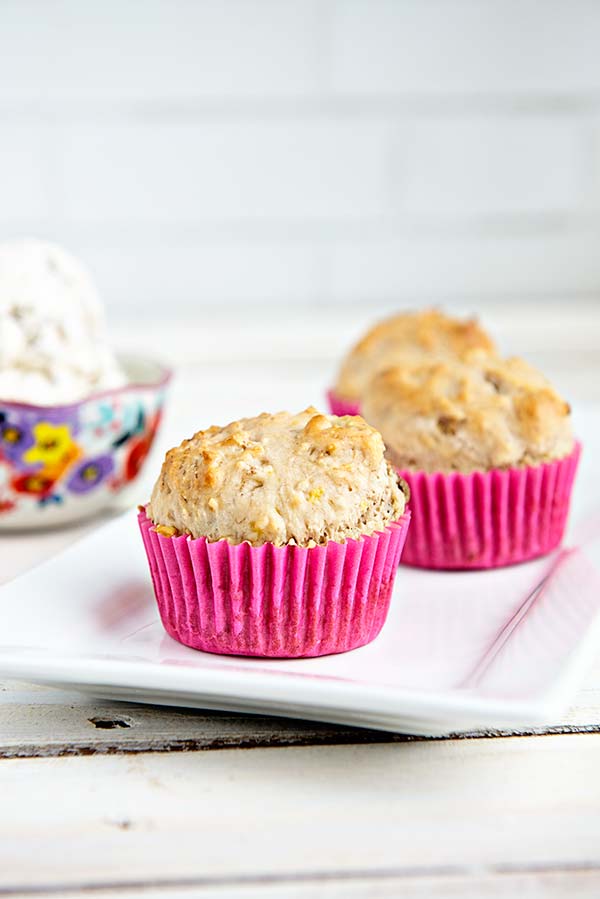 I'm going to share this Ice Cream Muffins recipe and the awesome family vacation prize pack giveaway with you in just a second, but first…can we talk about travel and family vacations? We just returned from our annual spring break family vacation and even though we tried to be really conscientious about spending money, we still spent more money than we budgeted. (By budgeted, I mean we said "hey, let's try not to spend a ton of money on this vacation". And we failed.)
To be honest, traveling as a family of 6 is expensive no matter what, but there are ways to save money when going on family trips. Here are a few of my favorite tips I try to follow for saving money while traveling as a family.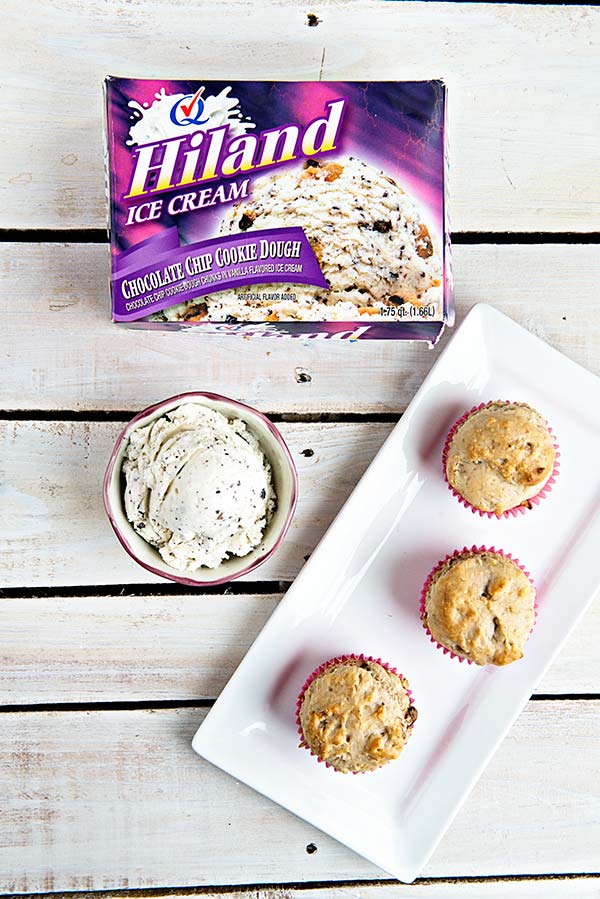 Eat breakfast in.
Breakfast is probably the least expensive meal of the day, so it's the easiest one to save money on. Before leaving your hotel or vacation rental, make a hearty, homemade breakfast everyone can enjoy. Depending on the size of your family, eating breakfast in can save you a significant amount of money. One thing we love to make ahead of time when we travel is muffins. The Ice Cream Muffins recipe featured at the bottom of this blog post is so good and simple, it's a great muffin recipe for travel. Other on the go breakfast ideas?  We love hard boiled eggs, sliced cheese, yogurt, cottage cheese and fruit. Also, including a cup of chocolate milk or regular milk gives you a great protein packed start to your day.
Choose a vacation home rental instead of a hotel.
As a family of 6, finding affordable hotels that can hold all 6 of us is difficult. That's why when we vacation, we tend to rent a condo or house that will comfortably and affordably hold all six of us. The benefits of renting a vacation home are numerous, but we love the fact that there's space for all of us to spread out and a rental with a kitchen gives us the opportunity to save money on food. We eat out a lot less and enjoy cooking at the vacation home, which saves us money. Just make a quick trip to the grocery store when you arrive at your vacation rental, get your fridge stocked with ingredients to make easy meals (give these meals a try), and you'll be good to go!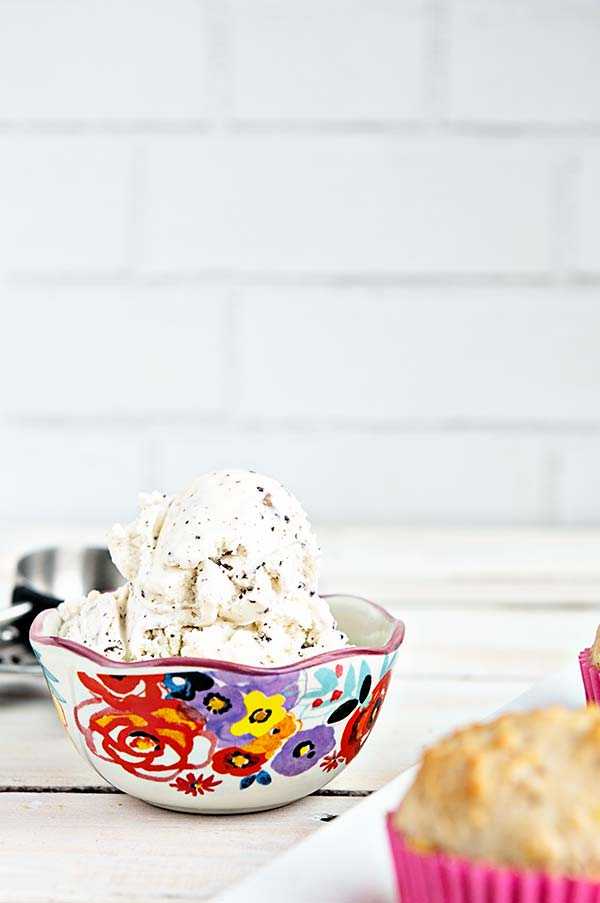 Allow one daily splurge.
Looking back on previous family vacations, I can tell you when we go over our travel budget it's because we splurge here and there each day. If you are trying to stay within a budget, consider limiting your family to one splurge a day. Instead of enjoying something from every food cart you pass or getting dessert with every meal, be clear that you are limiting things to one "splurge" each day and decide as a family what they want the splurge to be that day. For our family, we love ice cream. It's a tradition to eat ice cream every single day of vacation, no matter what. That's our splurge. Whether we buy ice cream at the store and enjoy an ice cream cone on the deck of our vacation rental, or we go out to a local ice cream parlor, we all can agree that ice cream is our one, daily splurge.
Road trip it
The biggest way we save money when we vacation is to choose traveling by car vs airplane. Air travel might be quicker, but I wouldn't trade a quick trip for the number of family memories that are built when we travel by car. Considering most of our family vacations are between 10-18 hours away by car, that leaves a lot of time for family bonding, stopping at landmarks we would have missed had we flown, and eating. Nothing makes a road trip go by faster than food! These Ice Cream Muffins are an excellent road trip snack. Veggies and Hiland Dairy dip help to pass the time too. Pack your travel cooler with some of your Hiland Dairy favorites and you'll be good to go!
So there you have it, my top tips for saving a little money while on family vacation. My friends at Hiland Dairy want to help you have an awesome family vacation too with their #RideWithHiland giveaway. Here is what's included in the giveaway:
Five park passes to Silver Dollar City (home of Hiland's Outlaw Run Ice Cream and our new Time Traveler Ice Cream)
Hotel accommodations
A $150 prepaid gas card for the road trip
A $50 coupon pack for Hiland Dairy products
A cooler to keep your farm-fresh Hiland Dairy snacks cool on the ride
Click here and enter before June 30th, 2018 to enter the giveaway from Hiland Dairy. 2 winners will be chosen.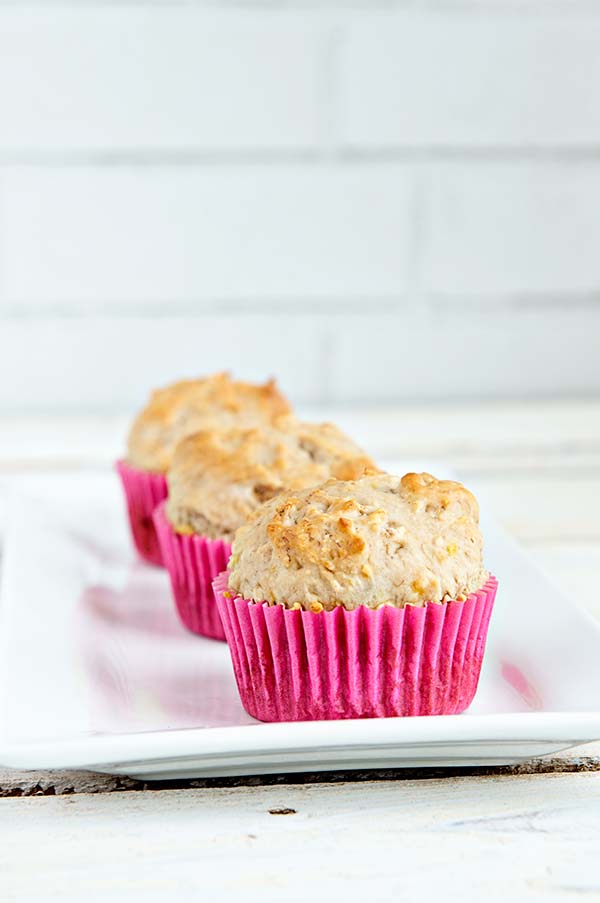 Ice Cream Muffins
A simple on the go muffin recipe with ice cream as the main ingredient!
Ingredients
2

ripe bananas

mashed

2

cups

Hiland Dairy Ice Cream

melted (but not hot)

2

cups

All-Purpose flour

3

teaspoons

baking powder

1/8

teaspoon

salt

1

Tablespoon

vanilla
Instructions
Preheat oven to 375°F and prepare a muffin tin with paper liners or spray with non-stick baking spray.

Place ingredients into a large mixing bowl in the order listed. Combine just until blended and completely incorporated.

Spoon batter into the muffin tin, filling each liner 3/4 full.

Bake for 15 minutes, or until a toothpick entered into the center of a muffin comes out clean.
Notes
Any flavor of full fat (not lite) Hiland Dairy Ice Cream can be used, but the flavors with mix ins other than plain chocolate or vanilla (like Cookie Dough or Chocolate Chip) are my favorite.
This is a sponsored conversation written by me on behalf of Hiland Dairy. The opinions and text are all mine.