This simple Shrimp and Asparagus Pasta Recipe makes a great, family friendly weeknight meal!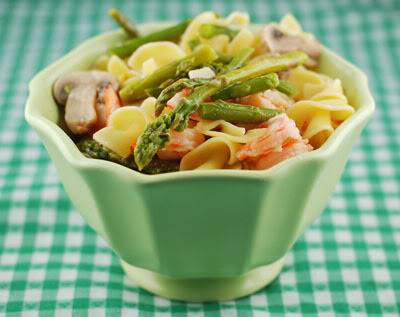 Minus the fried ice cream and funnel cakes, our family has been trying to eat a bit healthier lately. Since my kids love fresh vegetables, I have been trying to incorporate as much as I can into our evening meals. That is why, when I saw this recipe for Shrimp and Asparagus on All Recipes the other day, I decided to give it a try.
The problem was, I didn't really look at the recipe closely before getting started on it. What started out as appearing to be a healthy recipe ended up calling for a massive amount of butter and olive oil! Seriously – 1 cup butter and 1/2 cup olive oil? When I ended up making the Shrimp and Asparagus, I cut down on both the butter and olive oil significantly and it was still very delicious.
I decided that this shrimp and asparagus recipe was having some sort of identity crisis. The person who created it wanted it to be a healthy recipe, hence the shrimp and vegetables, but just couldn't seem to give up some of the goodies to do so.
A group of friends and I have been talking a lot lately about our identity as moms. One thing I have noticed is that when I am in a group with people I do not know very well and one of them asks me what I do for a living, I struggle to come up with what to say. Of course I am a mom, but I try to blurt out what I get "paid" to do first before saying that I am a stay at home mom…as if that has more value. Why is that?
I know that being a mom is the most important job in the world. I also know that it is what I was meant to do with my life, when it all comes down to it. My kids are my passion, I love that I am able to stay at home and raise them… so why is it that I struggle to express who I really am as a person? Like this recipe, I want to be what I am, but am having a hard time putting aside some of the wishes of who I believe I could be to do so.
It is a common identity crisis that I believe many of us have, even people who are not stay at home moms. I know that in order to be the best mom I can be, I have to be able to nurture my true self outside of the role of motherhood. However, next time someone asks what I do for a living, I am going to answer loud and proud that I am a stay at home and am raising 3 (almost 4!) beautiful children. I truly have the best of both worlds when it really comes down to it, and for that, I should be eternally grateful.
I have totally had my eye on these Shrimp and Asparagus recipes from other food blogs around the blogosphere:
Shrimp and Asparagus Recipe
Shrimp and Asparagus (from Allrecipes.com)
Ingredients
1

pound

fresh asparagus

1

16 ounce package egg noodles

4

cloves

garlic

minced

1/2

cup

extra virgin olive oil

1

cup

butter

1

tablespoon

lemon juice

1

pound

medium shrimp - peeled and deveined

1

pound

fresh mushrooms

thinly sliced

1/2

cup

grated Parmesan cheese

salt and pepper to taste
Instructions
In a small saucepan, boil or steam asparagus in enough water to cover until tender; chop and set aside.

Bring a large pot of salted water to full boil, place the pasta in the pot and return to a rolling boil; cook until al dente. Drain well.

In a large saucepan, saute garlic in the olive oil over medium-low heat until the garlic is golden brown.

Place butter and lemon juice in the saucepan. Heat until the butter has melted. Place the shrimp in the saucepan and cook until the shrimp turns pink. Place the mushrooms and asparagus into the saucepan, cook until mushrooms are tender.

Toss the shrimp and vegetable mixture with the egg noodles and sprinkle with Parmesan cheese. Salt and pepper to taste. Serve immediately.