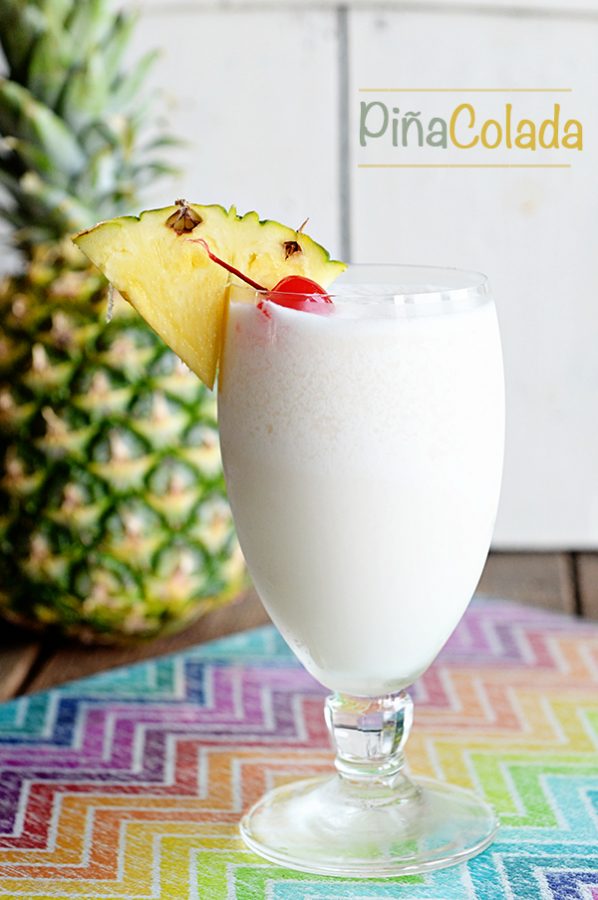 Let me start by apologizing because I imagine right about now you are singing along with me in your head…
"If you like Piña Coladas, and getting caught in the rain.
If you're not into yoga, if you have half a brain.
If you like making love at midnight, in the dunes of the cape.
I'm the love that you've looked for, write to me, and escape."
And now that song is going to be stuck in your head all the live long day. Again, I'm sorry. Actually not really, because doesn't that song make you happy? It makes me feel like I'm back on the Regal Princess Cruise where I enjoyed fun, sun and plenty of frozen Piña Coladas. Here is just a sampling of photographic evidence of my new found Piña Colada love…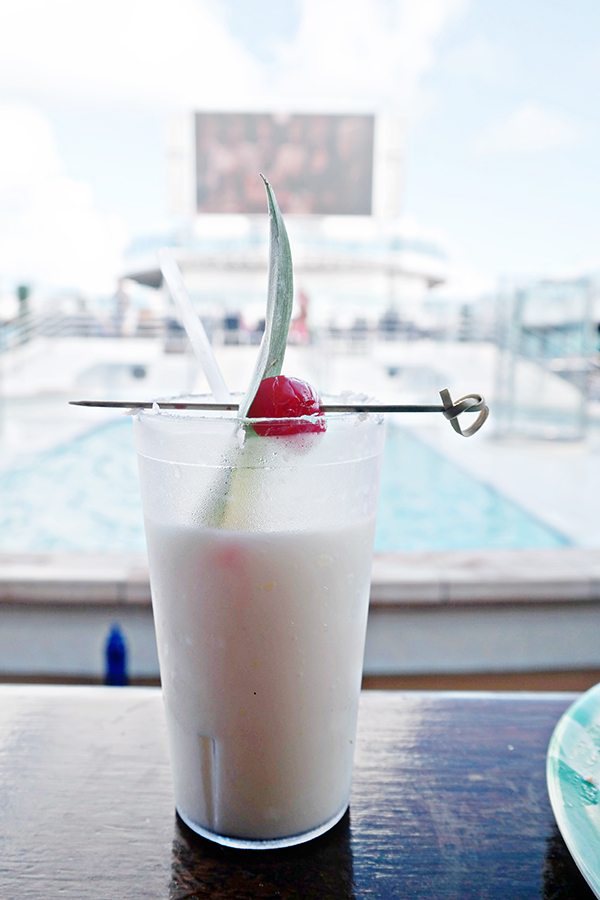 I enjoyed Piña Coladas while watching current and classic movies on the giant movie screen both under the sun and the stars. Movies Under the Stars on the Regal Princess was definitely one of my FAVORITE things. Definitely don't miss seeing some of the biggest hits of the season on the main deck of your Princess Cruise. It is definitely an experience to remember!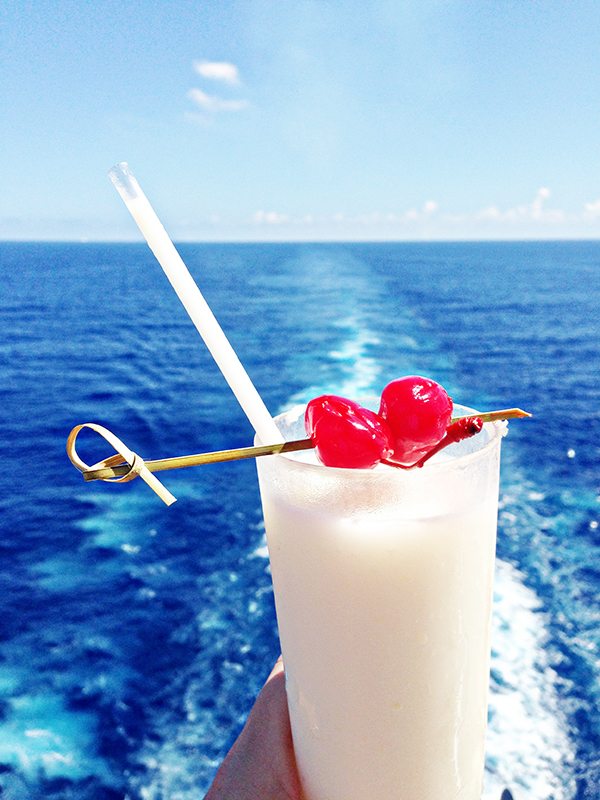 I enjoyed a Piña Colada on all of the decks, overlooking the ocean, just soaking it all in. There's nothing quite better than a frozen cocktail, the beautiful ocean, and being bathed in warm sunshine.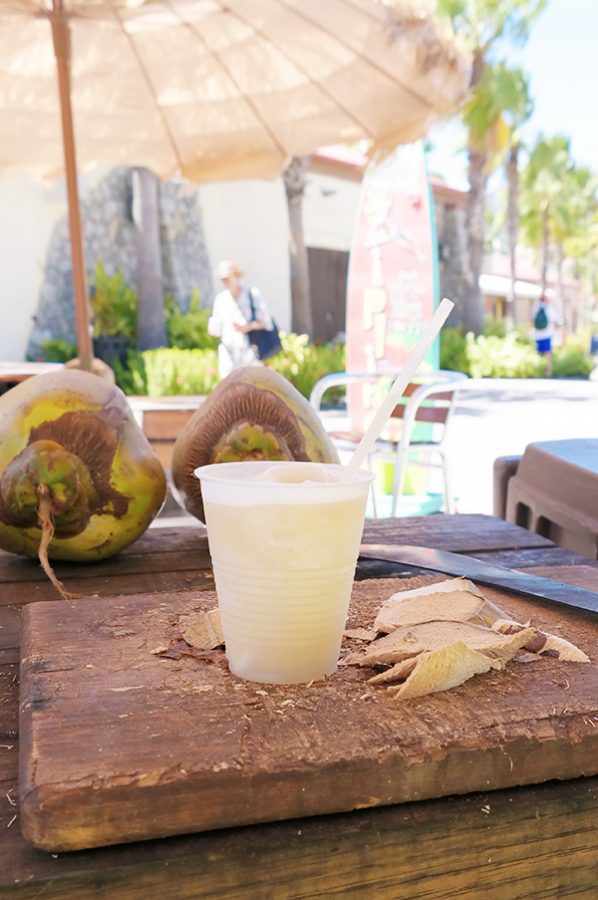 Piña Coladas were enjoyed at all of the ports we stopped at. This one was enjoyed in St Thomas, right after I had an amazing time on a Zip Lining excursion through the tropical terrain. This was such a special experience because they made the cocktail right there in front of us, chopping the coconut, carving out the goodness and serving it fresh.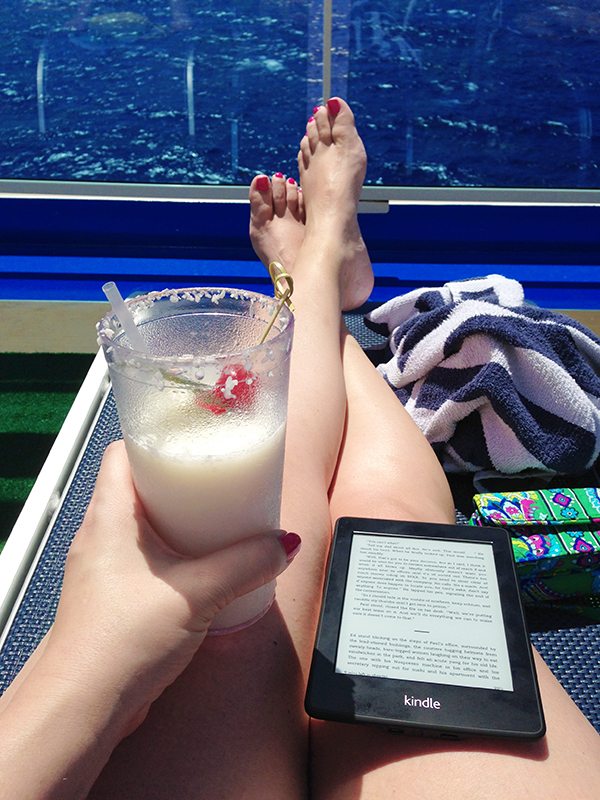 I enjoyed oh so many Piña Colada while relaxing under the sun, reading some great books. A good book, a delicious cocktail and a lounge chair is all I need to be happy in life.
I absolutely enjoyed the best Piña Colada (or maybe three) on my new favorite private island of Princess Cays.  That is the BEST place to enjoy Piña Coladas, ever.
For someone who didn't really care for Piña Coladas before, I love them now! However, I thought I could get away with coming home and just buying some Piña Colada mix and re-living my experience here in Kansas. Funny thing is, it isn't the same! The Princess Cruise Piña Coladas were so good… I had to figure out how to make something similar here at home.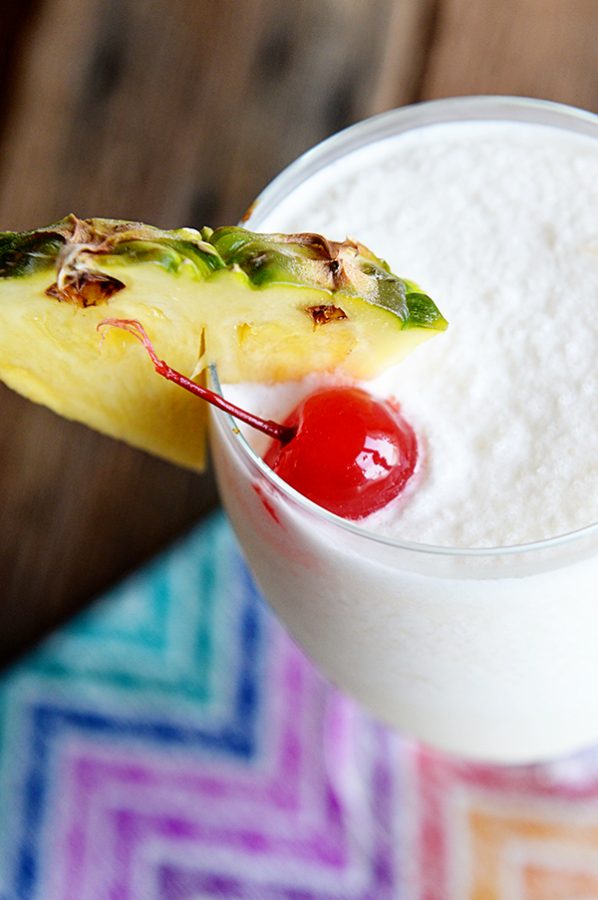 I may not be able to get that beautiful ocean view in Kansas, but I can certainly find the perfect Piña Colada recipe! That's why I love the internet. All it took was a little internet research and a lot of taste testing, and I think I found what will be my go to Piña Colada recipe.
So, if you like Piña Coladas, getting caught in the rain… here's a great Piña Colada recipe from Malibu Rum. Enjoy (responsibly)!
Here are a few tips before you make your Perfect Piña Colada
This recipe calls for Coconut Cream (or Cream of Coconut), which is typically found in a can among other pantry items. The grocery aisle most common to find cans of coconut cream is the Asian food aisle of your local grocery store. Both the Goya Foods brand and Thai Kitchen brand are excellent choices for this recipe. Take note that Coconut Milk and Coconut Cream are not the same thing. For the best rich and creamy tropical cocktail you definitely want to get Coconut Cream, not the milk.
If you are wanting to make a Virgin Piña Colada without alcohol, simply remove the rum from the recipe. You can also create a Strawberry version of this cocktail by blending in 2 cups of fresh, hulled strawberries in with the rest of your ingredients. A Strawberry Colada is one of my favorite drinks!
I really don't like my Piña Coladas to have chunks of ice in them. Even with my awesome blender that I love so much, ice chunks still happen sometimes. For best results, do a double blend of your ingredients before pouring the cocktail into your glass to serve.
Perfect Piña Colada Recipe
If you like Piña Colada, getting caught in the rain... you'll love this Piña Colada recipe!
Ingredients
3

oz.

light Rum

6

oz

pineapple juice

2

ounces

coconut cream

2

cups

ice

Pineapple and maraschino cherries for garnish
Instructions
In a blender, combine rum, pineapple juice, coconut cream and ice. Blend until smooth (I usually do two cycles of blending so I have an extra smooth pina colada).

Pour into a hurricane or high ball glass. Garnish with a slice of pineapple and maraschino cherries.
Notes
Use Coconut Cream not Coconut Milk for the creamiest version of this recipe.
For more awesome tropical cocktail recipes, check out these blog posts:
 Disclosure: I was so honored to be a guest of Princess Cruise Lines on a recent 7-day Caribbean Cruise. All opinions expressed are my own.