I will admit… I like the convenience of a boxed cake mix. I am a very busy mom and sometimes Miss Crocker and I get busy in the kitchen together. On those crunched for time days, must have a dessert days, don't want to use a million dishes days…Betty Crocker is just short of a Godsend in my book.  At roughly $1.50 a box, who could argue with me? Hopefully these occasions are the only occasions that I'm considered cheap and easy.
There are times though when a boxed cake mix just will not do.  There are some recipes that you just couldn't replicate by using a boxed cake mix. Two recipes come to mind… The Malt Ball Cake that I made recently and the Double Chocolate Layer Cake that I compared to Dr McDreamy. Those were cakes like no other… moist, rich, delicious, and unique.
So…what makes me decide whether to use a boxed mix or a from scratch recipe? Usually, it is an enticing picture….a mouth watering description… a recipe with a unique ingredient that makes my taste buds tingle. This is exactly what happened when I was reading the March 2007 issue of Food and Wine magazine and came across Ina Garten's recipe for a Double Chocolate Layer Cake. The huge picture on page 165 had my mouth watering. Ina's description of it being the "most fabulous chocolate cake that I've ever made" had my interest peaked as well. The unique ingredient was coffee…how intrigued I was!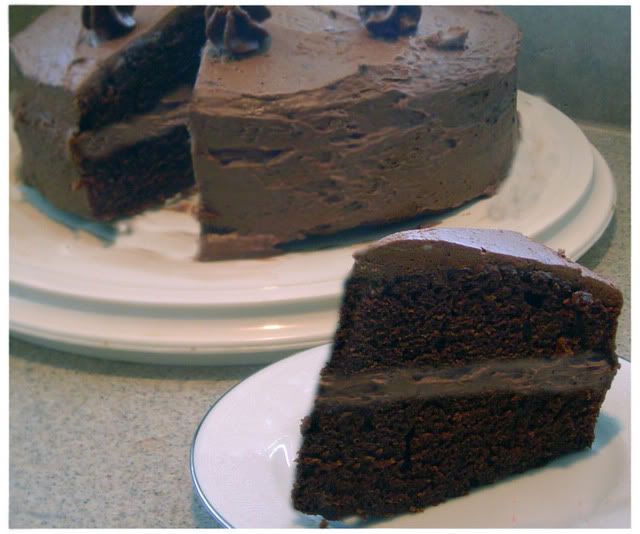 I made the cake this afternoon for a party we are attending tonight. If you are a batter taster like me…be prepared. The batter and frosting alone are well worth all the raves. This cake is everything it promises to be… a unique twist on a standard rich and delicious chocolate cake. The coffee in the batter and in the frosting add just enough twist to the flavor of the cake that you will want to be coming back for more.
So…cheap and easy I may be, but I can clean up well and bring a touch of class to a situation when it is needed. If you want to spread your wings some…cut the cord from Betty, give this fantastic recipe a try. It may have you branching out on your own more often.
From Food and Wine Magazine, March 2007 issue:
Double Chocolate Layer Cake by Ina Garten
Some double layer chocolate cake
Ingredients
CAKE
1 3/4

cups

all-purpose flour

plus more for dusting

2

cups

sugar

3/4

cup

unsweetened cocoa powder

2

teaspoons

baking soda

1

teaspoon

baking powder

1

teaspoon

kosher salt

1

cup

buttermilk

1/2

cup

vegetable oil

2

large eggs

1

teaspoon

pure vanilla extract

1

cup

freshly brewed hot coffee
FROSTING
6

ounces

semisweet chocolate

coarsely chopped

2

sticks

1/2 pound unsalted butter, at room temperature

1

large egg yolk

1

teaspoon

pure vanilla extract

1

cup

plus 1 tablespoon confectioners' sugar

sifted

1

tablespoon

instant coffee granules
Instructions
TO MAKE THE CAKE:
Preheat the oven to 350°. Butter two 8-inch round cake pans and line them with parchment paper; butter the paper. Dust the pans with flour, tapping out any excess.

In the bowl of an electric mixer fitted with a paddle, mix the flour with the sugar, cocoa powder, baking soda, baking powder and salt at low speed. In a medium bowl, whisk the buttermilk with the oil, eggs and vanilla. Slowly beat the buttermilk mixture into the dry ingredients until just incorporated, then slowly beat in the hot coffee until fully incorporated.

Pour the batter into the prepared pans. Bake for 35 minutes, or until a toothpick inserted in the center of each cake comes out clean. Let the cakes cool in the pans for 30 minutes, then invert the cakes onto a rack to cool completely. Peel off the parchment paper.
MAKE THE FROSTING:
In a microwave-safe bowl, heat the chocolate at high power in 30-second intervals, stirring, until most of the chocolate is melted. Stir until completely melted, then set aside to cool to room temperature.

In the bowl of an electric mixer fitted with a paddle, beat the butter at medium speed until pale and fluffy. Add the egg yolk and vanilla and beat for 1 minute, scraping down the side of the bowl. At low speed, slowly beat in the confectioners' sugar, about 1 minute. In a small bowl, dissolve the instant coffee in 2 teaspoons of hot water. Slowly beat the coffee and the cooled chocolate into the butter mixture until just combined.

Set a cake layer on a plate with the flat side facing up. Evenly spread one-third of the frosting over the cake to the edge. Top with the second cake layer, rounded side up. Spread the remaining frosting over the top and side of the cake. Refrigerate for at least 1 hour before slicing.
Notes
NOTES: MAKE AHEAD The frosted cake can be refrigerated for 2 days. Let stand for 1 hour before serving.