"Is it really okay to eat Puppy Chow?" This is a question my almost 5 year old son asks me anytime I make this delicious snack.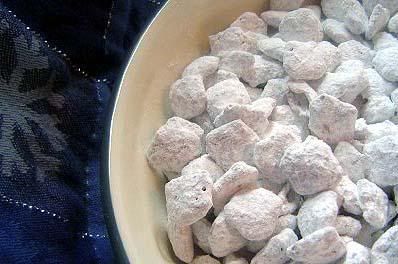 He just can't get over the fact that we are eating something named after dog food, and that looks like dog food too! I wish it bothered me more because Puppy Chow is my weakness. Put a plate of cookies in front of me… I can pass. Put a box of chocolates in front of me… I can resist. Put a bowl of fresh Puppy Chow in front of me and I go nuts. I just can't stop nibbling from the bowl.
Where the heck was I this week when I was reminded that I hadn't made my annual batch of puppy chow? It was someone's blog, I know, but now for the life of me I can't remember where it was. If it was you who gave me the reminder, please speak up so I can give you the credit for adding 5 pounds to my waistline.
If you haven't had Puppy Chow before, you are missing out. It's not the most sophisticated of snacks, but it sure is good!
Puppy Chow
9 cups Chex or Crispex cereal
1 cup semi sweet chocolate chips
1/2 cup smooth peanut butter
1/4 cup butter
2 teaspoons vanilla
1 1/2 cups powdered sugar
Pour the cereal into a large bowl and set aside. Microwave the chocolate chips, peanut butter, and stick butter for 1 minute on high. Stir and then microwave for 30 seconds longer or until smooth. Add vanilla and stir. Pour the mixture over the cereal and stir until coated. Pour mixture into a large paper grocery sack. Add powdered sugar, close the bag and shake until it's completely coated. Spread on waxed paper to cool. To maintain freshness, store in a sealed zip loc bag or sealed tupperware container.
One week ago today I was dishing about My Oven Going on Strike.
Over at our family blog I was dishing about Hugs Being Cool.