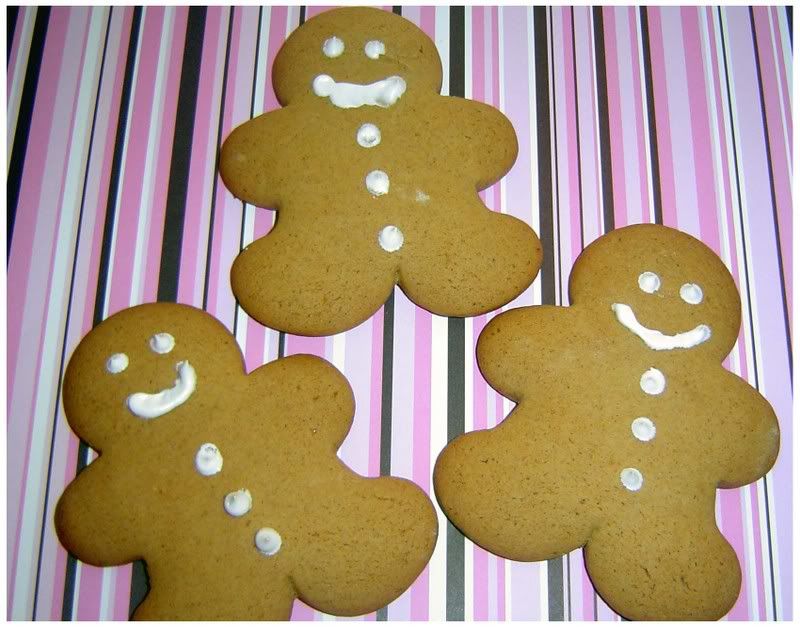 Rumor has it that Gingerbread Men are pretty sneaky. I remember back in Kindergarten making Gingerbread Men cookies during class, and while they were baking in the school oven, they somehow sneaked off, leaving little clues all over the school as to where they've been and what they were doing. They had no intention whatsoever of being eaten by hungry little kids.
Apparently this rumor still rings true, as Jacob came home last week after reading the Gingerbread Man story at school, insisting that we make Gingerbread men cookies. He was determined that our Gingerbread Men cookies would not get away. I found a delicious Gingerbread cookie recipe over at The Whistlestop Cafe blog, and since it didn't use molasses (which is a flavor I don't care for), I decided to give it a try.
As I was mixing up the dough and allowing it to chill in the refrigerator, Jacob was going around the house blocking any cracks, spaces, crevices he could find with books, furniture, toys, etc. As we were cutting them out, he was watching diligently, making sure that none of those sneaky little creatures made if off the pan. He even went as far as putting his football helmet on and grabbing his Pirates of the Caribbean sword, to intimidate any of the men brave enough to attempt escape. It didn't work because as we were taking out the first batch from the oven, we noticed that the pan, which original held 8 gingerbread only had 7 gingerbread men left. Yes… one of our sneaky little gingerbread men escaped. What happened next was absolute panic. Jacob and Kelly ran around the house searching and searching for him. Jacob ran outside and searched the perimeter of the house… he searched each bedroom, each cabinet, each possible hiding place.  Kelly, in her most screechy, girlie voice ran around saying "Gingerbread man? Gingerbread man? Where are you Gingerbread man?" The little guy was never found. He's probably lounging in Caribbean right now baking in some golden sunshine.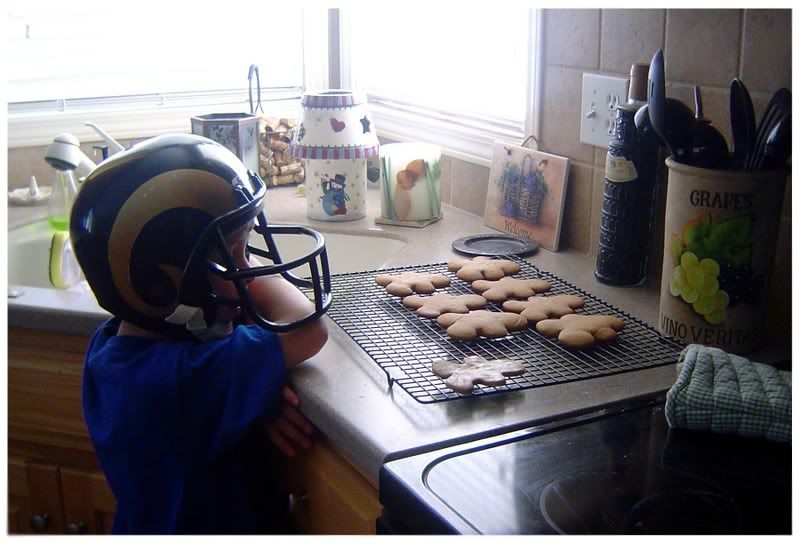 We had a memory making afternoon with our Gingerbread men. Jacob kept pleading to the rest of them… "please don't leave. Mommy will give you some clothes and eyes if you stay."  As real as he made them out to be, he certainly hasn't had any problem chomping their heads off, and harming their poor little bodies!
Baking is at the top of my list of fun things to do with my children. I love cultivating their inner-cooks, even if it makes a big mess and having them help tends to take twice as long as it would if I were doing it myself. I hope that someday, when they are thinking back to their childhood, they remember the times we baked together and the time that that silly Gingerbread Man got away!