An invitation for bloggers and non-bloggers alike (so anyone!) to join us in the #Imperfect365 Photography Project!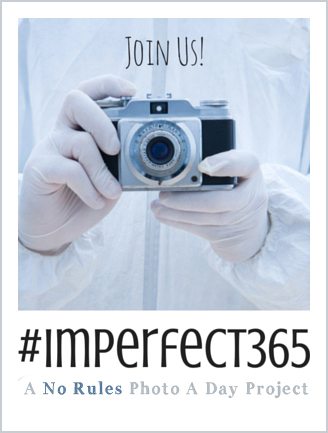 I mentioned in a recent Happiness Report that after completing three Project 365's I needed a year off. I took 2014 off from officially taking/sharing a photo a day but now I'm back and am so excited to do another Project 365!
Most people would share this post inviting you all to join me in my adventure way before the new year…so you could prepare and be ready for your first photo on January 1st. But this is a different type of Project 365. This is a Perfectly Imperfect, no rules, photo a day project! Here's how it works…
1) You take a photo a day with whatever camera you want to use. I'm going to try to focus on using my Nikon DSLR most of the time as I've found when I pick up my "big girl" camera each day, my photography really starts to improve. Camera phones, point and shoots, DSLR's, polaroids, etc…whatever you want to shoot with, it's totally up to you!
2) You share your photos either through Instagram with the hashtag of #Imperfect365 and/or I'd really love for you to join our Flickr group of perfectly imperfect participants. For projects like this, I really love the community aspect of Flickr!
3) Give up perfection. That's the one and only rule of our #Imperfect365 photography project! What do I mean by that? Well, the hardest part of Project 365 is not giving into that "all or nothing" mentality. If it's the end of the day and you realize you forgot to take a photo that day, who cares? Just start back up the next day! I can tell you that my kids LOVE my Project 365 photos more than just about anything I do, because it's a really neat way to look back at the year. They are one of my favorite things too. Who cares if you miss a day or two or five? Let go of perfection and just pick up where ever you left off. Don't give up simply because you missed a step…that's silly!
4) This project is open to anyone who just wants to capture moments throughout 365 days. Bloggers and non-bloggers are encouraged to join! Also, you don't have to be a pro at photography to join! All skill levels are welcome. I'd love to see this community thrive as the most perfectly imperfect group of 365'rs out there! PS – join at anytime! Today, next week, next month…whenever works for you! Also, if you join and share photos, take a few minutes to comment and like other participants photos. That's one of the best parts of a Project 365…the encouragement from others and connecting through photography!
Will you accept the challenge to capture and share moments throughout the year? I hope so!
Disclosure: This blog post contains affiliate links. As an Amazon Associate, I earn from qualifying purchases.