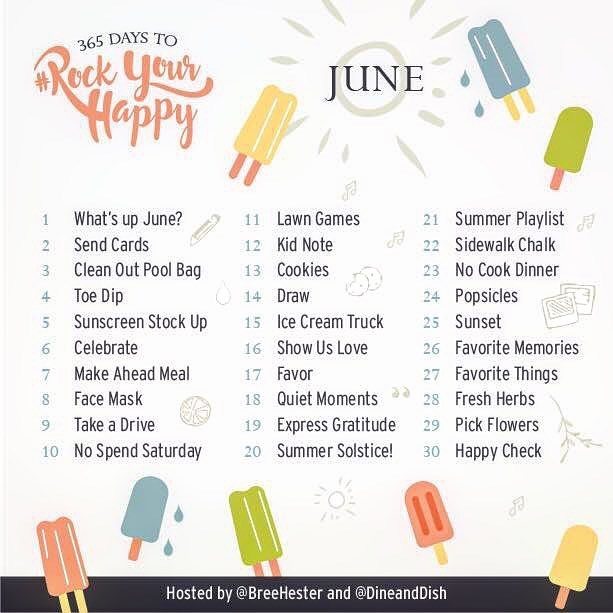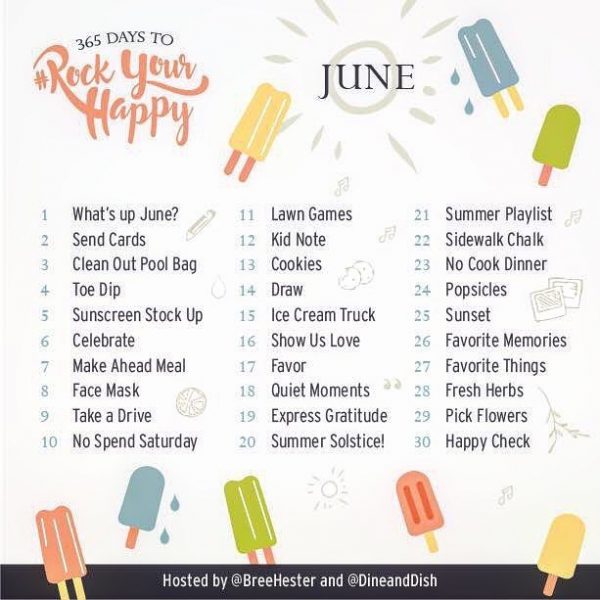 June 1st – What's Up, June? It's time to set some goals and intentions for your month!
(HT) This guide for setting summer intentions is a great place to start!
June 2nd – Send some cards. The first of the month is a great time to send out June birthday cards!
(HT) If you struggle with remembering birthdays, these awesome apps might help!

June 3rd – Clean Out the Pool Bag…get rid of old sunscreen, aged out toys, old snacks and start fresh!
(HT) Here are some pool bag essentials you don't want to forget
June 4th– Dip your toes in some water!
(HT) Did you know being near water has healing and transformational properties? It does! Water is a definite happy booster.
June 5th – Sunscreen stock up. Find a sale and stock up for the rest of the summer.
Happy Tip (HT) – I love a sunscreen that smells like the beach. This is my favorite brand ever. It smells heavenly.
June 6th – Celebrate! We don't need an excuse to celebrate. Find something to celebrate today!
(HT) – One of our family traditions is to buy a bakery cake for no reason at all. Have the bakery write a fun message on the cake and blow out candles just for fun.
June 7th – Make Ahead Meal. Can you cook something today that can eat tomorrow?
(HT) – This recipe is one that I make at least twice a month. Any leftovers is great on a sandwich or in a salad.
June 8th – Face mask night!
(HT) There are so many great face masks on the market right now. I like the sheet masks, and I also like to make my own. Here is a great recipe for a cooling cucumber mask.
June 9th – Take a drive! Roll down the windows, blast some driving tunes.
(HT) – Need some inspiration? Maybe make a playlist with some of these driving classics.
June 10th – No Spend Saturday! Put your wallet away and get creative about how you are going to spend your day.
(HT) Maybe donate what you would have spent today to a charity that means something to you? 
June 11th– Break out the lawn games.
(HT) We are big on lawn games at our house. I had custom corn hole boardsmade for Father's Day last year. No matter where we live, we always have a ring toss in our backyard. It looks easy, but I promise, it isn't!
June 12th – Write a letter to a kid you are proud of.
Happy Tip (HT) – A simple letter will go a long way to show a kid how proud you are of them. Better yet, try connecting with a shared journal.
June 13th – Cookies! Make your favorite cookie recipe of grab some from a bakery.
(HT) – These soft and chewy cookies are simple and so good! You can also splurge and treat yourself to cookies delivered right to your doorstep. These are amazing!
June 14th – Draw. Follow a video and learn how to draw something simple.
(HT) – I've been having so much fun learning to draw from this Instagram account.
June 15th – Get ice cream from an ice cream truck!
(HT) If you are lucky enough to have vendors in your town using this app, you can get ice cream from the truck anytime!
June 16th – Show us some love! Share the Rock Your Happy Challenge with a Friend!
(HT) – We're close to half way through the year, but it's never too late to join our happiness challenge! Do us a favor and forward this email on to some friends who may benefit from daily happiness prompts!
June 17th – Do someone a favor, and expect nothing in return.
June 18th– Quiet Moments. Seek and embrace the quiet.
(HT) Bree and I have shared this app with you before, but it is seriously the BEST for quieting your mind and creating a daily quiet habit.
June 19th – Express gratitude. Write down some things that you are grateful for today.
Happy Tip (HT) – This highly anticipated new gratitude journal should be arriving in my mailbox any day now. I can't wait!
June 20th – Summer Solstice. Do something to celebrate the official start of summer!
(HT) – Try creating a Summer Bucket List of things you're excited to do this summer. Here's a great list for inspiration.
June 21st – Summer Playlist. Make a playlist of summer songs that make you want to dance!
(HT) – Refinery29 is here to help you out with a great 2017 summer playlist.
June 22nd – Sidewalk chalk. Is there anything more summery than sidewalk chalk?
June 23rd – Make a "no cook" dinner.
(HT) – This is a great recipe for when you don't want to stand over a hot stove.
June 24th – Popsicles. Cool off with an icy cold treat!
(HT) These berry popsicles would be an awesome option for today.

June 25th– Watch the sunset.
(HT) Scout out your best viewing location and look up what time the sun will set where you are. Now, sit back and enjoy.
June 26th – Favorite Summer Memories – jot down some of your favorite memories from past summers. Bonus points if you re-enact some of them!
Happy Tip (HT) – Get some of the pictures of your favorite summer memories off your hard drives and into photo books. Bree and I love this company for quick, beautiful books that are simple to put together. Once done, you can reflect by flipping through a beautiful, happy filled photo book of memories.
June 27th – Favorite Things. Play Oprah and share your favorite things with others!
(HT) – Buy (or make) a few small gifts of your favorite things to share with a friend and make their day! I love these tips for sharing your favorite things with others.
June 28th – Fresh herbs. Cook a meal using fresh herbs.
(HT) – Summertime is a fantastic time to cook with fresh herbs. Need some tips? Check this article out.
June 29th – Pick flowers. Make a little bouquet of flowers you picked your self.
(HT) Make sure to ask permission before picking flowers from a yard other than your own. If you are super lucky, maybe you have a place like this near you.
June 30th – June Happy Check – what made you happy this month?
(HT) – Send us an email if there was a prompt that really made you happy in June!
Feel free to follow us on Instagram (We will post a picture or share about it in an Instastory every day) and use the hashtag #rockyourhappy2017. You can find Bree at @breehester and Kristen at @dineanddish(make sure to tag us both in your shares).
Don't use social media? No worries! Just know that we are supporting you and encouraging you from afar. You can also hit reply to this email and let us know how it's going. We'd love to hear from you.
It's never too late to join in the 365 Days to Rock Your Happy movement. Send the sign up link to a friendand spread the happiness!