This giveaway is now closed. The winner, chosen by Random.org was Lacey Hemphill (Twitter @Laceylouwho02). Thanks to all who participated and to Kelly Moore for offering such a great giveaway!
Since I began Project 365 (where I challenge myself to take a photo each day for 365 days) last year, you will most often find me with my Nikon DSLR close by. I love photography and enjoy having my camera along with me, as you never know what might pop up that you want to capture through a photo.
Although I have always enjoyed photography, I became more of an avid enthusiast with the purchase of my first DSLR in 2007. Since then, photography – of food, life moments, travel, people…basically everything – has become a definite passion. As much as I enjoy having my camera with me when I'm out and about, over time I found it very frustrating that there weren't a lot of options aside from manly looking backpacks for camera bags. I wanted something beautiful and stylish with room to hold my big camera and a lens or two, accessories plus the things I need on an everyday basis – car keys, phone, wallet, lipstick, etc.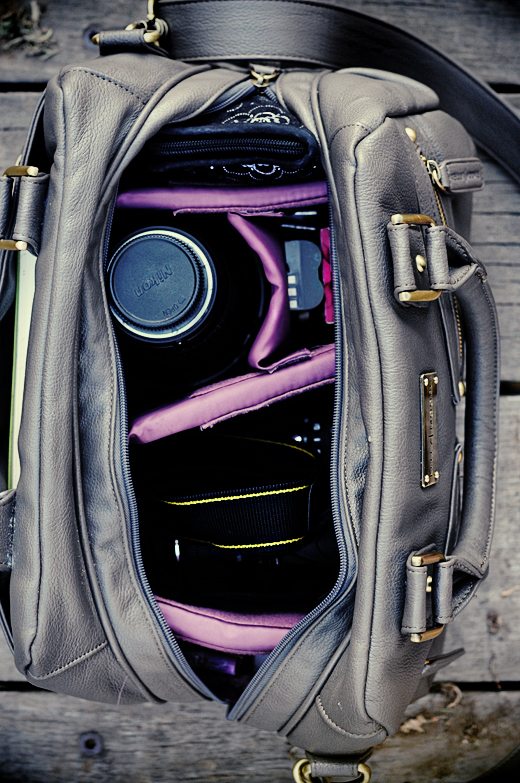 Kelly Moore is a mom, wife, professional photographer, and now a designer of gorgeous and functional camera bags for women (and men too!). She designed her bags because she had the same frustrations I did. With style, function and fun in mind, Kelly Moore has created a line of camera bags where both function and fun intersect. Adjustable / removable padded inner sleeves allow you to create the space perfect for your needs within your own bag.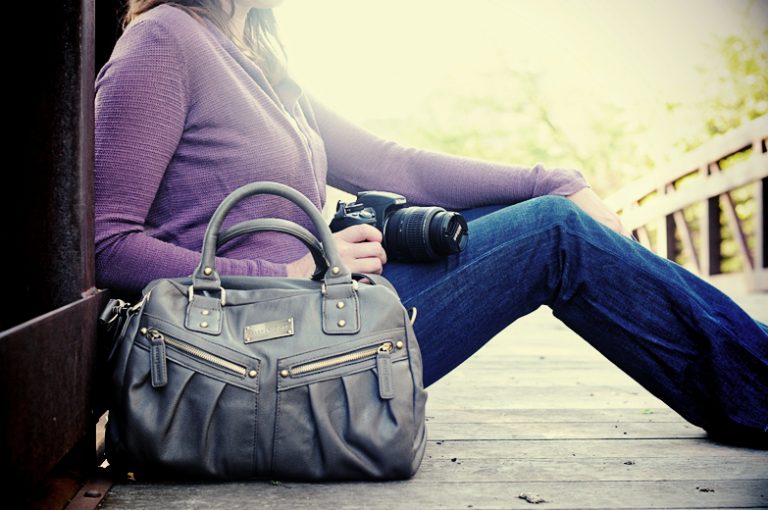 Both the inner and outer construction of the bags are made with quality materials and made to protect your photography investment. My Kelly Moore bag is the Mimi style and I feel good knowing that I can trust the quality of this bag to keep my camera and lenses safe.
My Kelly Moore bag has traveled all around town, but has also taken extended trips to New Orleans, Chicago, Texas, Iowa, St. Louis and more. It holds all of the essentials I want on an airplane or in the car with me with ease.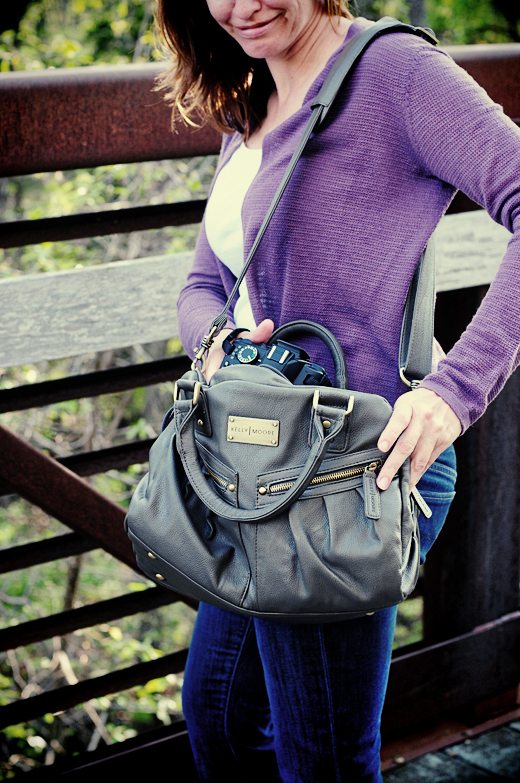 I'm happy to have finally found a bag that meets my needs and makes it possible for me to pursue my passion all the while looking fabulous while I do it! I am even happier to let you know Kelly has offered 1 lucky Dine & Dish reader the chance to win their very own Kelly Moore Camera Bag (with a value up to $199).
In addition, my friend Sylvie has the same giveaway going on! Once you have entered on this post, make sure to head over to Sylvie's blog for chances to win her giveaway.
Kelly Moore Camera Bag Giveaway Details:
To enter to win a Kelly Moore Camera Bag of your choice, up to $199, simply leave a comment on this post telling which style and color Kelly Moore bag is your favorite. (Her complete collection can be found HERE.)
For additional entries:
Become a fan of Kelly Moore Bags on Facebook. Leave a separate comment on this post letting me know you've completed this.
Tweet the following: " I want to #win a beautiful @kellymooreclark Camera Bag from the #giveaway at @DineandDish http://bit.ly/H95HoQ " Leave a separate comment on this poste letting me know you've completed this.
Follow @KellyMooreClark on Twitter. Leave a separate comment on this post letting me know you've completed this.
Share this post, with a link, with your friends on Facebook. Leave a separate comment on this post letting me know you've completed this.
This giveaway is open to those in the US and Internationally. All entries must be received by Midnight, CST on Monday, April 9th. Winner will be chosen via Random.org and notified via valid email address and will be allowed to choose 1 Kelly Moore Camera Bag of their style and color choice up to $199 ARV. Thanks and good luck!
This is a sponsored post on behalf of Kelly Moore Camera Bags. I received a Kelly Moore Camera Bag to review and they are providing the giveaway product. All opinions expressed are my own.
Disclosure: This blog post contains affiliate links. As an Amazon Associate, I earn from qualifying purchases.