4/12/2011 The Giveaway is now closed. Congrats to Kelly T from Texas Type A Mom!
Oh, friends… do I have a treat for you! I can't wait to share what I have joined together with 3 of my Kansas City blogging friends to create.
I'll give you a hint. You know Kettle Corn? That delicious, addicting sweet and salty county fair treat? And of course you are familiar with classic Rice Krispie® Treats. Well, we decided to take the flavors of our favorite county fair treat and combine it with a classic Rice Krispie® Treat, creating – The Kettle Krispie Treat. A sweet and salty, oh so addicting, Rice Krispie® treat. One bite is sweet… the next bite is salty… and you just can't stop eating them because they are just so darn good.
(These adorable cups are courtesy of the Hey Yo Yo Etsy shop)
Kelly from Kansas City Mamas, Jenn from Super Jenn, Julie from My Kansas City Mommy and I were asked by The Motherhood and Rice Krispies® to participate in a year long challenge creating unique and family friendly Rice Krispie® Treat recipes. They've turned our recipe creating into a fun little competition participating against three other teams across the United States. They are also generously throwing in some giveaways for our readers as well. (At the end of this post you'll learn how you can win a $100 gift card… and you can enter to win a separate gift card on the other participating blog sites too!)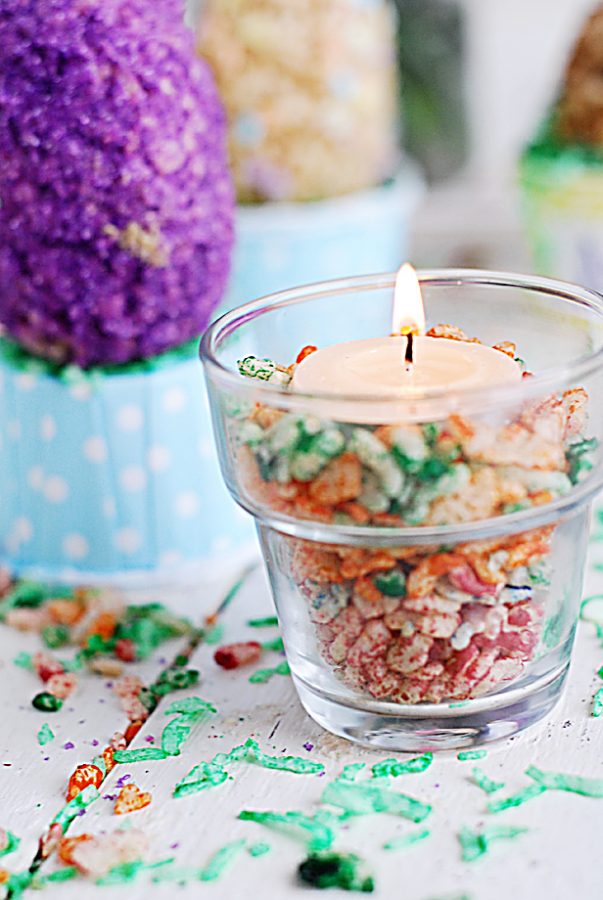 Before we get into the giveaway details…what do you think of our cute little Kettle Krispie eggs? Aren't they fun? We thought these would be a great treat for a sweet treats Easter party for kids. You can shape your Rice Krispie® treats easily using well buttered plastic Easter eggs. Roll your egg shaped treats in colored sugar for another fun variation. Also you can create colorful Rice Krispies® by stirring the Rice Krispies® together with a few drops of food coloring. Sprinkle the colorful Rice Krispies® around on your table like confetti and you have yourself a fun and festive environment! We took things one step further and even filled a few votive candle holders with our colorful Rice Krispies® just for that extra touch of fun.
We hope you like what we created – and if you did, you'll have the chances to give our Easter creations a thumbs up on the Rice Krispies® Facebook page between April 12th – April 15th (don't worry… I'm sure we'll give you a reminder when the day gets closer)
Now for the giveaway details… to enter for the chance to win a $100 gift card courtesy of The Motherhood and Rice Krispies®:
Leave a comment on this blog post telling me what your favorite Easter candy was when you were a kid… what did you look forward to finding the most in your Easter basket?
Additional entry: head over to the Rice Krispies® Facebook page and "like" them… that way when it is time to give your favorite creations a thumbs up, you'll be one step ahead by getting the news through Facebook! (Make sure to leave a separate comment here letting me know you "liked" them).
Additional entry: Tweet the following…. "Love these Kettle Krispie Eggs! See the #RiceKrispies recipe and enter the $100 Giveaway @dineanddish  http://su.pr/2GthgM"
Giveaway will end at midnight CST on April 11th and a winner will be chosen through Random.org. Winner will be notified shortly after the giveaway close.
Make sure to check out the blogs of my teammates so you can enter to win their prizes as well! Kelly from Kansas City Mamas, Jenn from Super Jenn, Julie from My Kansas City Mommy
And now, the recipe for these delicious little Kettle Krispie Treat Eggs: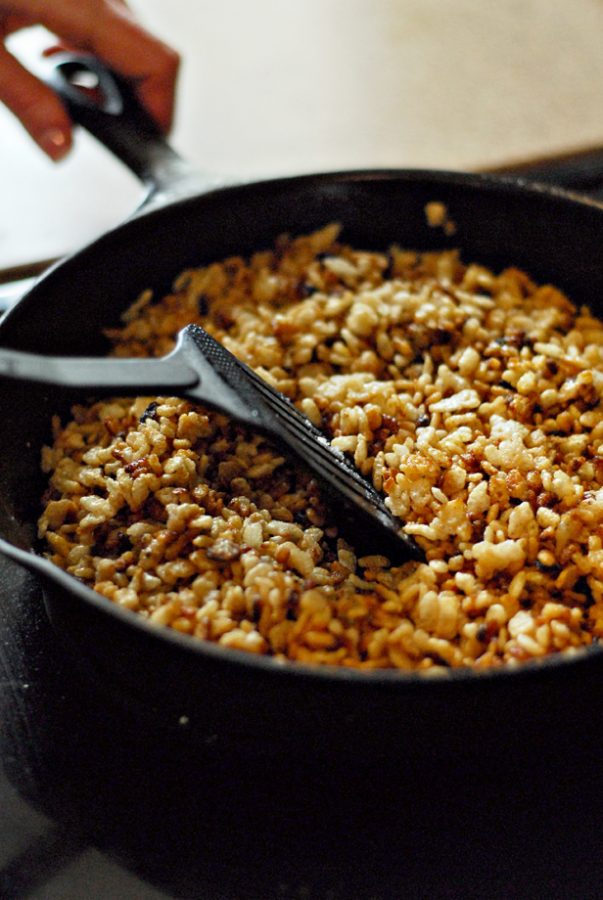 Recipe: Kettle Krispies Treat Eggs
6 tablespoons butter
6 cups of Rice Krispies
3 teaspoons Kosher salt
2/3 cup sugar For Treats
1/4 cup and 2 teaspoons butter
5 cups mini marshmallows
Extra butter for greasing egg molds
Melt butter in an iron skillet or dutch oven over medium heat.
Increase temp to medium high and add Rice Krispies, Kosher salt, and sugar.
Stir continuously over medium high heat until Rice Krispies are caramelized and slightly brown. Around 7 minutes.
Remove from stove and continue stirring for another three minutes until cool. Set aside.
While Kettle Krispies are cooling, butter the inside of 12 large plastic eggs. Set aside.
In a large saucepan, melt butter and marshmallows over medium-low heat.
After mix is well blended, continue to stir and cook for two minutes longer.
Add Kettle Krispies and stir till well coated. Remove from heat.
Fill buttered egg molds with mixture and let them set for 10 minutes. Remove from molds and decorate if desired.
This is a sponsored post in conjunction with The Motherhood and Rice Krispies®. All opinions expressed within this post are my own.