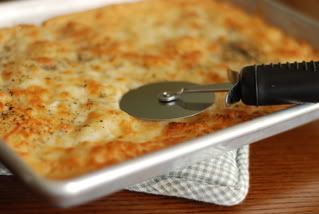 I got a couple of emails after I posted my "kid friendly" menu on Monday. I guess I should have clarified. I know that my definition of kid friendly and other parents definition of kid friendly can be completely different things. I have been very blessed in the fact that my kids are not picky. They eat just about anything I put in front of them, but part of that is because I don't cater to their tastes. I cook the recipes I want to cook, and they know that they at least have to try everything on their plate. I don't make something different for them if they don't like what we are having for dinner. I do always have fruit and vegetable options available that I know they will eat (so they don't "starve"), but for the most part, they generally like our meals and eat what is put in front of them. I know I'd better count my blessings because my good fortune with picky eaters is sure to change when they get older. We will cross that bridge when we come to it, but for now I'll continue cooking the way I do.
Lunch time is when we go for the all out kids fare at our house. Chicken nuggets, macaroni and cheese, PB&J… they get to have the limelight at lunch time. One very kid friendly recipe that my kids go crazy for are Extra Cheesy Crescent Mozzarella Wedges. I love it too because it is so easy to put together and really tastes great.
The ingenious people over at Pillsbury have created a product to make this recipe (and ones like it) even more simple. Crescent Recipe Creations… a product just like the Pillsbury crescent rolls, but with out the perferated seams. Isn't that brilliant? This will make making the Extra Cheesy Crescent Mozzarella Wedges, Grandma Doyle's Breakfast Pizza, and more recipes like that so much easier!
The folks at Pillsbury sent me some other great products to try out. Stay tuned for what is new at Pillsbury!
Extra Cheesy Crescent Mozzarella Wedges
22 min | 5 min prep
SERVES 8
Place dough out on a lightly sprayed cookie sheet.


Press dough onto the bottom and up the sides of the pan.

Brush with butter; sprinkle with garlic powder, Italian Seasoning and cheese.

Bake at 375 degree oven for 15-17 minutes or until crust is golden brown and cheese is lightly browned.

Cut into wedges and serve warm.
Searching for more kid friendly recipes? These food bloggers have some great ideas:

The winner of the Cabaret Brewed Chocolate is…. Chuck from The Knead for Bread Blog! Congratulations Chuck and thank you to all who participated. More giveaways coming up, so stay tuned!
We will be saying goodbye to one last friend today. Read about it here.
Adopt a Blogger participants… you should have heard from your match by now. If that hasn't happened, please contact me to let me know!
I recently wrote an article for The Daily Tiffin on ways to get your kids involved in the kitchen. Read it here.