Are you looking to achieve fluffy omelet making perfection? Well, I have a few tips and tricks to help you along with an awesome veggie omelet recipe. Plus I'm sharing some of my favorite Kitchen Essentials from the store, Tuesday Morning!
When I was first learning to cook and stocking my own first kitchen, I thought that in order to be a great cook I needed all the gizmos and gadgets out there. If I saw it at a store or on the Food Network, I needed it. It was obviously the missing link between the great cooks on TV and me, right? Wrong. I soon discovered that it isn't all the gizmos and gadgets that make you a great cook. It's lots of practice and knowing how to use certain essential tools the right way that make you a great cook.
I remember attempting to make omelets for the first time and failing miserably. I bought a special omelet pan thinking that would help, and it didn't at all. My omelet turned out to be an over stuffed, torn up, nasty mess.
I've since wised up to the fact that a well stocked kitchen doesn't mean I need every gadget in the land. In fact, if you came into my kitchen today you would notice that aside from a few small appliances, I have very few gadgets. My kitchen is stocked with the most efficient, multi use essentials necessary. If it's a one purpose product, I doubt you'll find it here. Investing in some quality tools is what's most important. You can head over to the Tuesday Morning blog to see what I consider to be some of the most essential things in my kitchen – some of these things I couldn't live without!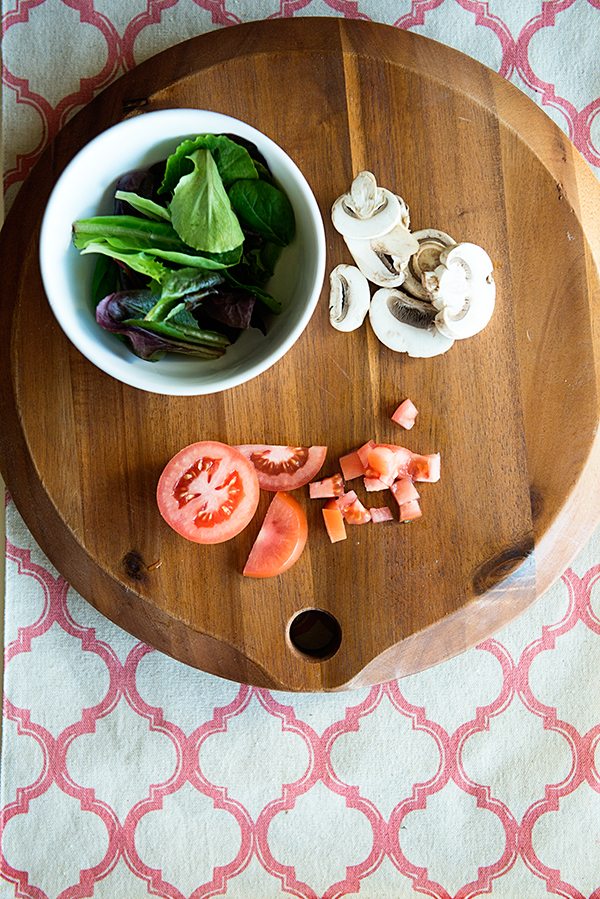 I've wised up and have learned how to make a great omelet. One thing that's key to great omelet making is having a great pan, like this non-stick Cuisinart skillet. Also, I've learned that although I love fillings in omelets, there is no need to overstuff the omelet with fillings. Finally, placing the omelet in the oven under the broiler for a few minutes is absolutely, positively what I believe turns a good omelet into a great one!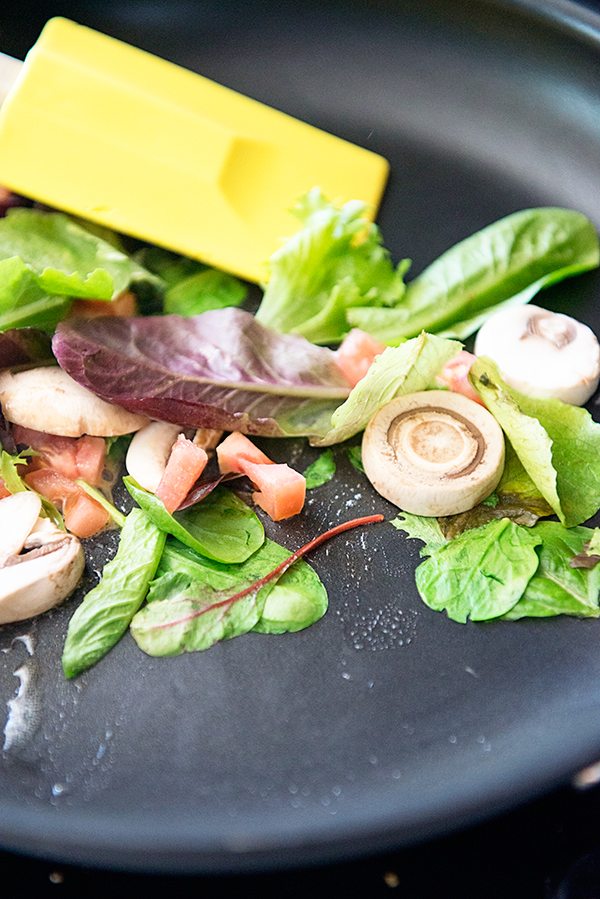 You can read through the recipe below to get all the tips and tricks for omelet perfection. There are some great tips in that recipe you'll want to try especially if you struggle in the omelet department. Omelets now are one of my favorite things to make for breakfast, lunch or dinner!
Veggie Omelets, like this one, are a definite favorite. I love being able to get some essential vegetable goodness into my body first thing in the morning. It may seem odd to add salad greens to your omelet, but once you try it I am confident you won't have your omelets any other way moving forward.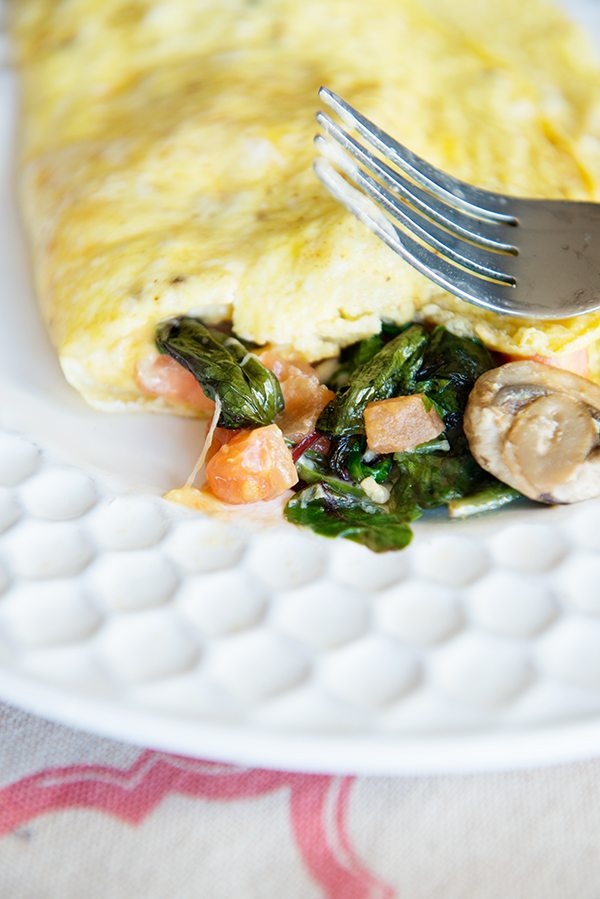 Here's to a well stocked, but not over stuffed, kitchen… keeping in mind that with a few kitchen essentials you can be a great cook in the kitchen!
Make sure to check out this Kitchen Essentials board on Pinterest and head over to Tuesday Morning's blog for my Kitchen Essentials guest post.
Follow Tuesday Morning's board Cook Healthy, Eat Healthy on Pinterest.
Disclosure: This is a sponsored post on behalf of Tuesday Morning. All opinions expressed are my own.
The Perfect Veggie Omelet
Tips and tricks for making the perfect veggie omelet.
Ingredients
2

teaspoons

butter

divided

2

eggs

2

Tablespoons

of water

Salt and pepper

1/2

cup

veggies of your choice

Mushrooms, Spinach, Salad Greens, Onions, Tomatoes, diced

2

Tablespoons

shredded colby jack cheese
Instructions
Pre-heat the broiler of your oven.

This step is completely optional, Add 1 teaspoon butter to a non-stick skillet and heat to medium low. Add the vegetables to the skillet and sauté for 2-3 minutes, or until vegetables are slightly soft or salad greens are wilted. Remove from pan.

Heat the remaining teaspoon of butter in the non-stick skillet over medium low heat.

In a small bowl, whisk together eggs, water, salt and pepper. Pour egg mixture into the heated skillet.

On one half of the omelet, place the vegetables and shredded cheese evenly. Once the omelet is almost cooked through, place the skillet in the oven under the broiler for 30 seconds to one minute. This will help to ensure your fillings are cooked through and the inside of your omelet is fully cooked.

Remove the skillet from the oven and use a spatula to gently fold your omelet over in half.

Slide from the pan onto a serving plate and serve while warm. Enjoy!