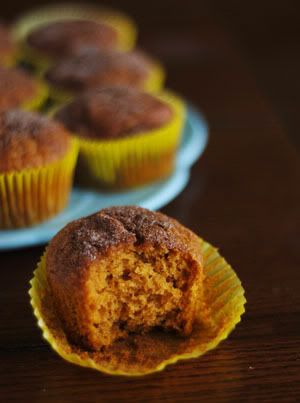 I have always caught on to trends way past when it was cool to do so. I finally decided to grow my bangs out… just about the time that having bangs became cool again. You know that No-Knead bread that was so popular a year or two ago around the blogosphere? I am just now getting ready to make it for the first time this week… when everyone else in blog land has moved on to the Artisan Bread in Five Minutes a Day. Apparently it takes me awhile to catch on to things.
So, knowing this, it should come to no surprise to you that I am posting a pumpkin recipe in February… when the rest of you have long ago put Autumn behind you.
I never, ever tire of pumpkin. Winter, spring, summer or fall, I could eat pumpkin all year long!
I have had this recipe from Gourmet magazine bookmarked to try for the longest time. Why wait for pumpkin season to return again? Muffins this tasty never go out of style!
Pumpkin Muffins (adapted from Gourmet Magazine)
1½ cups all-purpose flour
1 teaspoon baking powder
1 15oz can solid-pack pumpkin
1/3 cup vegetable oil
2 large eggs
1 teaspoon pumpkin-pie spice
1¼ cups plus 2 tablespoons sugar
½ teaspoon baking soda
½ teaspoon salt
1 teaspoon cinnamon
Preheat oven to 350 degrees F. Put liners in muffin cups.
Whisk together pumpkin, oil, eggs, pumpkin-pie spice, 1¼ cups sugar, baking soda, and salt in a large bowl until smooth. Whisk in flour mixture until just combined.
In a separate small bowl, stir together cinnamon and remaining 2 tablespoons sugar.
Divide batter among muffin cups until each cup is approximately ¾ full. Sprinkle tops with cinnamon-sugar mixture. Bake until wooden toothpick inserted into the center of a muffin comes out clean, 20 to 25 minutes.
Cool in pan on a rack for 5 minutes, then transfer muffins from pan to rack and cool to warm or room temperature.
You still have the chance to win an Amazon.com gift certificate. Head over to this post before Wednesday night to share with me your most family friendly recipe!