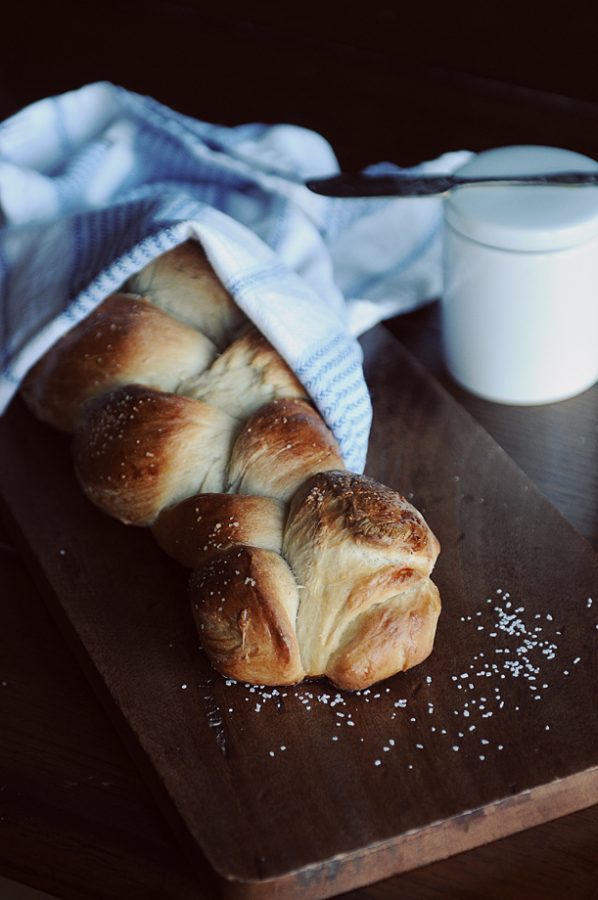 I see recipes all over the web that call for leftover or day old bread. Bread pudding,  French toast, homemade croutons… I bookmark these recipes, thinking someday I'll make them.
The problem is my family doesn't seem to know what leftover bread or day old bread is. It doesn't exist. I make bread, I serve bread, we eat bread until it is all gone. Homemade bread isn't something that we savor or get the luxury of enjoying day after day. My family is a bunch of bread eating crazies…we love our bread. Sometimes I pull it out of the oven, it cools for a few minutes and it is gone before I can serve it with dinner. It's drastic around here, seriously.
Challah is one of my favorite breads to make and to eat. This slightly sweet bread with a tender, crispy outer crust doesn't last long in our house. I imagine Challah does go perfectly in bread pudding or French toast. I hear it also makes some pretty darn tasty homemade croutons. Try a loaf and see… can you make Challah last longer than a day in your house?
Have you entered your recipe for the chance to win a $600 American Express gift card? Head over to my Biscoff Pudding post and share your favorite 6 ingredients or less dessert recipe for the chance to win!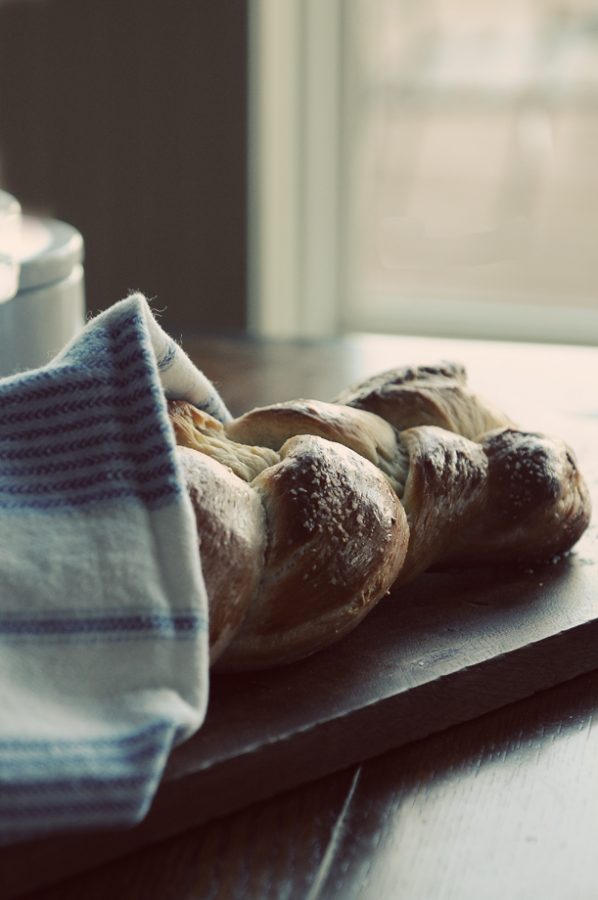 Recipe: Bread Machine Challah (Slightly adapted from Betty Crocker.com)
3/4 cup plus 1 tablespoon warm water
1 egg
2 tablespoons butter
3 1/4 cup bread flour
2 tablespoons sugar
1 1/2 teaspoons Kosher salt
1 1/2 teaspoons yeast
1 egg yolk
2 tablespoons cold water
1/2 teaspoon Kosher salt
Place all ingredients except egg yolk, cold water and final 1/2 teaspoon Kosher salt into your bread machine pan in the order recommended by the manufacturer.
Select Dough/Manual cycle.
Once dough cycle is complete, Grease large cookie sheet. Divide dough into thirds. Roll each third into 13-inch rope. Place ropes side by side; braid ropes gently and loosely, starting at the middle. Pinch ends to seal; tuck ends under braid. Place on cookie sheet. Cover and let rise in warm place about 45 minutes or until double. (Dough is ready if indentation remains when touched.)
Heat oven to 375ºF. Mix egg yolk and cold water; brush over loaf. Sprinkle with remaining Kosher salt. Bake about 25 minutes or until golden brown.