Lemon Pound Cake with Cream Cheese Frosting is a moist and sunny dessert!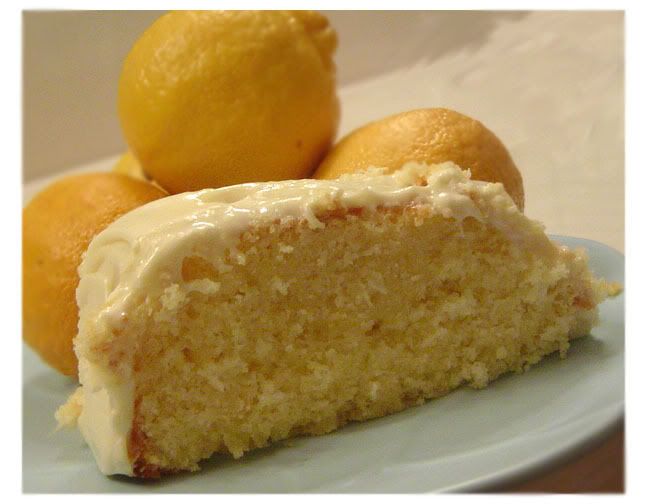 My son requested pumpkin muffins as his birthday treat to take to school this past Monday. I happily made the muffins but felt like they needed something added for a festive touch. I decided to whip up some Cream Cheese Frosting, but when I added the frosting to the pumpkin muffins they just didn't taste like something a 5 year old would love. I found another solution for the muffins (just stuck a dum dum lollipop in the top of each one, which thrilled my own 5 year old), but now had the problem of what to do with all of that cream cheese frosting. Sitting down and just eating it out of the bowl sounded like the perfect solution to my three year old… probably a good thing she isn't in charge of meals around here, isn't it?
We went to the birthday party yesterday afternoon of a neighbor girl and the mom had made lemon cupcakes with… you guessed it… cream cheese frosting. After enjoying that lovely treat, I was determined to make a lemon something with cream cheese frosting today. I poured over my cookbooks, browsed some cooking magazines, and searched the net high and low. I finally found a recipe at trusty old Recipezaar that I knew I could adapt to what I was looking for. The result was a fabulous Lemon Pound Cake with Cream Cheese Frosting. To get the desired lemon result that I was craving, I added an extra tablespoon of lemon juice to the cake recipe and a splash of lemon juice to the cream cheese frosting.
These are both recipes that are super simple to make and ones that I will continue to use in the future.
Lemon Pound Cake
A moist and delicious lemon pound cake recipe with cream cheese frosting.
Ingredients
1

⁄2 cup butter

melted

1

cup

sugar

2

eggs

well beaten

2

tablespoons

lemon juice

1

⁄4 teaspoon salt

1 1

⁄2 cups flour

1

teaspoon

baking powder
Instructions
In the bowl of your electric stand mixer, mix together 1 cup sugar and butter.

Add eggs and 1 tablespoon of lemon juice; blend well.

Add salt, flour, and baking powder to mixture.

Add milk.

Bake at 325°F in a well greased loaf pan for approximately 1 hour, or until golden brown and toothpick inserted into the center comes out clean.