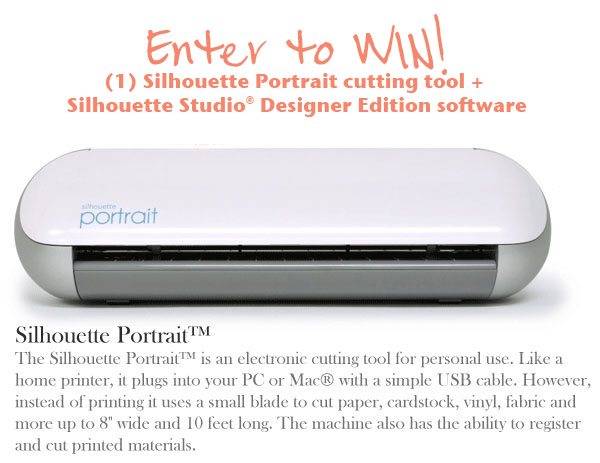 This giveaway is now closed. Congrats to the winner, UrbanWife. Thanks to all who entered!
I'm a crafty girl wannabe. I have been that person who has an arsenal of scrapbook supplies, but never scrapbooks. I have paint brushes and ribbon and buttons and mason jars and whatever the hot new crafty thing is. The problem is that I don't make time to be crafty and I really don't have the craftiest skill set out there.
That is why I LOVE the Silhouette Cameo and Portrait and their Designer Edition Software! Although I've discovered there is a learning curve to using it (my hopeful first project with it was a bit too ambitious) I'm excited at how easy these products are to use…and they make this crafty girl wannabe actually seem like she's a bit crafty!
I'm teaming up with Silhouette America to bring Dine & Dish readers fun giveaways and exclusive discounts on their products each month! I'm doing what I can to help the crafty wannabes out there actually BE crafty! Yay!

From July 1st through July 10th Dine & Dish readers can visit this special Silhouette America page and use the code DINE upon checkout to receive the huge discounts on the bundles pictured above! If you've been waiting to buy a Silhouette Portrait or CAMEO or even their Silhouette Studio Designer Edition software, there is no better time than now!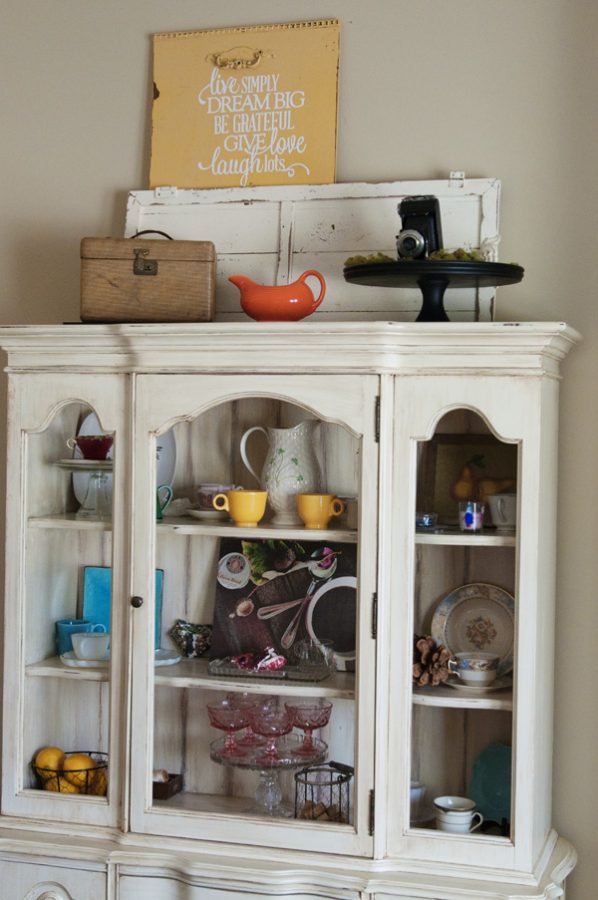 If you owned the Silhouette Cameo or Portrait, you could do things like… make simple adornments to items already in your house. I have wanted to spruce up the top of my prop cabinet for awhile and felt like the yellow tray on the top needed something more… it always looked so bare! I simply visited the Silhouette America Online Store and found a phrase I wanted to cut out on vinyl, purchased it for .99 cents, imported and sized it in my Silhouette Studio Designer Edition Software and sent it to my machine to do the work. In no time at all, I had an encouraging little saying all ready to adhere to my yellow tray!
Make sure to take advantage of the discounts above so you too can give in to your crafty side!
In the meantime, I know you'd love to win the Silhouette Portrait and the Silhouette Studio Designer Edition Software, wouldn't you? The Silhouette Portrait and the Designer Edition Software are the newest great things to happen over at Silhouette America! To enter the giveaway, simply leave a comment on this post letting me know what project you'd create first with the Silhouette Portrait and Designer Edition Software! Then, follow the steps in the PromoSimple giveaway widget below to complete your entry and for optional ways to enter.
Disclosure: I have a working relationship with Silhouette USA as an affiliate marketer.  I have not received compensation for this post, but I do occasionally receive free products.  All opinions expressed are my own.