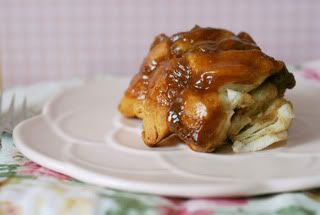 One of the most popular recipes on my site is a recipe I posted "way back when". Back when I was a newbie blogger, I posted a recipe for Oooey Gooey Monkey Bread. In that post, I encouraged people to get messy with their kids. Allow them to use their hands to eat and let all of their inhibitions go out the window.
I know that people are going to that particular post for the recipe, as I get a ton of hits on that post each day. I hope what folks are taking away from it, besides a really yummy recipe, is the thought to let loose some, HAVE FUN (if you haven't seen this video, you MUST!), and that living life without pristine cleanliness is often times a great way to live!
What are you doing to let loose a little? My mom called me the other day and shared something she read on the wall of her doctors office. It was something about raising happy children, and one of the suggestions was to make a cake and let your kids eat it without using their hands! Can you imagine the memory that would make in their minds? Well, we are doing it this weekend and I'll let you know how it goes!
If you are stuck in a "can't quite get the whole let loose thing" rut, I am posting a different recipe for a pull apart bread that can be a babystep for you getting started.  I hope that you are enjoying your life because it can be very short… you might as well make the most of it and have fun!
Pull-Apart Caramel Coffee Cake from the March/April issue of Simple and Delicious Magazine
Perfect breakfast for the whole family to enjoy.
Ingredients
2

tubes

12 ounces each refrigerated flaky buttermilk biscuits

1

cup

packed brown sugar

1/2

cup

heavy whipping cream

1

teaspoon

ground cinnamon
Instructions
Cut each biscuit into four pieces; arrange evenly in a 10-in. fluted tube pan coated with cooking spray. Combine the brown sugar, cream and cinnamon; pour over biscuits. Bake at 350° for 25-30 minutes or until golden brown. Cool for 5 minutes before inverting onto a serving platter.