Several months ago, my husband gave me the gift of a KitchenAid pasta maker attachment. To be honest with you, I was excited, but a little intimidated. I'm not sure why, but making your own pasta just seemed like it would be quite the process. I've made my moms homemade egg noodles for her delicious and oh so easy Chicken and Noodles recipe, but the thought of actual shaped pasta? It just seemed like it would be more trouble than it was worth.
I'm here to fess up to you all… I was wrong. I found out yesterday that making homemade pasta using the KitchenAid pasta attachment is…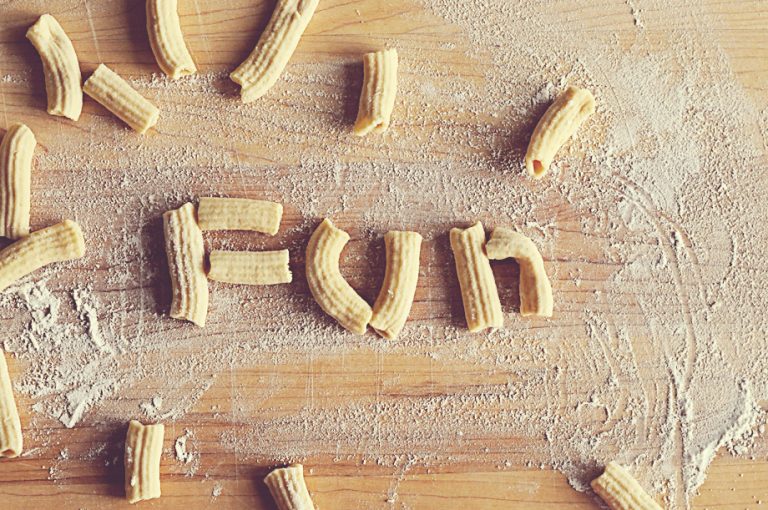 (that says Fun, if you aren't fluent in pasta)
You should have seen how excited I was when my little pieces of rigatoni were all laid out. I felt like I had accomplished something really huge. Oh…and do you want to know a little secret? It was beyond easy. I won't tell that to just anyone because I want there to be some big gasp of amazement when they hear that I made my own pasta, but I feel like we're friends…you can know that making homemade pasta using the KitchenAid attachment is about as simple as it gets.
Oh – can I tell you one more thing? I made an Italian Chicken and Pasta dish using the homemade Rigatoni noodles and it was so good. It may have just been me, but knowing that I made the pasta from scratch just made the dish all that much better! (I'll share that recipe with you later in the week, I promise!)
What are you waiting for? Get in the kitchen and have some fun making your own homemade, fresh pasta noodles. You'll love it, I promise!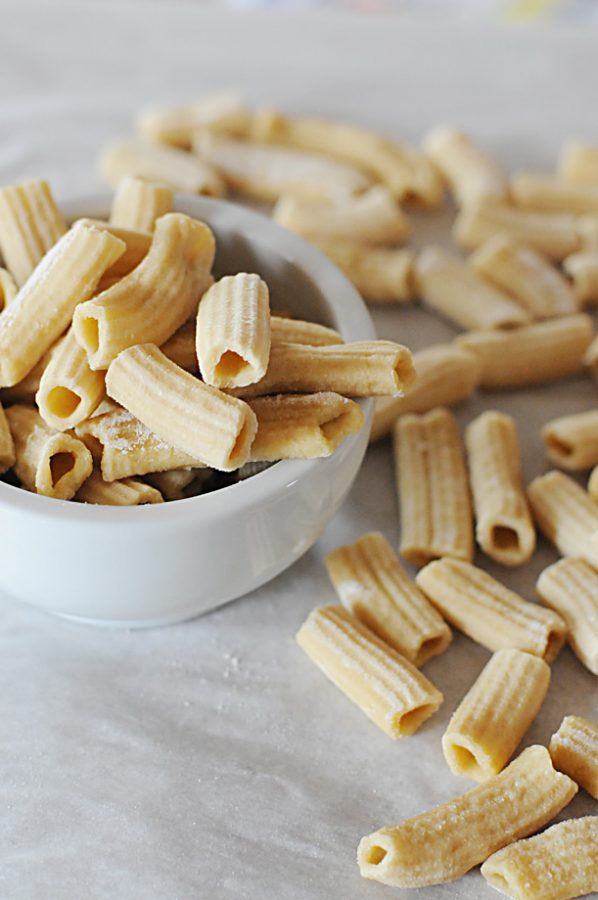 Linking this up to the I'm Lovin' It roundup over at TidyMom!
Homemade Fresh Pasta Noodles
Basic Egg Noodle Pasta
Ingredients
3 1/2

cups

all purpose flour

sifted

4

large eggs

1

Tablespoon

Water

1/2

teaspoon

salt
Instructions
Place flour into the mixer bowl. Turn your mixer on to speed 2 with the flat beater attached.

Gradually add the eggs, water and the salt and mix for 30 seconds.

Remove the flat beater and attach the dough hook. Turn to speed 2 and knead for 2 minutes

Dough will be crumbly... you may need to add additional water, 1 teaspoon at a time, until the dough takes on a more firm consistency.

Dump dough out onto a slightly floured bread board. Knead dough by hand then shape into walnut size balls to extrude through the KitchenAid attachment. (Please follow instruction manual for additional instructions)
Disclosure: This blog post contains affiliate links. As an Amazon Associate, I earn from qualifying purchases.