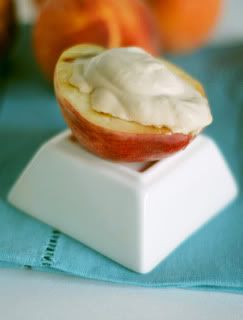 Yesterday afternoon, the two year old in my family had a meltdown… in the middle of the grocery store. Let me tell you, it was a lovely site. First, refusing to wear her shoes and then refusing to sit in the cart, my normally sweet and laid back daughter completely lost it. Running off, laying in the middle of the aisles and screaming at the top of her lungs, she really let everyone within a ten mile radius know that she was not happy. I would attempt to pick her up, and she would  scrunch up her legs, pushing me away, and would scream even louder. Three kids, lots of grocery store trips, and this was my very first time to experience such a show firsthand.
Most sane mom's would pick up their child and leave the store with their groceries un-purchased. Me? Nope – I continued to let her make a scene simply because I had these luscious, juicy, aromatic peaches in my cart and I couldn't bare to walk out of the store without them. Women, who apparently have never had children or who were as terribly annoyed as I was kept giving me dirty looks in the checkout lane. But, as stubborn as my two year old, I refused to leave without my peaches.
And I can honestly say… all the dirty looks, all the built up frustration, all the cussing at my husband for traveling for work this week which lead me to go to the store with my three kids in the first place… all of that was well worth it when I took my first juicy bite.
In fact, I may even brave the store with the temper tantrum thrower again tonight. This simple recipe (even though my whipped lemon cream had a meltdown of its own) is worth any embarrassment I may face.
Peaches with Lemon Cream, from Simple & Delicious August 2008
Quick and easy cream to jazz up your peaches.
Ingredients
INGREDIENTS
1/4

cup

heavy whipping cream

1

tablespoon

brown sugar

1

teaspoon

vanilla extract

1/2

teaspoon

grated lemon peel

3

medium peaches

halved

2

tablespoons

canola oil
Instructions
DIRECTIONS
In a small mixing bowl, beat cream until it begins to thicken. Add the brown sugar, vanilla and lemon peel; beat until stiff peaks form. Cover and refrigerate until serving.

Brush cut sides of peaches with oil; place cut side down on grill rack. Grill, covered, over medium heat for 10-12 minutes or until peaches are tender and begin to caramelize.

Place peaches on dessert plates; fill with lemon cream mixture.
Recipe Notes
Yield: 6 servings.