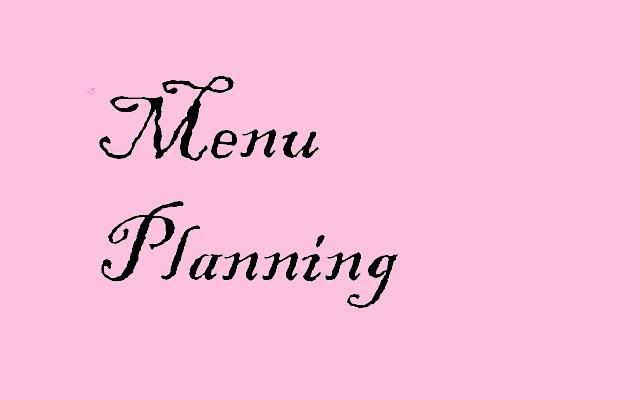 One of my goals for 2007 is to start menu planning again. I used to make a menu plan on a monthly basis and was quite obsessive about it, but since we moved to our new house and added another baby to the family, my old menu planning habits have fallen by the wayside. These days, dinner is usually planned about an hour before we actually eat it. I hate not being organized about menu planning, so I'm going to give it a whirl again. This time around, I'm going to be a little less ambitious and instead of a monthly plan, work on a bi-weekly basis. I'll be planning for the 1st through 16th and the 17th through the end of the month.
Why do I want to make a menu plan?
1) Menu planning, if done correctly, should save us money. It should eliminate those last minute runs to the grocery store for one or two things that inevitably end up with a cart load of spontaneous purchases. Hopefully I can stick to my bi-weekly grocery store run and just send hubby to the store for perishables when we need them. (He seems to be immune to the need to make spontaneous grocery purchases!) It also reduces the number of times we go out to eat just because I haven't made dinner. This way, when we go out to eat we'll be able to plan for it and go to a restaurant worth eating out at, versus just going to the closest or quickest option.
2) I post my menu where the entire family can see it, so this should eliminate the constant "What's for dinner" questions from everyone who can read.
3) Menu planning saves time. It streamlines the process for me so I can plan ahead the night before. Get meat out of the freezer that needs thawed out, chop up veggies ahead of time if I have a free moment, etc.
Here's what I have planned for the first half of January:
Monday 1/1 – Chicken Marsala
Tuesday 1/2 – Coq Au Vin
Wednesday 1/3 – Melt in your Mouth Pot Roast
Thursday 1/4 – Chicken with Red Pepper Sauce
Friday 1/5 – Southwest Pizza
Saturday 1/6 – Family Christmas (Pulled pork, ham, turkey)
Sunday 1/7 – Juicy Grilled Burgers
Monday 1/8 – Jacob's Birthday – eat out at restaurant of his choice (please not McDonald's!)
Tuesday 1/9 – BBQ Crusted Roughy
Wednesday 1/10 – Swedish Meatballs
Thursday 1/11 – Chicken Parmesan
Friday 1/12 – Oven BBQ Pork Tenderloin
Saturday 1/13 – Pesto Halibut
Sunday 1/14 – Dijon Chicken and Spinach
Monday 1/15 – Italian Meatloaf
Tuesday 1/16 – Herbed Chicken Breast
Wednesday 1/17 – Teriyaki Pork Roast
Well, there you have it. A half of months worth of meals planned. I'll work on the sides a little later on, but they typically consist of salad, veggies and sometimes pasta or potatoes. I was going to link to all of the recipes for you here, but I just don't have time tonight. If you are interested in any of the recipes, just let me know and I'll be happy to forward them on to you!
Do you menu plan? What does a menu planning session look like for you? How often do you plan your menus and why do you do it? Do you have any tips for making the process more manageable? If so, let me know. I'd love to hear from you!
One week ago today we dined on Chicken Enchiladas and Chocolate Dipped Shortbread Cookies.
Over at our family blog, I dished about The Santa Clause Behavior Modification Program.