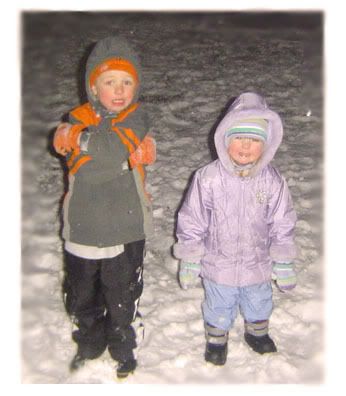 My prayers for a sudden heat wave coming through Kansas City didn't happen, so as predicted, schools were cancelled. This lead me on a quest to keep the kids entertained all day without going crazy. By 9am we had alredy played Candy Land 4 times, followed by several games of Ker Plunk, and then even more games of Trouble.
At around noon the snow began to fall again. This time, it came down in beautiful, fluffy white flakes. Not the sleety, icy stuff we had yesterday. Jacob and Kelly sat longingly at the windows, begging to go outside to play in the snow. With each plea, they received my typical answer when faced with this situation. "Sorry kids… mommy doesn't do snow." I just don't like snow. I can appreciate its beauty, but that appreciation is best to me when I can sit inside the comfort of my warm home, snuggled up under blankets and by the fireplace. I do not see the appeal of bundling up and going outside only to freeze our kahuna's off.
A few hours later and several phone calls from friends of mine hounding me about not letting my kids play in the snow today, peer pressure won and they bundled up and went outside. I couldn't very well take the baby out, so Ella and I stayed in the comfort of our warm home watching out the window, as I sent my children outside to freeze their kahuna's off.
I learned two things today from this "big adventure".
1) Remember to have the kids go to the bathroom prior to getting them bundled up in their snow suits. Kelly, of course, had to go potty within 5 minutes of being outside.
2) Playing outside in the snow is such a big thrill for the kids. Yes… it takes a lot of effort before and after, but the giggles and smiles were well worth the effort. Especially since I didn't have to join them in their freezing fun.