Our family friendly menu plan for the week, including this weight watchers friendly recipe for Farro with Langostino Tails and Spinach.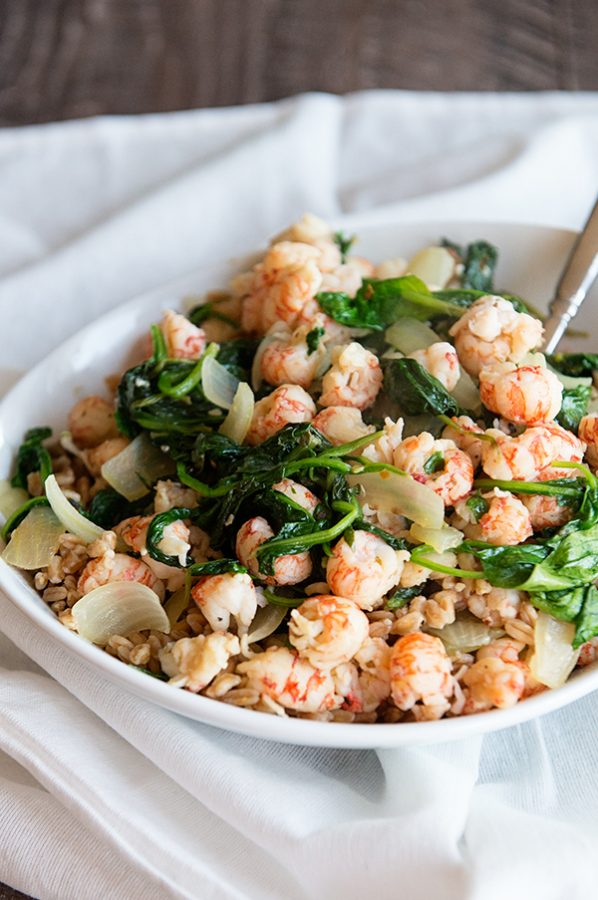 I officially joined Weight Watchers today. Or should I say, joined again. For like the 5th time. I've been really successful on Weight Watchers twice in my life and I love the program. The two other times I kind of half heartedly joined and wasn't really as focused as I probably should have been.
The difference between this time and the two times I wasn't successful is I'm actually going to attend the meetings instead of just relying on the online tools to keep my in line. I am going with two friends and I know they will keep me motivated too.  The meeting leader today was also really good and relatable (also a 5 time joiner before it finally clicked for her and then she lost 50 pounds and kept it off). I'm actually excited to attend the meeting next week!
Needless to say, weigh in was painful… I had never seen that number on the scale, so it's going to be a challenge but I'm ready for the change. I need the change and I can't wait!
Anyway… I'm doing our weekly menu plan a day early today because tomorrow I have a really awesome group giveaway for a $300 Anderson Seafoods gift certificate! You'll want to stick around for that for sure. I used their Langostino Tails in the Farro with Langostino Tails and Spinach recipe I'm sharing below my plan for the week. It was sooooo good, and did not taste like a "light and healthy" recipe, but it totally was!
If you menu plan, or have tried and true favorites you have each week, I'd love for you to share your ideas in the comments below! If you have a recipe on your blog you think our family should try, definitely leave a link in the comment section. Who knows? Maybe your recipe will show up in a future menu plan post! 
Here is our menu plan for the week of November 10th – November 16th. Make sure to click through the links included below to check out the recipes we're trying!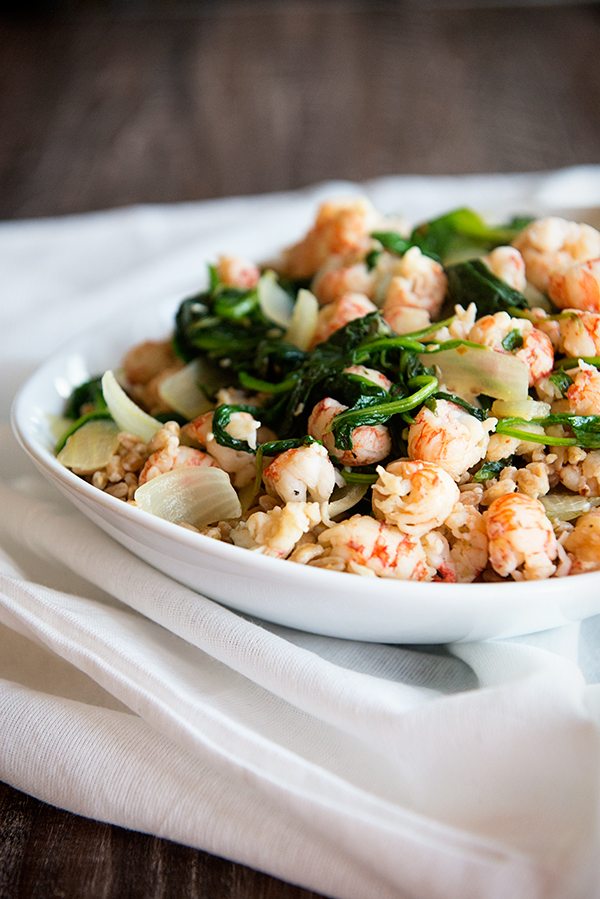 I hope you enjoy the recipe below for Farro with Langostino Tails and Spinach. Thank you to Anderson Seafoods for providing the Langostino Tails. If desired, substitute shrimp in place of the Langostinio Tails. Enjoy!
Farro with Langostino Tails and Spinach
A Weight Watchers friendly recipe featuring fresh seafood, spinach and farro.
Ingredients
1 1/2

cup

s uncooked farro

2

Tbsp

butter

divided

1/2

cup

s uncooked sweet onion, coarsely chopped

3

cup

s fresh spinach

1

clove

garlic

minced

1

tsp

kosher salt

1

tsp

Italian seasoning

1

tsp

crushed red pepper flakes

6

oz

Langostino tails

thawed
Instructions
Prepare farro according to package directions.

While farro is cooking, place 1 Tablespoon butter into a skillet over medium heat. Add onions and sautee for 2-3 minutes until onions become soft.

Next, add the garlic and spinach. Stir as it cooks on low for approximately 3 minutes, or until spinach because soft and wilted.

Place spinach mixture in a bowl and set aside.

In the same skillet, add remaining 1 Tablespoon of butter and melt over medium heat. Carefully add the Langostino tails. Sprinkle salt, Italian seasoning and crushed red pepper flakes over the Langostino tails, Cook 2-3 minutes, or until heated through.

Return spinach/onion mixture to the pan and cook for an additional 1-2 minutes.

To assemble, toss together the farro and langostino / spinach mixture. Serve warm.
Notes
Calculated at 8 Weight Watchers Points per serving