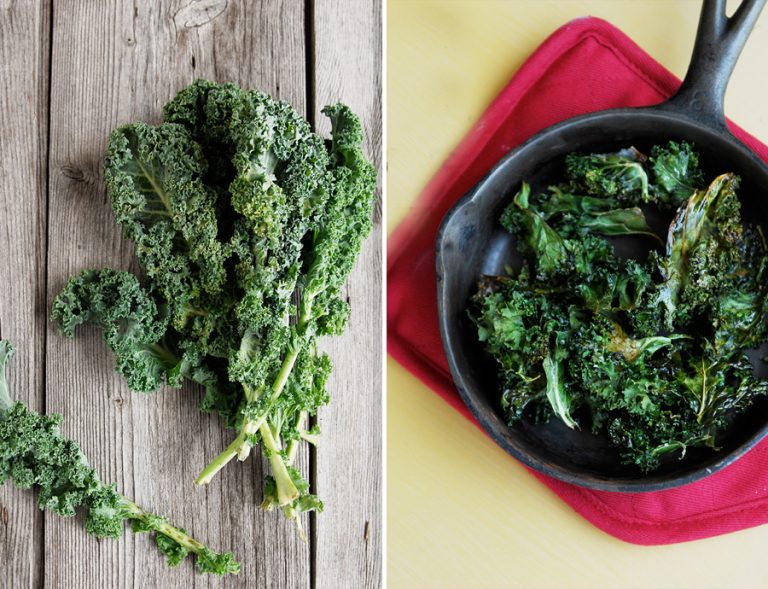 My mom is an excellent cook but there were times in my life I would think that maybe she wasn't so much. Like when she would make liver and onions. Or how about white sandwich bread with white hamburger gravy poured over it? I want to gag just thinking about it.
We lived in a house where choosing something else for dinner was not an option. If it was on the table you were expected to eat it, and that was that.
Our house is the same way. I'm not a short order cook and we have a rule where you have to at least take a bite of everything on your plate. With four kids sitting around the table, you can imagine we've had our fair share of resistance to eating some of the things I cook.
I was ready for the pouts and whines the other day when I placed a bowl of Kale Chips on the table. My friend Aggie raves about Kale Chips quite often and then Michelle published a post on her blog about them. With all the good things I've heard about Kale Chips and how even the most vegetable resistant kids love them, I thought I'd give them a try.
Let me end this blog post by saying this… 4 days later, Kale Chips have been baked each day. I love them, my husband loves them and the best yet… the kids love them.  I'm so glad to know that my kids won't be blogging about the nasty green things their mom used to make them eat. Kale Chips, in this household, have been a hit!
What is a food your parents cooked that you dreaded seeing on the dinner table as a kid?

Recipe: Oven Baked Kale Chips (from What's Cooking with Kids)
Bunch of kale
Olive oil
Salt, to taste
Cracked black pepper (our addition but not required)
Directions:
Preheat oven to 350 degrees.
Hold the thick stem of each kale leaf with one hand. Pinch the base with the fingers of the other hand and rub them up the stem – the leaves will tear right off!
Put the kale pieces on a baking sheet lined with a silpat (a silicone baking mat) or with parchment paper.
Pour on a little olive oil and toss with clean hands.  Sprinkle with salt (and pepper if your kids like that…)
Make sure they are in a single layer on the baking sheet sheet.
Bake at 350 for 12-14 minutes or until crisp.
You can find more great, kid friendly recipes like this in Michelle's new cookbook, The Whole Family Cookbook. Make sure to check it out!