My oldest brother, Mike, is 22 years older than me. I've never thought a whole lot about that, until recently. He was married by the time I was born and began his own family just a few years after my birth. Sure, it was kind of odd growing up with a nephew just a couple years younger than me and a brother around the same age as some of my friends parents, but it is all I knew so I didn't think much about it.
While we were visiting Mike and his family in Chicago over Thanksgiving, his wife said something about my mom's waffle recipe and how it is such a staple in their house. I was perplexed… my mom made waffles? Enough times to have a family recipe? I remember my mom making pancakes often and the best buttermilk biscuits, ever, but I do not remember waffles being on our table very often.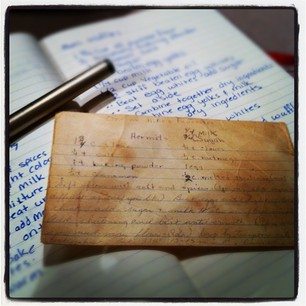 When my sister-in-law handed over the tattered and worn recipe card – written out for her by my mom many, many years before – it really dawned on me that my mom had a life before I came around. As strange as that sounds, it never really hit me that my mom did a whole lot of living before I was even born. It's kind of like when you are a kid and you hear your parents talk about when they were young… when you are old enough to realize that they haven't always been "parents" and at one time they might have actually been cool… that was what happened to me at the sight of the recipe card.
Anyway, this waffle recipe is Mike's favorite, his kids' favorites and their kids' favorites, handed down from generation to generation through our family… and even though it somehow skipped me, it's back in place thanks to my sister-in-law, and is a favorite of my family as well.
What breakfast recipe is most well known among the generations of your family?
Mike's Favorite Waffles Recipe
These fluffy, thick and amazing waffles are a favorite of our family, thanks to my brother Mike.
Ingredients
1 3/4

cup

all purpose flour

3

teaspoons

baking powder

1

teaspoon

salt

4

Tablespoons

sugar

2

egg yolks

beaten (keep egg whites)

1/4

cup

milk

1/2

cup

vegetable oil

2

egg whites

beaten stiff
Instructions
Beat egg whites until stiff. Beat in sugar and set aside.

Combine together dry ingredients.

Combine egg yolks and milk.

Beat in dry ingredients to egg yolks / milk mixture.

Add oil and beat until blended.

Fold in egg whites (do not overmix).

Bake in preheated waffle iron (I just got this one for Christmas and love it!
Disclosure: This blog post contains affiliate links. As an Amazon Associate, I earn from qualifying purchases.