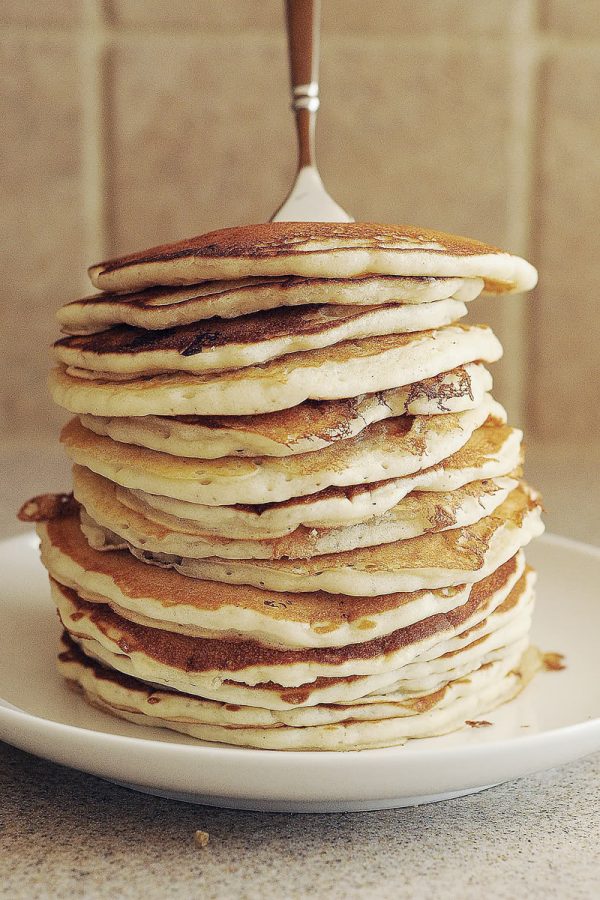 I've admitted it before on my blog and honestly, don't have to say this outloud because it is very clear to those who know me that I am not "Supermom". Supermom has never been one of the cape's hanging in my closet. I have plenty of the "forget to pick your child up from preschool" mom capes and "lock your keys in the car with your kids in it" mom capes, but no supermom capes. Oh, and how could I forget my favorite cape… "Your kid is yelling out curse words in Target" cape. That's my favorite. Oh yeah.
It is funny to me how something as simple as making a big batch of pancakes, flash freezing them in the freezer, and then heating them up for a hot breakfast for the kids on a busy school morning makes me feel like I could at least have part of the "supermom" cape. I know… it isn't anything huge, feeding your kids pancakes for breakfast. Sometimes, however, it is that little extra effort that pushes you into the category of actually feeling like you have your act together for once. Days where I feel frazzled to get all 5 of us ready and out the door by the time the school bell rings, having a hot breakfast for them makes me feel a bit like "supermom". Do you think I can maybe trade the "ooops….I forgot to feed my kids breakfast this morning, here have these smooshed up graham crackers that have been in the diaper bag for six months" cape for an "occasionally when the stars all align I seem to have my act together" cape? Yeah… alright. I didn't think so.
Big Batch Pancakes
Makes: 30 Pancakes
4 cups all-purpose flour
8 Tbs sugar
8 tsp baking powder
2 tsp salt
2 eggs
4 cups milk
1 cup canola oil
2 tsp vanilla
Heat your pan or griddle to medium low heat.
Combine all of the dry ingredients and mix together. Next, add in the liquids and eggs. Mix until smooth.
Pour the mix onto the griddle by scant 1/3 cup. When bubbles form on top, turn over and cook until golden.
To flash freeze pancakes allow to cool on a wire rack. Once cooled, place pancakes, 6 at a time, on a large cookie sheet. Put them in the freezer for 15 minutes. Remove and place in an air tight storage container or freezer bag and put back into freezer until ready to use. Continue until all pancakes have been "flash frozen". Why flash freeze? Why not skip that step and just stick them in the freezer?  Flash freezing each pancake individually allows you to stack them after wards for storage without each pancake sticking to each other. That way, of you want to take out 1 pancake or 5, you can grab them each individually without worrying about breaking and sticking.