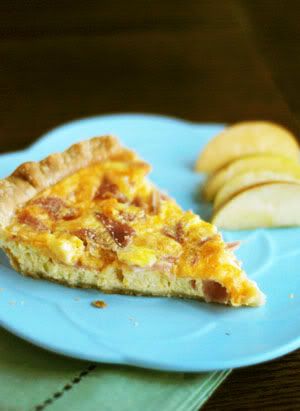 I know a lot of people who are stressing out about all they need to do before Christmas arrives. I have never been one to get too worked up about things. I plan ahead, but admittedly am a last minute doer. Still, I try not to let things like hosting big dinner parties or having the family Christmas celebration at my house stress me out. Maybe that is because I know that the people I invite will love me no matter what. There is no need to get all worked up worrying about everything being "just right".
A lot of people won't even host get togethers at their house because the thought of having people over, judging their hosting abilities, stresses them to pieces. I hate hearing that because I know that I get so much joy out of sharing my home with others. I am happiest when we have a house full of people, a big meal to share, and lots of wine to drink 😉
When I host parties, which I do quite often, I normally get all of the guests involved. That really helps to take 100% of the pressure off of me. I let people know what is going to be on the menu and ask them to bring sides or desserts or appetizers that will complement the menu. Many times, the people I invite are thrilled to be asked to contribute and are happy to help out.
Another thing I do when hosting parties is to make sure I have a good mix of shortcut options available. If my kitchen is going to be full and a lot of things will be going on, I try not to do too many complicated things at once. Use your crock pot, have on hand some Boxed Chicken Stock… just think of things that might make your day go by a bit easier. One huge lifesaver when I am hosting parties are Pillsbury ready made crusts. I've mentioned before that I have a love/hate relationship with pie crusts, so why would I add what I consider to be a stressful task onto my plate when Pillsbury pie crusts make the job simple.
Remember, when you are starting to stress out this holiday season that the people you are hosting are not judging you, your food, or your home. If they are truly your friends, their focus will be on spending the holiday's with you and building special memories. Make your life a little easier by remembering that not everything has to be done the hard way. Give yourself the permission to sleep in a little longer and use some of the handy shortcuts that are available to us on the market today!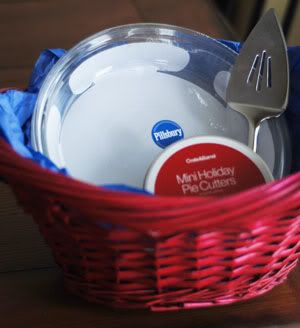 The lovely team at Pillsbury recently sent me a basket full of goodies… 2 glass pie plates, an adorable Crate and Barrel tin of pie crust shape cut out tools, an Oneida pie server and a CD full of photos and recipes to use with their ready made Pie Crusts. Being the generous people they are, the team decided that one of my readers deserved a basket too – so I'm giving one away! To sweeten the deal, I am throwing in a copy of Cooking Light's Essential Recipe Collection of Desserts cookbook. To enter the giveaway, in the comment section of this post simply tell me one shortcut that you use in the kitchen that helps you to stay sane. All comments must be made by midnight on Wednesday, December 24th. The winner will be chosen through the Random Number Generator and will be announced sometime after Christmas day!
PS – having overnight guests? Try this wonderful quiche recipe… easy, versitile and sure to help your guests wake up happy!
Basic Quiche (from Recipezaar)

1 hour | 10 min prep
SERVES 2 -4 , 1 quiche
5 large eggs
3/4 cup milk
1 Pillsbury refrigerated 9-inch pie crust
2 cups shredded cheese or chopped drained cooked vegetables or diced deli meat, any type (or chop up leftover slices) or any other cooked diced meat or ground beef or seafood or poultry
Preheat oven to 350 degrees Farenheit.

Beat eggs in a large mixing bowl.

Add filling and milk and mix well.

Pour mixture into frozen pie crust.

Place quiche on cookie sheet and bake on the middle oven rack for 45-50 minutes, or until top is browned and a knife inserted in center comes out clean.