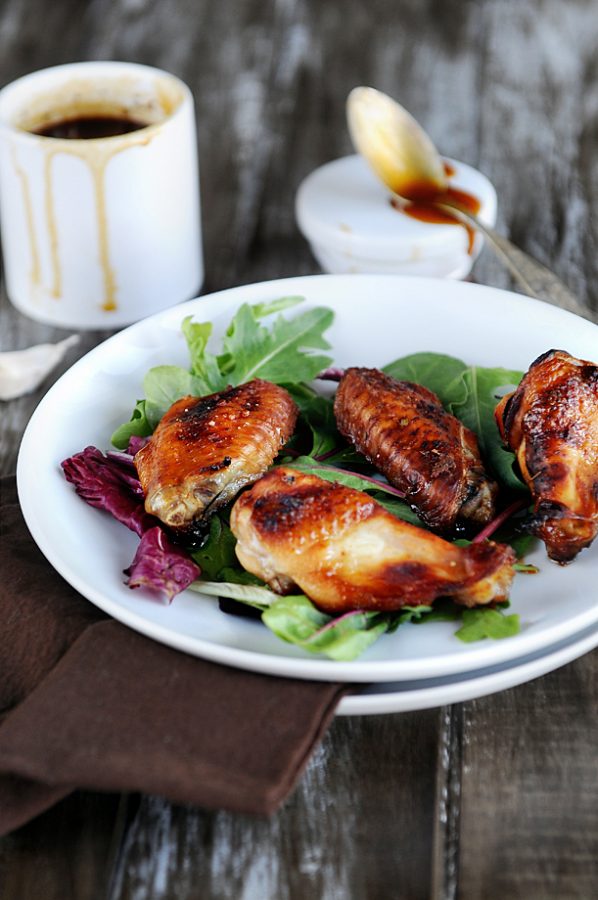 I used to not like chicken on the bone. In fact, was quite grossed out when it came to anything you had to pick up and gnaw off the bone. My world consisted of boneless, skinless chicken breasts and that was it.
A door opened up for me when I eventually tried what are now our favorite chicken legs. Since that discovery, I've talked about our favorite oven baked chicken legs a zillion and ten times on Dine & Dish. They are that good and make regular appearance on our dinner table. From chicken legs I graduated to chicken thighs – never ever thought I would say it, but boneless chicken thighs are probably one of my favorite pieces of chicken to cook with and eat now. Full of flavor and really so different than a chicken breast.
So now, I've gone all chicken crazy and have fallen in love with chicken wings. Again, something I never thought I would say, but these wings are so good. In fact, I made them on a night when my husband was traveling and ended up making the kids something else for dinner because I ate almost all of them!
I implore you to get off the chicken breasts only train and try some of these other cuts of chicken. You deserve it. Your tastebuds deserve it. You can thank me later.
Recipe: Oven Baked Chicken Wings with Sweet BBQ Sauce
For the sauce:
1 cup honey
¼ cup molasses
1/3 cup ketchup
1/8 teaspoon cinnamon
½ teaspoon Spanish paprika
1 tablespoon seasoned salt
1/8 teaspoon fresh cracked black pepper
¼ teaspoon Kosher salt
¼ teaspoon minced garlic
2 Tablespoons Worcestershire sauce
1 Tablespoon mustard
1 ½ cups brown sugar
4 Tablespoons olive oil
2 Family pack chicken wings (we prefer Smart Chicken)
Preheat oven to 375 degrees F
In a medium bowl, whisk together all ingredients except the olive oil and chicken wings.
Line metal baking sheet with aluminum foil and drizzle with olive oil.
Pour barbecue sauce over chicken wings in a large re-sealable plastic bag. Seal tightly and shake until sauce is well distributed.
Arrange chicken wings with sauce on aluminum foil lined baking sheet.
Bake in preheated oven for 1 hour or until crisp and cooked through.
I love these Chicken Wings and am linking them up at the I'm Loving It roundup over on TidyMom!