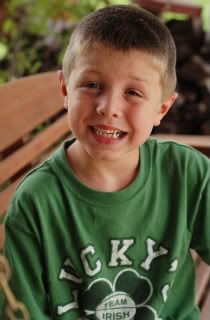 Why does parenting often result in that crushing, insides crumbling kind of feeling? Jacob starts 1st grade on Monday. Since they have half day Kindergarten, he will soon be heading to school from 9am-4pm… seems like an eternity to me! Conversation today as we were heading to the mall:
Jacob: "Mom, is today a special day?"
Me: "Of course it is a special day today. We all get to hang out together and be together all day long. That always makes for a special day."
Jacob, in a sassy 1st grade ready voice: "Moooommmmm… that is just like every day of my whole life. What's so special about that?"
Me, hit by a freight train of emotions and suddenly bursting into tears: "Because, Jacob, when you start school, we won't get to have every, single day to hang out like this. You'll be in school."
Him: "Cool. I guess it is a special day then."
Oh… little does he know how special of a day it really is to me.