Diamond Pistachio Nuts and Avocados come together for a tender and flavorful quick bread.

The other day I was feeling a bit full of myself, bragging about my love of baking and how even the summer heat doesn't keep me from turning on the oven. Then, I went into my kitchen and whipped up a loaf of this Pistachio Avocado Quick Bread, loaded with those shelled Diamond Pistachio Nuts I told you about when I made that amazing Toffee Brittle. This loaf bakes for an hour in a pretty hot oven. As I was cleaning up in the kitchen, and sweat was dripping off my forehead, I started thinking "maybe I'm not actually cut out for baking in the summer heat!" I was miserably hot…and our air conditioner was on! Or so I thought… turns out our air conditioner was broken and my love for summer baking was not. I recovered, our air conditioner got fixed, and I went on to boast my fondness for baking in the summer!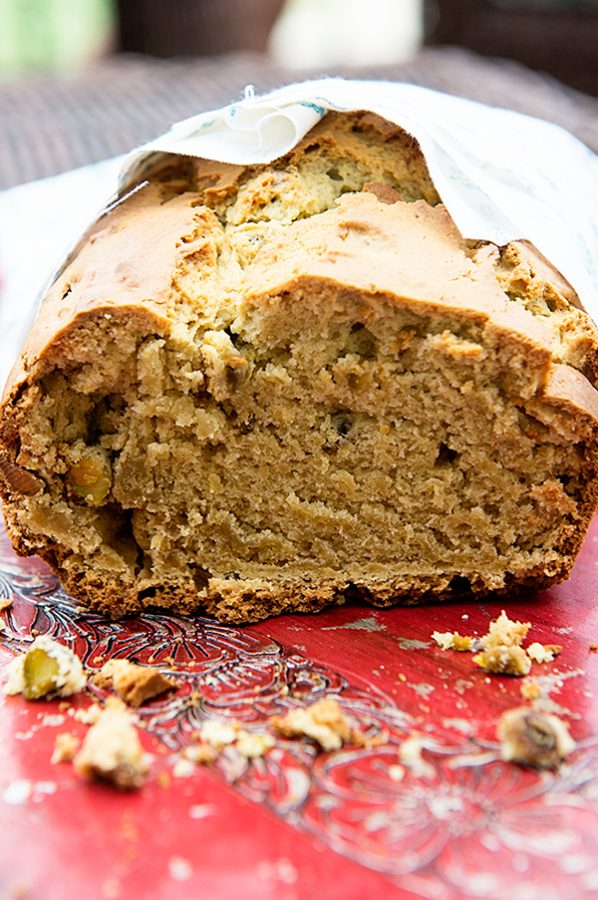 Do you love baking no matter the temp outside or do you save your baking for when it's cool outside so heating up your oven heats up your cold house? My friends at Diamond of California nuts and I think baking with nuts should happen all year long! Diamond is offering a fun and fresh Diamond Nuts Baking Kit to one lucky Dine & Dish reader! I'll tell you about how to enter the giveaway in a second, but beforeI do, let me tell you about this bread.
If you love banana bread, you will love this Pistachio Avocado Quick Bread recipe even more… I promise. I've never tasted a quick bread with more flavor. The crust has a delicious nutty butter flavor and the inside of the loaf was so tender and good… the pistachio nuts and avocados make such a wonderful combination for this quick bread! I hope you'll give it a try!
Now, for the giveaway! Up for grabs is one (1) Keep it Fresh Baking Kit from my friends at Diamond of California. For details and to enter the giveaway, check out the PromoSimple widget below! Make sure to come back and Pin the recipe… I know you'll want to keep this one to try soon.
Pistachio Avocado Quick Bread
Ingredients
2

cups

all-purpose flour

3/4

cup

sugar

1/2

teaspoons

baking powder

1/2

teaspoon

baking soda

1/2

teaspoon

salt

1

large egg

1

California avocado

mashed

3/4

cup

heavy whipping cream

1

Tablespoon

vanilla

1/2

cup

Diamond Pistachio Nuts

coarsely chopped
Instructions
Preheat oven to 375°F

In a small bowl, stir together dry ingredients (flour, sugar, baking powder, baking soda, salt). Set aside.

In a large mixing bowl, mix together egg, smashed avocado and whipping cream until well blended and creamy. Add vanilla.

Slowly, while mixing, add the dry ingredients. Continue to mix until well combined.

Turn off mixer and fold in chopped Diamond Pistachio Nuts.

Pour into a 9x5 inch loaf pan sprayed with Pam cooking spray. Bake at 375° for 60 minutes, or until a knife inserted into the center comes out clean.

Allow bread to cool before removing from pan and slicing.
 Disclosure: I am honored to be working with Diamond of California on this compensated campaign. All opinions expressed are my own.