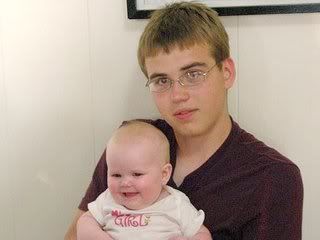 OK – Kate has so many Taste of Home cookbooks to give away! As promised, some of our giveaways are going to be quickies. Here we go…!
The first person to comment on this post (and keep in mind that some comments if the person is commenting the first time go into moderation, so I'll have to check times) will be the winner of the Taste of Home Annual Cookbook from 2002.
The comment must include the correct name and correct age of Kate's son (the handsome cutie pictured above seen holding his baby cousin).
The answer can be found in Kate's Blog, Kate in the Kitchen.
Ready? Set? Go!
Bummed that you weren't the first to comment with the right answer? Don't fret… you can still win! We have lots more to give away and our first giveaway is still going on over at this post.
Sign up to have Dine & Dish delivered to your email inbox to receive the latest news right away! See the right hand sidebar to sign up!