Chocolate Caramel Latte Muffins made with the newest variety of Millstone Mayan Black Onyx coffee and a secret ingredient.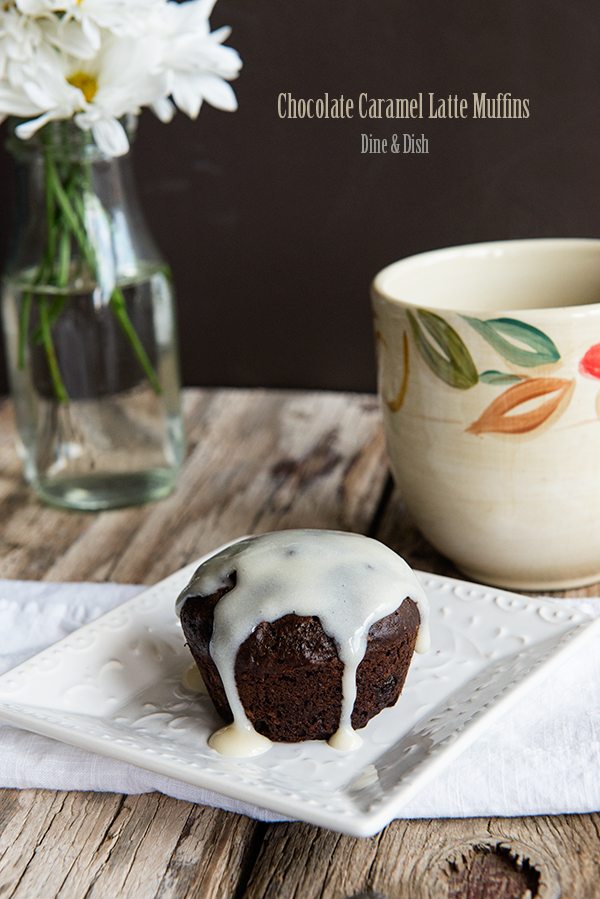 Oh Two-Handed Coffee Hour… how I love you so.
Did I ever tell you what inspired my two-handed coffee hour? Well it was a few things. First of all, the name was inspired by this blog post on Under the Sycamore. Adding friends and making it a weekly (or kind of weekly) event was inspired by Desperate Housewives, of all places. I swear I was born to be a 1950's type housewife…although in reality I'd probably be quite miserable. I mean, what did those ladies do all day without the internet to keep them company? 😉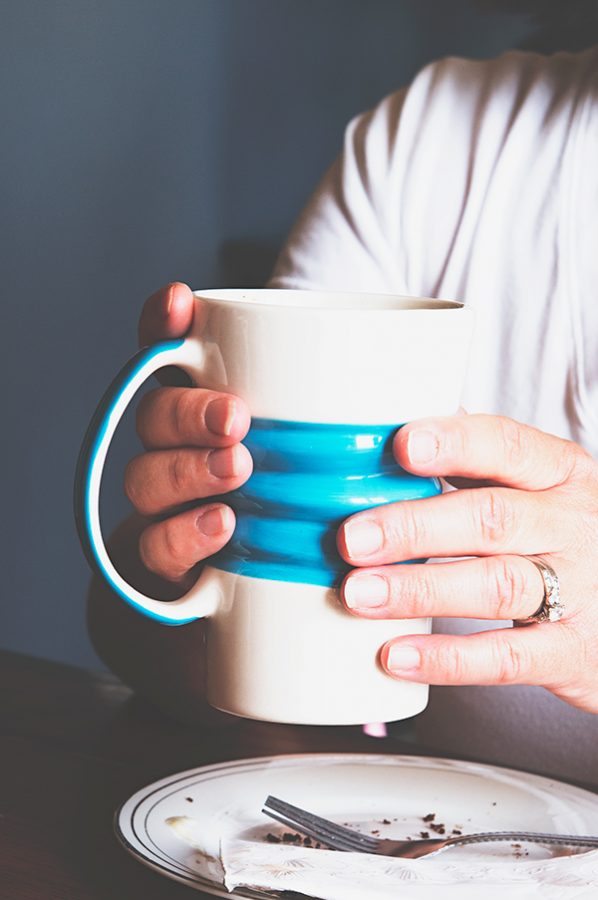 Anyway, you know how in the show Desperate Housewives, after the men would head off to work (or to their mistresses house or to murder some unsuspecting neighbor) the wives would get together in one of the kitchens and spend an hour or so drinking coffee together, chatting about current life drama? I love that… I wanted that. And in all of my 12 years of being a work from home mom, that's not something that ever really happened regularly. So, I decided to create my weekly Two-Handed Coffee Hour for a once a week connecting time with friends. And I love doing it as much as I thought I would. It's a soul charging, happy hour. Connecting, especially when you are fairly isolated at home during the day, is such an important thing.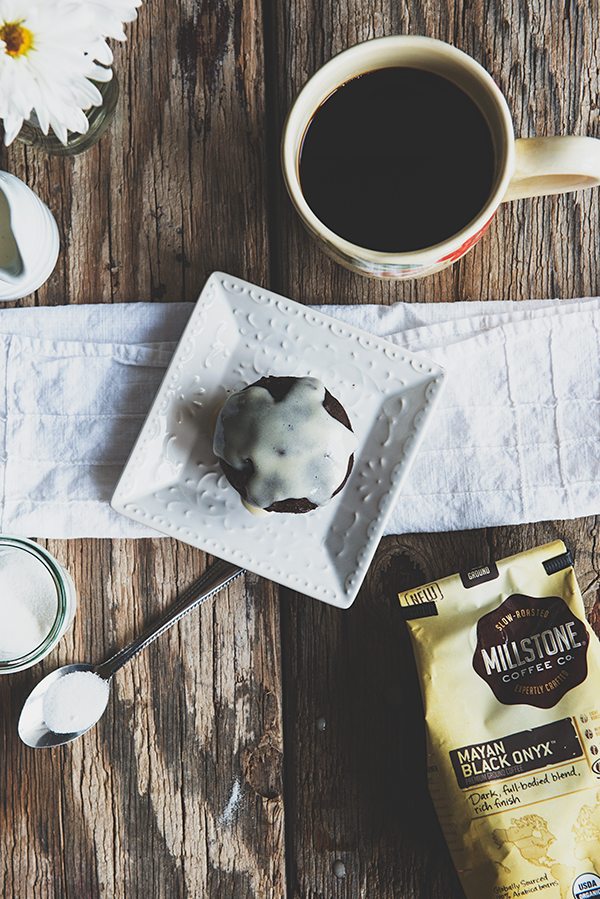 Coffee is certainly the cornerstone of our weekly meet ups. Sometimes I make a breakfast treat, like these Chocolate Caramel Latte Muffins. Other times I'll grab kolaches from a local bakery or doughnuts or we'll just let the coffee and chatter fill us up.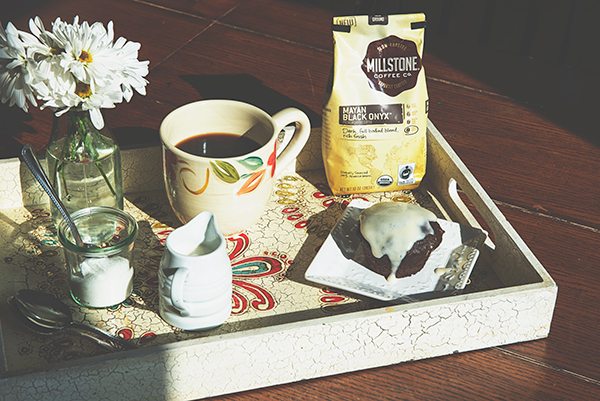 Since I've been able to do two handed coffee hour on an almost weekly basis, I've had the opportunity to try out several different kinds of coffee. My friends at Millstone sent us 2 bags of their newest varieties of premium coffee… Millstone Mayan Black Onyx and House Blend. Both are very different from each other. The Mayan Black Onyx is a rich, full bodied dark coffee with a bold flavor. I love to use it in recipes because of the bold flavor (and to drink it, naturally, as well). The House Blend is a medium roast coffee…a smooth, easy drinking kind of blend. Both have been the perfect addition to Two-Handed Coffee Hour.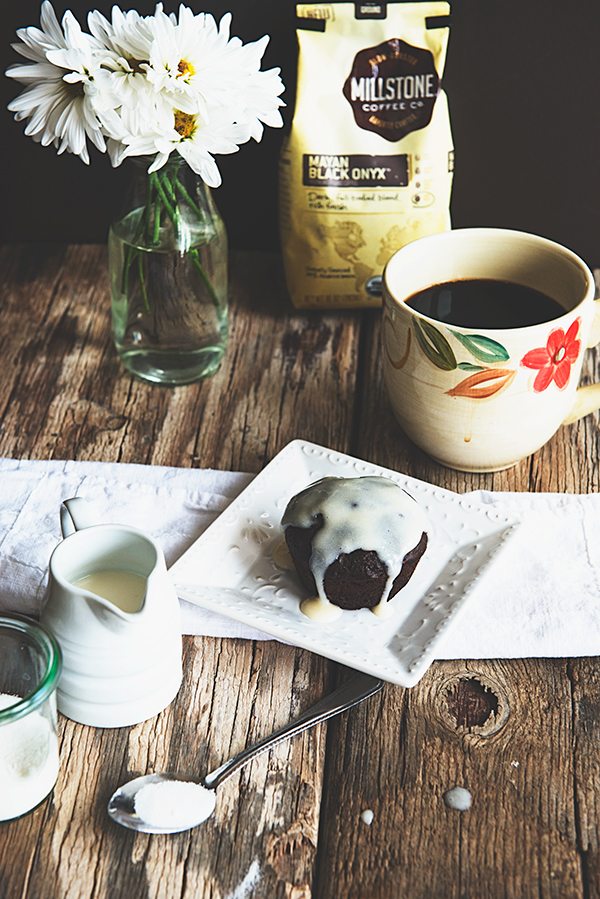 I'd love it if we all could meet for two-handed coffee time each week in person, wouldn't you? Maybe someday, right?
In the meantime, make these muffins, drink some coffee and share some two-handed coffee time with some friends. Enjoy!
Chocolate Caramel Latte Muffins
Add brewed coffee to the muffin batter and caramel coffee syrup to the glaze for a Chocolate Caramel Latte inspired muffin!
Ingredients
2/3

cup

Dutch-process cocoa

2

cups

All Purpose Flour

1 1/4

cups

brown sugar

1

teaspoon

baking powder

1

teaspoon

baking soda

3/4

teaspoon

salt

2

large eggs

1/4

cup

Millstone Black Onyx brewed coffee

cooled

1/2

cup

whole milk

2

teaspoons

vanilla

2

teaspoons

vinegar

1/3

cup

vegetable oil
For the glaze:
4

ounces

Philadelphia Cream Cheese

softened

1

cup

Torani Classic Caramel Coffee Syrup
Instructions
Preheat the oven to 350° F. Prepare a 12 cup muffin pan with Pam baking spray or paper muffin liners.

In a large bowl, whisk together the cocoa, flour, sugar, baking powder, baking soda, and salt. Set aside.

In a medium mixing bowl, whisk together the eggs, coffee, milk, vanilla, vegetable oil and vinegar. Add the wet ingredients to the dry ingredients, stirring to blend; making sure everything is well-combined.

Spoon batter into prepared muffin cups, filling 3/4 full. Bake in preheated oven for 22 minutes, or until toothpick inserted into the center comes out clean. Remove and let cool. Frost with glaze.
For the glaze:
With an electric mixer, mix Philadelphia Cream Cheese and Caramel Coffee Syrup until well blended and thick, yet still pourable.

Spoon over cooled muffins and serve.
Disclosure: Thank you to Millstone for sponsoring this post. I was compensated for my time to create and share a recipe using their product. All opinions expressed are my own.