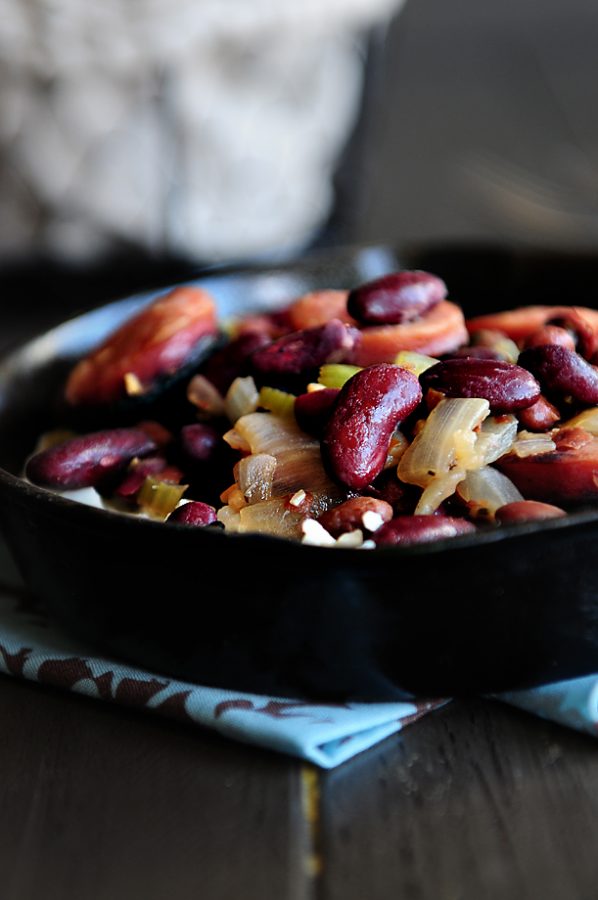 You may have noticed I was a bit grumpy last week. I would share the reason why with you, but it is long and drawn out and involves a 5 year old screaming hysterically all the way to school and to her classroom about a water bottle. That's how I started my birthday and it basically set the tone for the rest of the day.
Anyway, the next morning I left for a trip with Bush's Beans to the most beautiful Paws Up resort in Montana. It's amazing what a little bit of this…
and this…

can do to help you gain perspective.
I guess I just needed some room to breathe, and I thankfully found it in the hills of Montana.
I can't wait to share more about my trip to Montana with Bush's Beans with you, and I will very soon. I have a ton of pictures to edit and recipes to share! In the meantime, enjoy one of my favorite recipes for Red Beans and Rice.
Recipe: Red Beans and Rice
1 tablespoon olive oil
2 stalks of celery, sliced
1 medium onion, chopped
2 garlic cloves, minced
1 3/4 chicken broth
1 (15 ounce) can light red kidney beans, rinsed and drained (I prefer Bush's Beans)
1 (16 ounce) can dark red kidney beans, drained and rinsed (I prefer Bush's Beans)
 1 teaspoon Italian seasoning
1/2 teaspoon crushed red pepper flakes
1/4 teaspoon Creole seasoning
1/4 teaspoon pepper
1/4 pound fully cooked smoked sausage, cut into 1/2 inch rounds
4 cups hot cooked rice
Heat a large cast iron skillet over medium heat. Add olive oil and heat through.  Saute celery, onions and garlic until tender. Add broth, beans, Italian seasonin, red pepper flakes, Creole seasoning and pepper. Bring to a boil; reduce heat. Simmer, uncovered, for 10 minutes, stirring occasionally.
Remove about 1-1/2 cups of bean mixture and mash. Return to skillet. Add sausage; bring to a boil. Boil for 5 minutes or until bean mixture reaches desired thickness. Serve over rice.