I'm not always the most giving mom. I mean, I know that there are people out there who would do anything for their kids… who want the best of the best for them. Of course, I want what's best for my kids and I want them to do well in life and to succeed. I love them dearly and I would do almost anything for them. Almost…
When it comes to food, I just can't seem to sacrifice the best for them. The best piece of steak would be gobbled down and not appreciated for it's flavor by a 4 year old. My 9 year old is only concerned with how much he can get into his mouth in the shortest amount of time… he barely even tastes what he puts in there.
Why am I sharing this with you today? Because when it comes to doughnut holes from our favorite Daylight Donuts shop up the road, I always peer into each bag before handing them out and save the best of the best for myself. The doughnut holes that are perfectly cooked… not too done, still warm, and soft and fluffy. Most mom's would probably give those to their kids, taking the doughnut holes that aren't as stellar. But, I'm selfish and if I am going to spend any calories on doughnuts, those little gems need to be the best of the best to make it worth it!
My kids and I decided to make Homemade Yeast Doughnuts and doughnut holes this past weekend. They helped with cutting the dough and dunking the doughnuts into the glaze. Luckily, almost every single doughnut was the best of the best, so I didn't have to be selfish mama. We could all enjoy soft, tender, warm doughnuts and doughnut holes without my inner struggle regarding my un-willingness to sacrifice the best doughnut holes for my kids.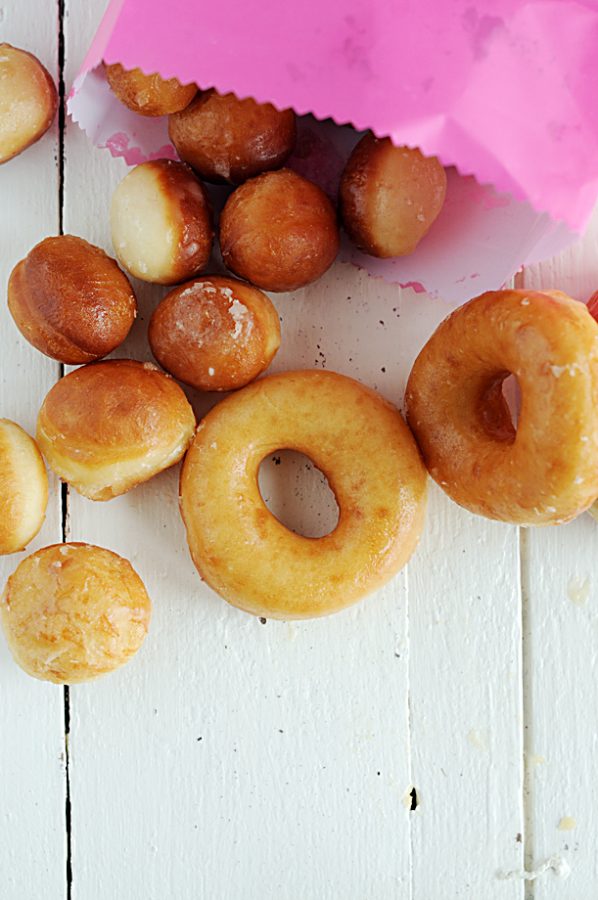 Homemade Yeast Doughnuts & Doughnut Holes for the Bread Machine ABM
Homemade Yeast Doughnuts
Ingredients
2 1/4

teaspoons

active dry yeast

2

tablespoons

warm water

3/4

cup

lukewarm milk

1/4

cup

white sugar

1/2

teaspoon

salt

1

eggs

3

tablespoons

shortening

2-1/2

cups

all-purpose flour

1

quart

vegetable oil for frying

For the glaze:

3

tablespoons

butter

1

cup

confectioners' sugar

3/4

teaspoon

vanilla

2

tablespoons

hot water
Instructions
Place the first 8 ingredients into your bread machine in the order recommended in the users manual (Mine suggests all liquid first, sugars next, flour and yeast last). Turn on and set to dough cycle setting.

Once the dough cycle is complete, turn the dough out onto a floured surface and roll out to 1/2 inch thickness. Using a floured doughnut / biscuit cutter, cut into desired shapes.

Melt butter in a saucepan over medium heat. Stir in confectioners' sugar and vanilla until smooth. Remove from heat, and stir in hot water one tablespoon at a time until the icing is somewhat thin, but not watery. Set aside.

Heat oil in a deep-fryer or large heavy skillet to 350 degrees F (175 degrees C). Slide doughnuts into the hot oil using a wide spatula. Turn doughnuts over as they rise to the surface. Fry doughnuts on each side until golden brown. Remove from hot oil, to drain on a wire rack. Dip doughnuts into the glaze while still hot, and set onto wire racks to drain off excess.