Take this quick and easy shortcut to make tasty California Avocado Ice Cream at home, without a lot of work!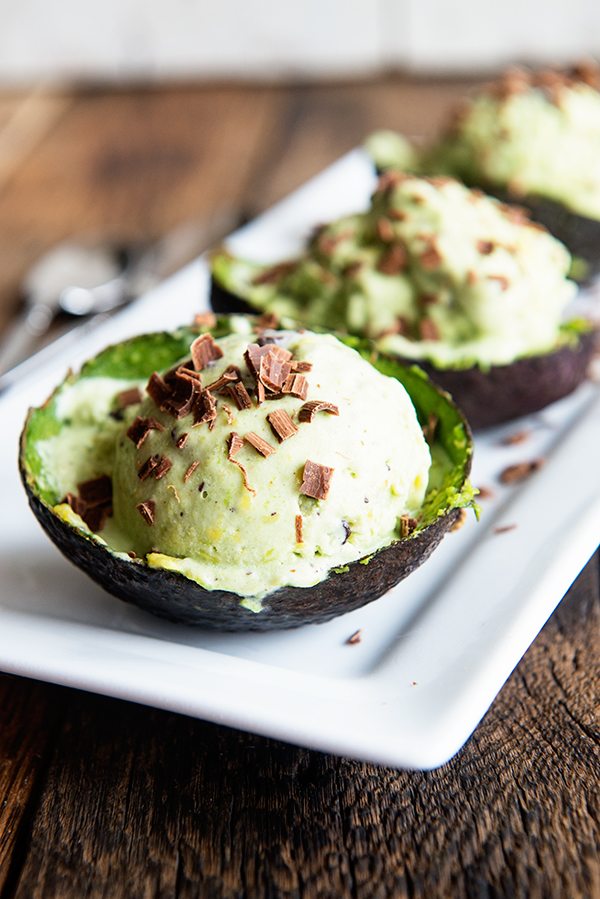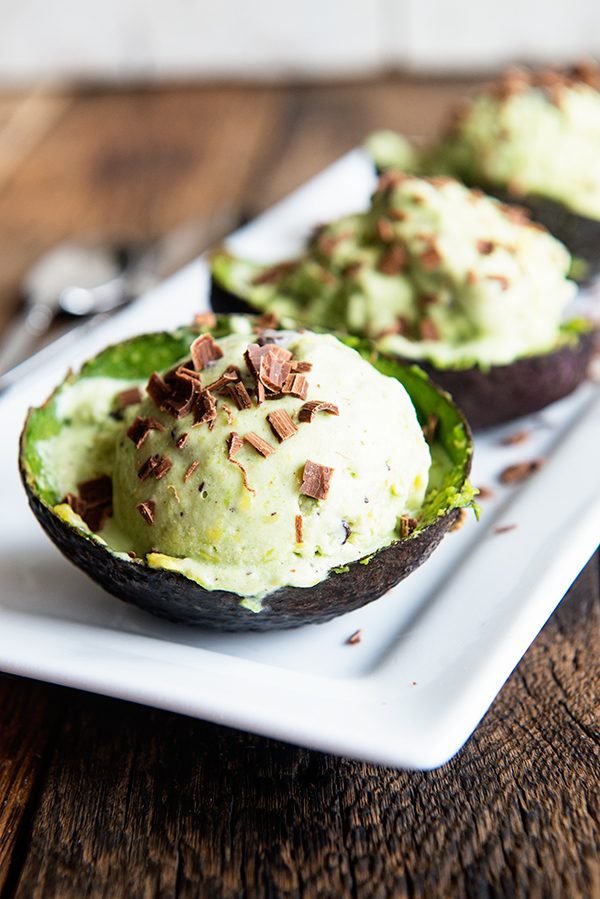 The very first time I had Avocado Ice Cream was at Herzog Wine Cellars in Oxnard, California. I'll admit, I was really hesitant to try avocado ice cream at first. No matter how much I love Avocados, the thought of this beloved, savory fruit being a part of dessert just didn't sound good. I quickly put any hesitation aside after the very first bite… avocados and ice cream is a fabulous combination!
The cool, creamy, nutty flavor California Avocados add to ice cream is unique and delicious. In fact, it's one of those flavors you'll crave time and time again after trying it the first time!
 Making homemade avocado ice cream isn't too hard, but I wanted an easy way to get the flavor profile of avocado ice cream without having to drag out my ice cream maker. The result is what I'm calling "Shortcut Avocado Chocolate Chip Ice Cream". You see, with this method of making ice cream, you simply doctor up a carton of high quality vanilla ice cream with some California Avocados and chocolate chunks. This is the real deal, without a whole lot of extra effort! As a bonus fun way to serve this treat, I scooped the prepared ice cream into the avocado shells…easy and zero dishes to wash. That's my kind of dessert!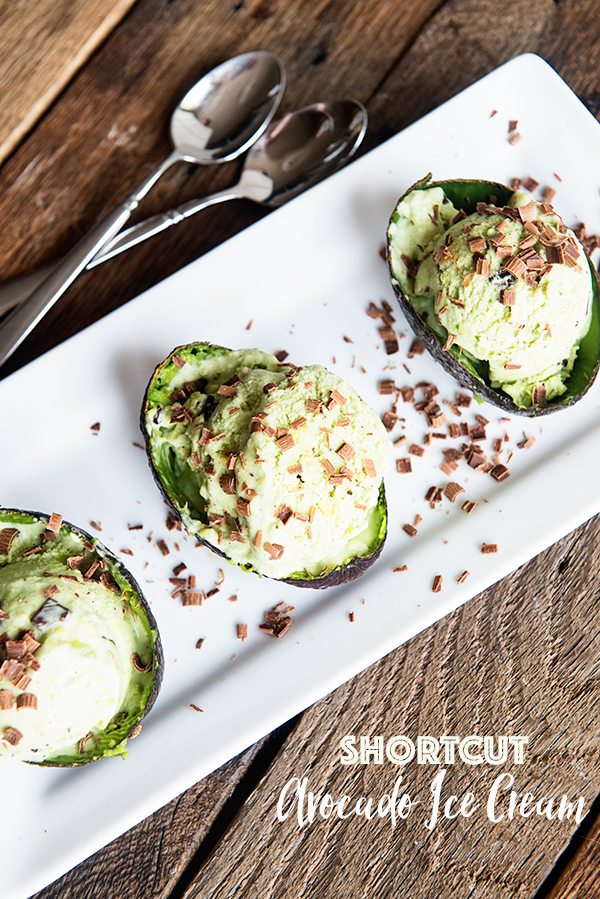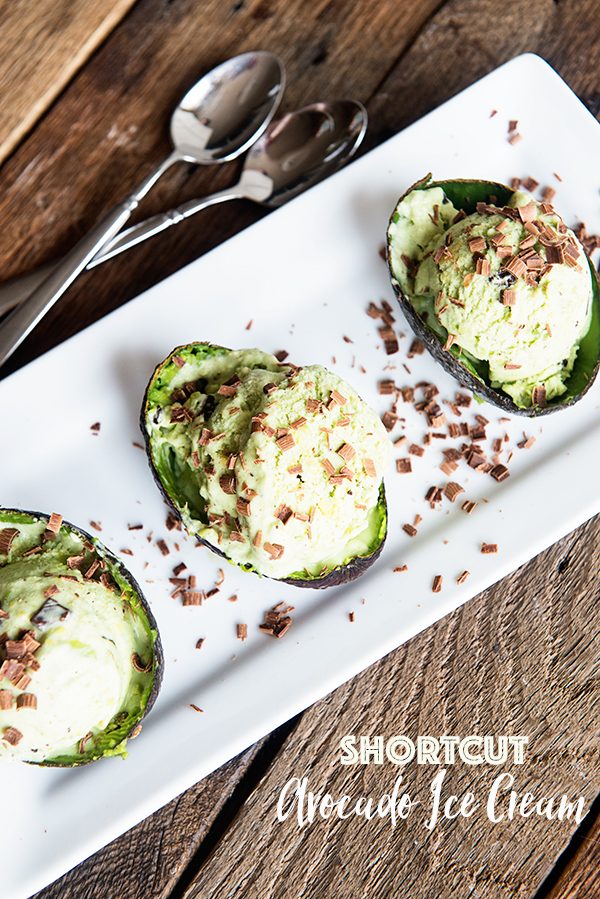 There are plenty of no-churn Avocado Ice Cream recipes as well as Avocado Ice Cream recipes using an ice cream maker, however if you are short on time and want to create tasty avocado ice cream at home without much effort, this is the method for you! Also, to fancy up your presentation, save your avocado shells for serving your ice cream. That added touch for presentation makes up for the little effort you had to extend to create your ice cream. No one will ever have to know the shortcuts you took to make this unique dessert! Enjoy!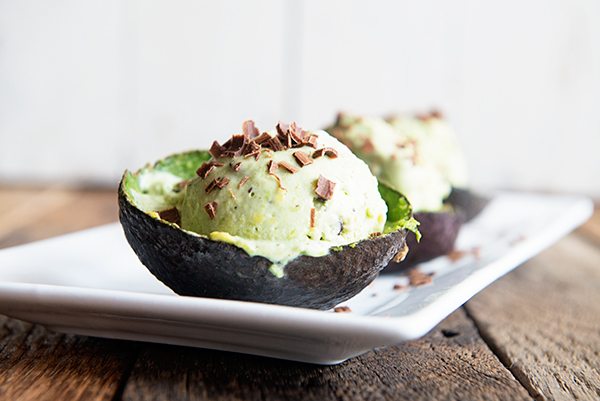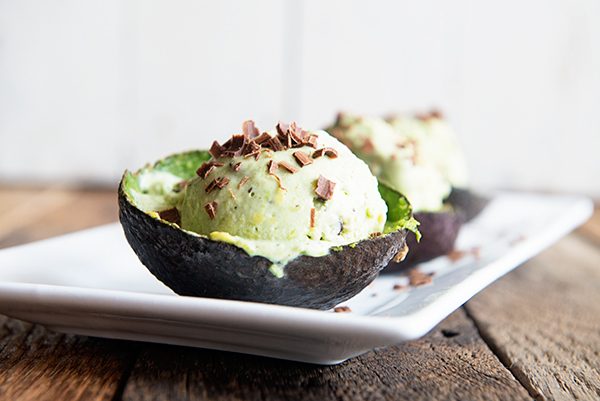 Disclosure: This is a sponsored post on behalf of the California Avocado Commission. As always, all opinions expressed are my own. 
Shortcut Avocado Ice Cream with Chocolate Chips
Sweet, creamy and decadent, this avocado ice cream will be a hit!
Ingredients
3

Ripe California Avocados

mashed, peeled and seed removed

1 48

oz

carton high quality vanilla bean ice cream

14

ounces

high quality chocolate

chopped
Instructions
In the bowl of your stand mixer fitted with the paddle attachment, add the ice cream.

Spoon in the mashed avocado and mix on low speed for 5 minutes, or until fully incorporated.

Remove the bowl from the mixer and fold in the chocolate chunks.

Cover and place in the freezer for 30 minutes, until firm.

If desired, serve in remaining avocado shells and garnish with shaved chocolate.