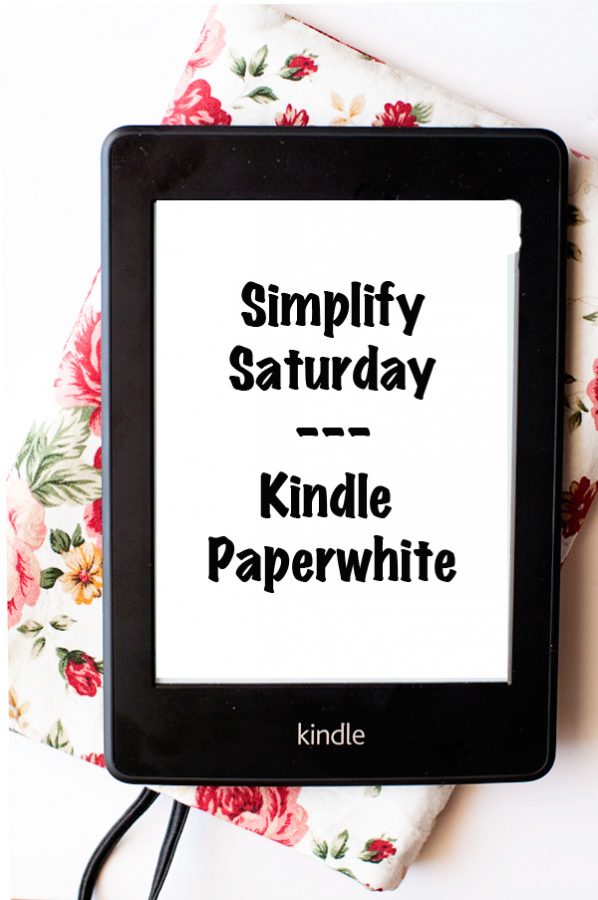 If you follow Dine & Dish at all, you know I love to read. For today's Simplify Saturday I'm telling you about the Kindle Paperwhite… a wonderful little e-reader that has simplified the way I read books.
Let me preface this post by saying I have tried and owned numerous e-readers before. We have one of the original Kindles, a second Kindle (my husbands), a Kindle Fire (my sons), a Nook and the Kindle app on the iPad. Until getting the Kindle Paperwhite, I really wasn't a fan of e-books. I enjoyed the convenience of being able to download an e-book whenever I needed one but reading on the devices I listed just didn't feel natural to me. I didn't like the flow, layout, functionality of the other devices. Plus, I found with the devices that were more than just e-readers (Kindle Fire and iPad apps) I would get too distracted by the other apps and things on the devices, which would cut into the time I would spend reading. Even with all of those devices on hand, I found myself turning back to "real" books instead of my e-reader.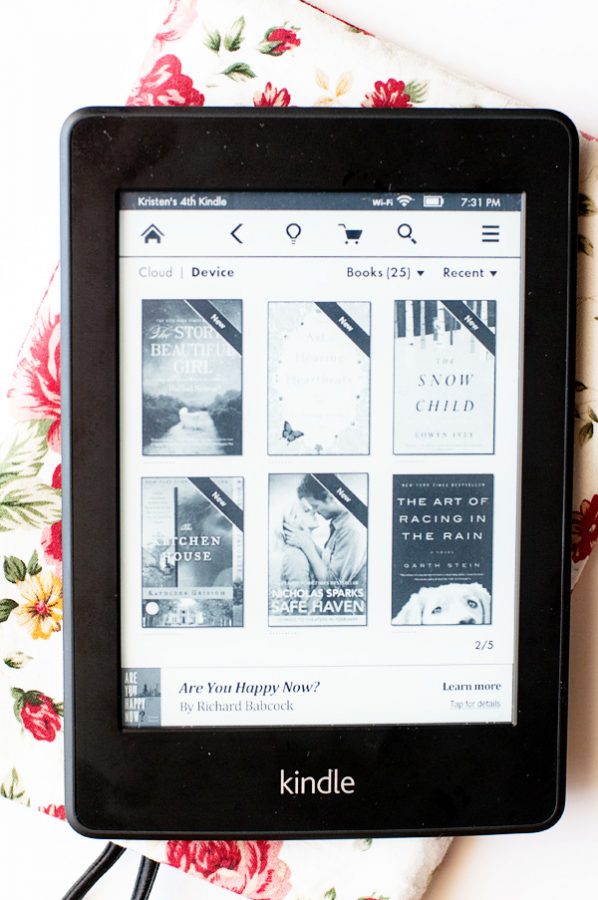 So, how has the Kindle Paperwhite simplified my reading?
First of all, (as you can see from the picture above) I love the ability to instantly download books onto my device. While synced to a wireless network, I can order and download any Kindle book on Amazon in the matter of seconds. This means when I'm done with one book and still in the mood to read, I can quickly browse the Amazon store and get a new book quickly.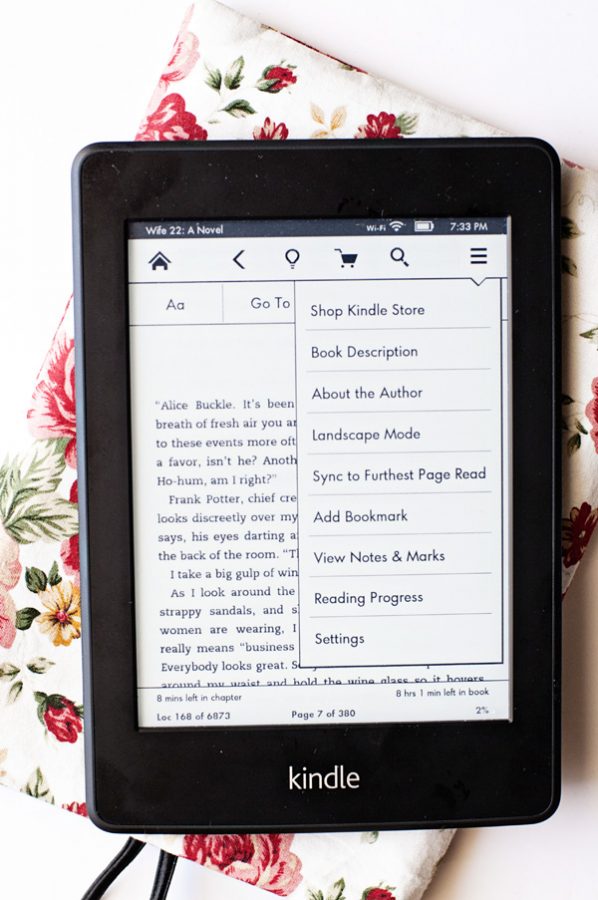 While I'm reading through a book on my Kindle Paperwhite, I have the ability to highlight and mark passages I want to remember for later. Then, I can choose "View Notes and Marks" within my book menu and those passages come up on a separate screen. This comes in especially handy for writing book reviews or for discussing a book at book club. I can remember the important information I want to from a book with a simple click of a button.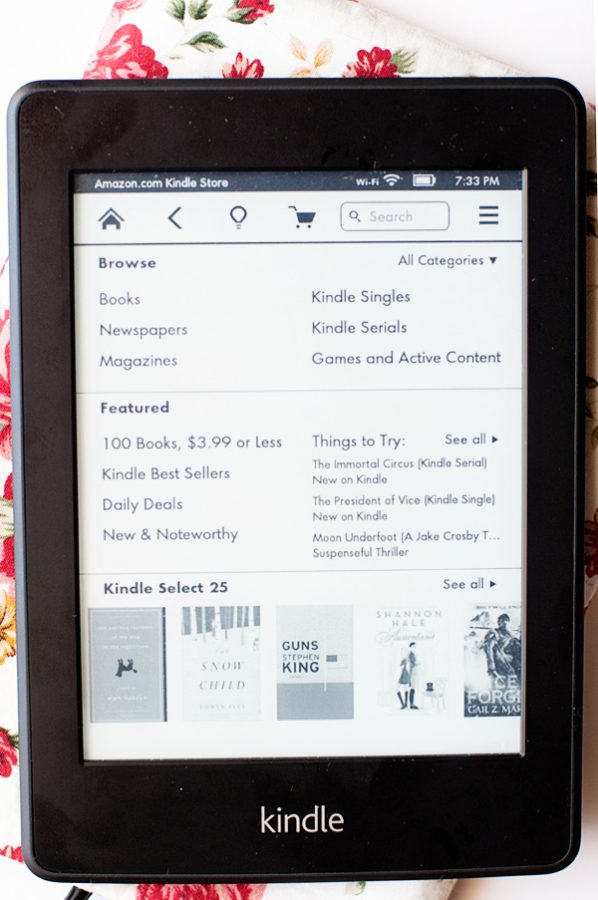 One of my favorite features of the Kindle Paperwhite is the soft back lighting. My husband gets up for work early, and goes to bed earlier than I do. I can still read in bed while he's asleep without a bright light turned on bothering him. In addition, unlike my iPad, I can read my Kindle Paperwhite with ease out in the bright sun. The font and screen resolution on this e-reader is really easy on my eyes.
The Kindle Paperwhite is small and light… it fits easily in my purse so I can take my favorite books wherever I go. Since getting the Paperwhite in the fall, I have read more than ever simply because I always have books with me.
One last thing… as much as I really love the touch and feel of books, I didn't like the fact that our book collection was starting to take over our house. With the Kindle Paperwhite, all of our e-books are stored in our library in "the cloud" so we don't have physical books cluttering up the space in our house.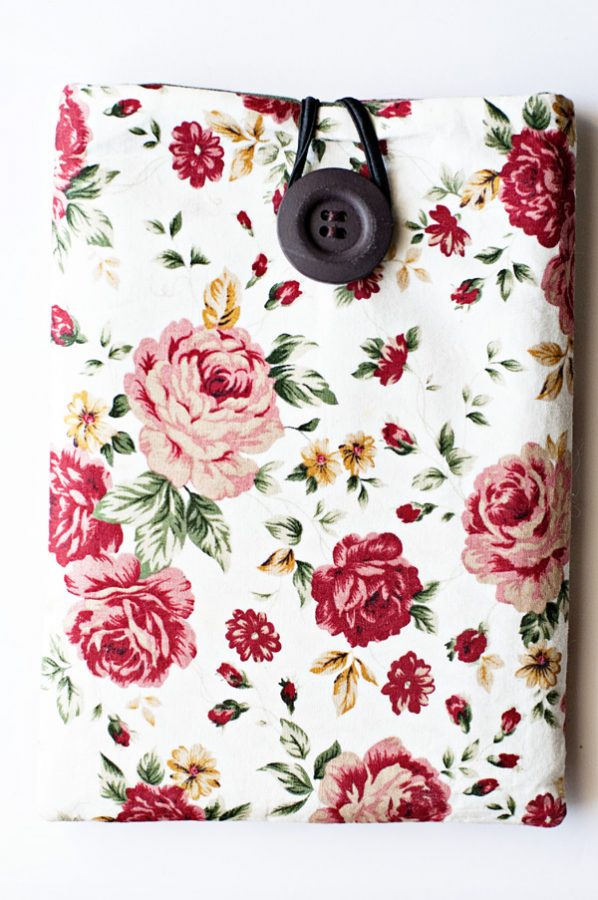 Before I give the snippets I have to give a shout out to Lina from the Lina's Stich Etsy store for making my lovely Kindle Paperwhite cover. Isn't it pretty?
If you are looking for a reasonably priced e-reader with a simple to use interface in a compact size, I highly recommend the Kindle Paperwhite. It's the only e-reader I've had that I love as much as books.
Kindle Paperwhite Snippets
So, what about you? Do you use an e-reader? If so what kind? If not, why has held you back?
This is not a sponsored post. I have a Kindle Paperwhite and love how it simplifies my life and just wanted to share that with you!
Disclosure: This blog post contains affiliate links. As an Amazon Associate, I earn from qualifying purchases.