I'm partnering with KRAFT on this wonderful brunch recipe, and chatting about my current obsession… farmhouse living.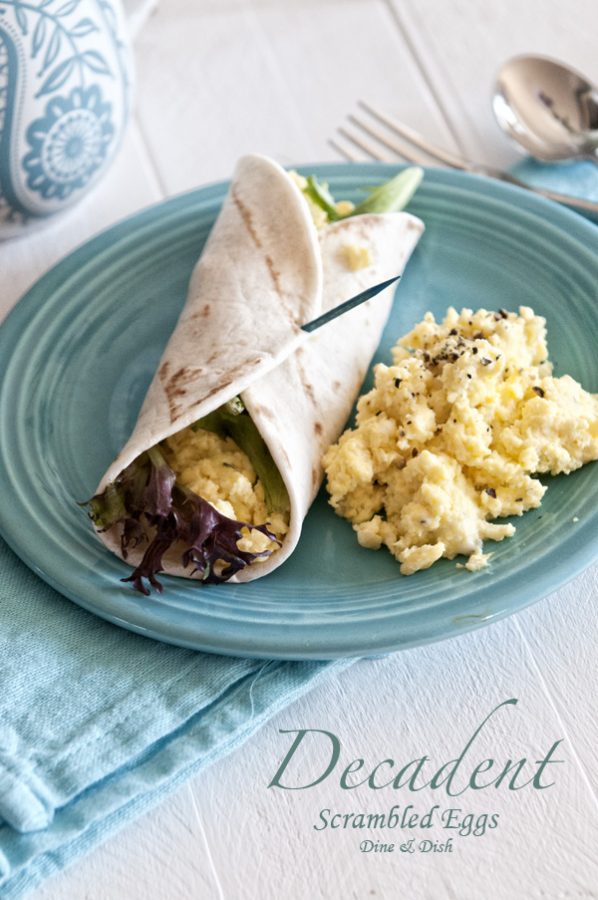 Friends, if you follow me on Instagram and Facebook, you know I've been doing a lot of dreaming lately… some may call it obsessing, but I'll stick with dreaming.
You see, a house we have loved for the past 12 years recently went on the market. It's a gorgeous little 1936 farmhouse with land and character and all kinds of wonderful features. The best part is, it's still in town…just a few short blocks from where we live now. It's one of those rare, best of both world scenarios. An old, charming house with land, still within just a short drive to Target and Starbucks and still with neighbors nearby. That's my kind of living!
The thing is, the house is old… it has small bedrooms, a smaller kitchen, tiny closets… like you'd expect a 1936 farmhouse to have. But, we live in a very spacious 6 year old house right now. Moving to something like this would be a HUGE adjustment in lifestyle for our family. It would mean downsizing on stuff… simplifying our lives and getting rid of all the excess. The benefit though is what we'd lose for space on the inside, we'd gain 10xs on the outside, and something about that truly appeals to me. Gardens and outdoor movies on the lawn and pickup football games… tree houses and hide and seek and outdoor entertaining with white lights and long covered tables… it's such a dream of ours. Would we be able to live smaller? Could we do it? 
We're still just in the dreaming phase of things… who knows if this will ever happen.The house is a charmer and will probably get snapped up before we even make up our minds if we want to go for it, but it's fun to dream.
In the meantime, I'm taking advantage of the time of year and am spring cleaning like never before. The excess of stuff in our house is starting to really get to me, so I'm boxing up, digging through, and donating as much as I can. I'm also trying to avoid trips to the grocery store when our pantry and fridge already has ingredients I can play with to make something new.
In fact, I was looking in my fridge and pantry trying to come up with a good brunch recipe. I had all kinds of things, but really wanted to use up the excessive amount of cream cheese I happened to have. (Since becoming a cheesecake making fool, I have gone a little overboard on the Philadelphia Cream Cheese!) I took to my facebook page and asked you all…"Aside from cheesecake, what's your favorite thing to make with cream cheese?" The answers I got surprised me… everything from dill pickle dip to birthday carrot cake…but the one thing that I couldn't believe people put cream cheese in was scrambled eggs. Really? Amber and Erin had me convinced it was the greatest thing ever…so I decided to give it a try for brunch.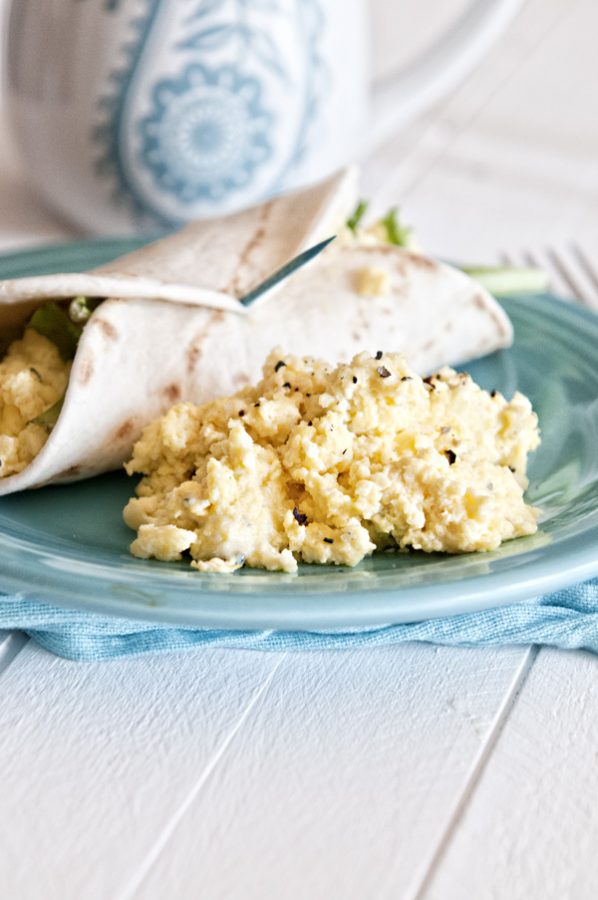 I am here to tell you that Amber and Erin did not lead me wrong. Adding cream cheese to your scrambled eggs produces the fluffiest, most flavorful eggs. I also have heard of people adding Miracle Whip to scrambled eggs as well. I decided to go big or go home and included both cream cheese and Miracle Whip in this scrambled egg recipe. Oh my… cleaning out the fridge never created such decadent results.
You can serve these eggs alone for brunch or do what I did and add them to a softened tortilla with some spring mix greens and gorgonzola cheese. Either way, I am convinced you should try it. You won't be sorry you did!
Check out the Kraft recipe database for more brunch recipes!
Decadent Scrambled Eggs
These decadent scrambled eggs have a surprise ingredient or two... give it a try, I know you'll love it! Thanks to
Amber
and Erin for the inspiration!
Ingredients
4

large eggs

2

ounces

Philadelphia Cream Cheese

diced into small pieces

2

Tablespoons

Miracle Whip

1

Tablespoon

butter

Pinch

Kosher salt

Pinch

cracked black pepper
Instructions
Melt butter in large skillet over medium heat. Meanwhile, beat eggs, cream cheese and Miracle Whip with wire whisk until well blended. Add to skillet.

Cook until eggs begin to set, stirring occasionally. Top with Kosher salt and pepper.

For a brunch wrap, top a flour tortilla with spring mix, 1/4 cup scrambled eggs and gorgonzola cheese (or cheese of your choice). Serve warm.
Disclosure: I am proud to be a part of the 2013 Kraft Tastemakers blogger ambassador team. All opinions expressed are my own.