Strawberry Muffins are a great breakfast or sweet treat!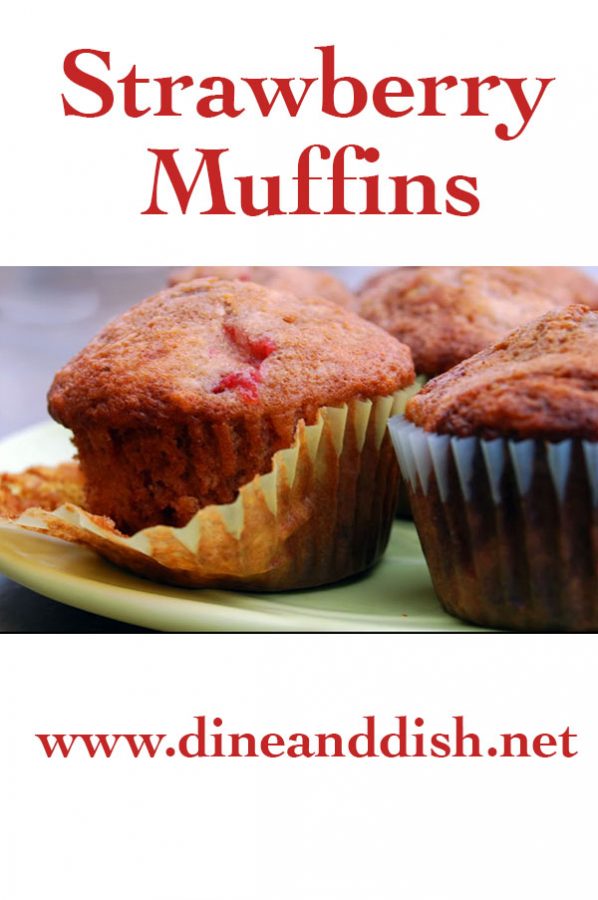 There is nothing out there that is quite as gratifying to me as smashing, kneading, chopping, beating, etc. the heck out of food. When I am stressed, give me a recipe that calls for doing something inhumane to the ingredients and by the time I have an end product, my stress is gone.
This morning, my kids were not getting along at all. From the moment they woke up they were bickering with each other about every little thing. They were apparently frustrated with each other and needed a quick intervention. I decided to try to distract them some. They could help me make breakfast, and while doing so, they could relieve some of their obvious stress by smashing some strawberries. I got out two bowls and divided the berries among them. I gave them each a vegetable smasher and they went to town destroying their own little bowl of berries. Instead of fussing and arguing, I heard giggling and laughing. Before I knew it, the first step to our breakfast muffin recipe was done and the mood of my children had changed dramatically.
Together we finished adding the ingredients, stirring it up and making the muffins. We ended up having a lovely breakfast of delicious Berry Smash Strawberry muffins. The kids were so proud of their part in making breakfast and I was just thrilled to have a morning where the bickering was squelched from the start.
For your own at home therapy session, give this recipe for Berry Smash Strawberries Muffins a try.
Berry Smash Strawberry Muffins
Ingredients
1 2/3

cups

fresh strawberries

2/3

cup

sugar

1/3

cup

vegetable oil

2

eggs

1 1/2

cups

Gold Medal all-purpose flour

1/2

teaspoon

baking soda

1/2

teaspoon

salt

1/2

teaspoon

cinnamon
Instructions
Heat oven to 425 F.

Put a paper baking cup in each of 12 regular-size muffin cups, or grease just the bottoms of 12 muffin cups.

Slightly smash strawberries in large bowl, using fork.

Stir in sugar, oil and eggs until mixed.

Stir in other ingredients just until moistened.

Spoon batter into muffin cups.

Bake 15 to 18 minutes or until light golden brown or toothpick poked in center comes out clean.

Cool 5 minutes.

Loosen sides of muffins from pan if needed, and take them out of the pan.

Makes 12 muffins.

Tip: If you do not have fresh strawberries, you can use frozen strawberries that you have thawed and drained.